DOSSIER COVID-19, MACRO AND MARKETS

Asia's difficult policy choices
04 June 2021
flow's Graham Buck and Clarissa Dann explore Asia's uneven economic recovery path amid slow vaccination progress and implications for the region's monetary policy in the face of rising inflation
On 18 May, the World Economic Forum (WEF) announced1 that its 2021 annual meeting, scheduled for Singapore over four days in mid-August, had been cancelled. The event, which over 50 years has regularly attracted political and business heads, would not be possible this year due to the Covid-19 pandemic, said the WEF.
"Regretfully, the tragic circumstances unfolding across geographies, an uncertain travel outlook, differing speeds of vaccination roll out and the uncertainty around new variants combine to make it impossible to realise a global meeting with business, government and civil society leaders from all over the world at the scale which was planned," it explained in a statement.
A sudden reversal
The WEF's decision came less than a month after Bloomberg's Covid Resilience Ranking2, which "crunches the numbers every month for a snapshot of the best and worst places to be in the coronavirus era", gave top marks to Singapore. The financial data and media group said it had overtaken New Zealand as the world's safest location. "The city state has brought down locally transmitted cases to near zero thanks to border curbs and a strict quarantine programme," Bloomberg reported on 25 April.
However, just two days after this accolade a cluster of local infections was revealed and more were soon identified, including at the airport and port. Singapore's sudden reversal of fortune is mirrored in neighbouring countries. Malaysia imposed tough lockdown measures from 1 June3 after recording more than 1,200 coronavirus-related deaths in May 2021 against only 471 for the whole of 2020. Vietnam, which has already seen an upsurge in infections over recent weeks, recently reported a worrying new strain of the virus4.
Some areas of the Philippines have been in various states of lockdown since March 20205, one of the longest extended periods imposed in the world, although the latest restrictions in the capital, Manila, were eased on 14 May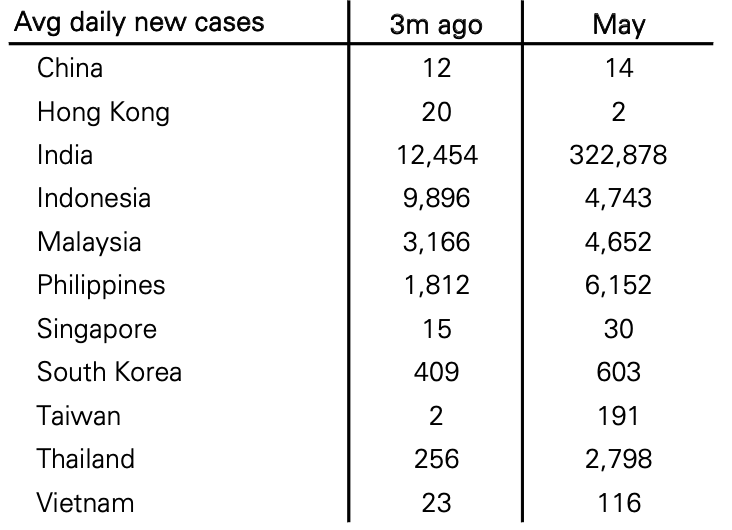 Figure 1: Covid-19 cases May 2021 and three months earlier
Source : CEIC, Deutsche Bank Research
South-East Asia responded swiftly and effectively to limit the spread of Covid-19 in the first months of the pandemic. As Time magazine6 noted in its 14 May issue, strong public health measures were implemented across the region as early cases surfaced.
But in recent weeks, the previously low levels of infection have surged, while the relatively slow rollout of anti-Covid vaccines in many countries (an exception is Singapore, which has administered at least one dose to 39.3% of its people) has exacerbated the crisis.
In contrast to other parts of the world, where restrictions have been either eased or lifted, countries across South-East Asia have had to re-impose them – albeit below the previous stringency level, in most cases. An exception is Malaysia, which has now entered a new 14-day lockdown, while Vietnam and Singapore have extended the required period of quarantine for incoming travellers. However, these countries cannot easily follow the lead of Australia and New Zealand, which have both effectively limited the number of new outbreaks by largely closing off their borders to the rest of the world (see Figures 2 and 3).
"Asia's growth outlook has deteriorated in response to weaker than expected Q1 GDP growth in a number of economics and recurring Covid-19 outbreaks that temporarily limited the rebound in domestic demand," reported Deutsche Bank Research's Asia Pacific Chief Economists Juliana Lee and Michael Spencer in Asia Macro Insights: Difficult policy choices (28 May).
Figure 2: Countries where social distancing measures tightened
CEIC, Deutsche Bank Research
Note: Taiwan's stringency index has surged, tightest ever
Figure 3: Countries where social distance measures not tightening
CEIC, Deutsche Bank Research
Lagging behind
South-East Asia reportedly needs at least 1.4 billion doses7 to fully vaccinate its population at a time when there is a global shortage and India, a leading vaccine supplier to developing nations, has said that all production will be kept for its own people for now.
Figure 4: Asia's vaccination rate remains low (percentage of people who received at least one dose)
Source : CEIC, Deutsche Bank Research
Note: China vaccination rate estimated by assuming people get their second dose one month after their first one
The issue was examined by Deutsche Bank Research analysts Anna Friedemann, Bryant Xu and Oliver Harvey in their 13 May EM Special Publication: EM vaccine roll-out: diverging paths. "Emerging markets (EMs) risk being left behind as developed countries prepare to reopen their economies and lift travel restrictions," they warned. Their report highlights the widening gap between emerging market and developed market vaccine roll-outs and states, "On a regional level, Asia's roll-out has been especially sluggish".
"By Q3 Asia is, by putting the Covid-19 resurgence behind it and resuming its recovery, increasing the pressure for monetary policy normalisation"

This was a point also developed by Lee and Spencer in the 28 May Asia Macro Insight report, in which they observe how the resurgent Covid-19 outbreaks in Singapore and Taiwan demonstrate that "the situation can change quickly in a population that hasn't achieved immunity even if it has a successful recent history in containing Covid-19." (see Figure 4)
On a positive note, however, with 39.3% of the population given at least one dose of Covid vaccine to date, the team points out that Singapore's herd immunity is "likely to be achieved by end-Q3". At the same time, although vaccine supply constraint "continues to weigh on Taiwan, albeit surging exports are likely to remain a mitigating factor, efforts are on the way to ease this vaccine supply constraint," notes the report.
Moreover, says Lee, "by Q3, Asia is, by putting the Covid-19 resurgence behind it and resuming its recovery, increasing the pressure for monetary policy normalisation in a number of economies, as vaccination gets better traction and the (US) Fed's debate over tapering intensifies."
Figure 5: Surging commodities prices
Sources: Haver Analytics and Deutsche Bank Research.
In his 20 May report The Asia Economist: Commodity prices and inflation in Asia, Michael Spencer, Chief Economist and Head of Research in Asia Pacific, examines the impact of higher commodity prices on Asia's inflation. The report finds that "on average, a 10% rise in crude oil prices pushes the CPI index in an Asian economy up by 0.3%; a 10% rise in world food prices pushes the CPI up by 0.8%," Spencer reports. "With crude oil prices up 177% in April and the food price index up 38% there's about an 8ppt impulse to inflation in Asia at present."
"It matters … whether the rise in commodity prices is a temporary post-Covid phenomenon or the beginning of a longer-term 'super-cycle"

In this regard, Spencer notes, currency appreciation would make little difference, as "a 10% appreciation – something most central banks would likely view as damaging to an economy's competitiveness – would only lower inflation by about 1.5% (so) is unlikely to be the sole policy response to rising inflation. It matters greatly, therefore, whether the rise in commodity prices is a temporary post-Covid phenomenon or the beginning of a longer-term 'super-cycle'".
What does all this mean for central bank policy? It all depends on the country, notes the team. "Where economies are weaker, central banks are less likely to respond to higher inflation by tightening policy as we've seen in India and the Philippines in recent months," explain Lee and Spencer in their 28 May Asia Macro Insight report.
In contrast, in South Korea where Q1 GDP has surprised to the upside and domestic recovery is well on its way, the team sees the BoK is likely to be the first central bank in the region to hike interest rates. Lee adds, that "assuming vaccination rates improve, leading to an acceleration of domestic demand, the BoK's rate hike we forecast for January 2022 could be brought forward to November this year. Meanwhile, the Peoples Bank of China is likely to delivery its first interest rate hike in Q1 2022 "as the pace of economic normalisation gains greater traction, as the country achieves herd immunity."
However some central banks made it very clear they are willing to use monetary policy tools to stabilise their currencies. "As the Fed becomes more explicit about tapering off asset purchases, and perhaps the market brings forward its assessment of when the Fed will start raising rates, we expect Asian currencies to weaken against the dollar," says the report. As such, the economics team continue to see a hike in Q2 from Bangko Sentral ng Pilipinas, in response to peso weakness, followed by rate hikes by Bank Indonesia in H2, to limit the rupiah's depreciation.
Deutsche Bank Research reports referenced
Asia Macro Insight: Difficult policy choices by Juliana Lee and Michael Spencer (28 May)
EM Special Publication: EM vaccine roll-out: diverging paths by Anna Friedemann, Bryant Xu and Oliver Harvey (13 May)
The Asia Economist: Commodity prices and inflation in Asia by Michael Spencer (20 May)
flow magazine is published twice per year and can be read online and delivered to your door in print
Subscribe

Subscribe
YOU MIGHT BE INTERESTED IN