COVID-19

Covid-19: Will vaccines deliver "normality"?
14 January 2021
2021 will be marked by the race to inoculate as many of the world's citizens as possible to flatten the repeat Covid-19 curves. flow reviews the findings of the Deutsche Bank Research team's first House View of the year
The world has bidden farewell to 2020, but not to the issue that dominated the year and is still the main focus as we enter 2021. The speed with which Covid-19 has developed into a global pandemic makes it likely that January will be marked by the next tragic milestones of 100 million reported cases and two million deaths being reached.
Although the rate at which the virus is spreading has slowed in some regions of the world it has accelerated in several countries. The UK entered its third period of lockdown on 5 January, while the US has now recorded more than 22 million cases and 370,000 deaths to reinforce its position as the country worst hit by coronavirus.1
Deutsche Bank Research's latest Exit Strategy Policy Tracker by analyst Marion Laboure and chief strategist Jim Reid, issued on 5 January, cautions that the picture is likely to be even bleaker than the official data suggests. "Limited testing and challenges in the attribution of the cause of death mean that the number of confirmed deaths may not be an accurate count of the true number of deaths from Covid-19," they comment.
New strain
Laboure and Reid note that as 2021 gets underway, the current rate of infection differs across regions as follows:
Countries that have so far managed to bring down the infection rate sustainably and contain the first wave, such as China and Canada;
Countries that continue to register a high growth rate of new daily infections and are still going through the first wave, including Latin America, India, Russia and Africa;
Countries that are experiencing a second wave with a rise of new infections after they had brought down daily infection rates for a longer time; examples are Iran, Israel, the US, South Korea and Western Europe.
Causing particular concern are the acceleration in the rate of new cases seen in the UK and South Africa caused by a new strain of the virus and the "relentless rise" in new infections reported by the US. A more positive development has been in Latin America, at one stage in 2020 the epicentre for new cases, which has more recently seen a slowdown in the rate.
Vaccines to the rescue?
The light at the end of a very dark tunnel has been the rollout of Covid-19 vaccines to stem the tide, with most countries giving priority to the elderly in their vaccination programmes on the basis that they are most vulnerable. Exceptions to this general rule include Indonesia2, which decided to first inoculate those between 18 and 59 years of age beginning with workers in the health sector, police and the military.
The 5 January issue of the Deutsche Bank Research Exit Policy Tracker showed that by the first week of January 2021 more than 13 million people around the world had received Covid-19 vaccinations. As shown below in Figure 1, although the US and China together accounted for two-thirds of that total, Israel's vaccination rate was by far the world's best. "Some 1.4 million Israelis have received their first dose of a Covid-19 vaccine, making it by far the world leader in administering the jabs," reported The Times of London on 6 January. "At 16%, the Israeli vaccination rate – so far all with the Pfizer vaccine – is more than ten times higher than that of the UK, which was the first in the world to start vaccinations but has inoculated only 1.4% of the population."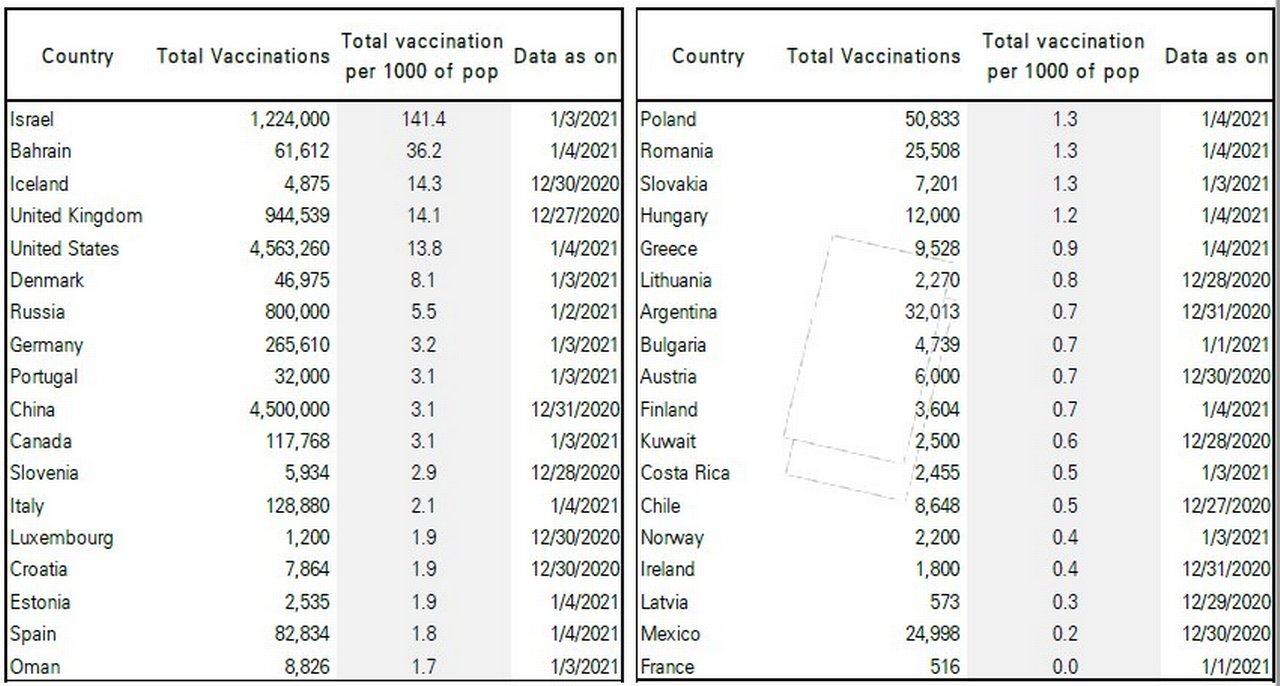 Figure 1: More than 13 million Covid-19 vaccinations had been administered worldwide by 4 January 2021
Source: Deutsche Bank Research
Roll-outs and resistance
In the US, vaccines from both Moderna and Pfizer/BioNtech are being rolled out and by 4 January nearly 4.6 million doses had been administered. Since the Exit Policy Tracker's publication, a further increase to at least 5.9 million includes a one-day gain of 600,000 on Thursday 7 January according to the US Centers for Disease Control and Prevention (CDC), which recommends that essential workers and people aged over 75 should be first in the queue.
Of the vaccine candidates currently at advanced development, or Phase 3 trials, the US has secured 300 million doses from the University of Oxford/AstraZeneca – covering 50% of the US population based on a two-dose regime – and 100m doses each from Pfizer/BioNtech, Moderna and Novavax (each 15%) plus 100m from Johnson & Johnson (J&J) whose single-shot regime would be enough for 30% of Americans.
Elsewhere in the world there has also been positive news on the roll-out of new vaccines and their effectiveness. That developed by the state-owned China National Pharmaceutical Group Corp, better known as Sinopharm, has a reported efficacy rate of 79.34% and has secured approval for general use in China. According to Brazil, the vaccine developed by Chinese biopharmaceutical Sinovac, dubbed CoronaVac3, shows efficacy of between 50% and 90% while Turkey reports a higher efficacy rate of 91.25%.
However, the positive message from this data is tempered by a large degree on the willingness of people to actually be vaccinated and here the news is less encouraging. Despite the relentless spread of the pandemic since August, the poll of citizens in the US, UK and four main European economies in the latest Policy Tracker suggests reluctance across a major segment of the population to be vaccinated has not diminished and if anything has been reinforced – most notably in France as shown in Figure 2.
Figure 2: France's citizens are the least willing to be vaccinated
Source: Deutsche Bank Research
As we noted in our September 2020 article 'Race for a vaccine', indemnity from future liability claims has been "a tricky point in supply negotiations". In addition, according to John Hopkins Medicine, current advice from the US CDC is that "anyone who has a severe allergy (e.g., anaphylaxis) to any of the Pfizer/BioNTech vaccine ingredients should not receive this vaccine." 4 These first two vaccines were developed using messenger RNA, aka mRNA, technology.
Add to this a sizeable number of "vaccine refuseniks" and there is a potential problem. As Scientific American reported on 7 January "Somewhere between 60 and 90% of adults and children must be vaccinated or have antibodies resulting from infection in order to arrive at the safe harbour known as herd immunity, where the whole community is protected… but there are large segments of the US population that remain reluctant or opposed to receiving the vaccines."
The magazine cites a poll by the non-profit health body Kaiser Family Foundation (KFF). Among its findings "42% of Republicans said they definitely or probably would not (agree to be vaccinated). The same was true for 35% of black adults, who, as a group, have borne a disproportionate share of sickness and death from Covid-19. Also deeply hesitant were 35% of rural residents, 36% of adults ages 30 to 49, and – especially worrisome given their public-facing roles – 33% of essential workers and 29% of those who work in a health care delivery setting."
Could resistance to vaccines lessen? In Europe it could happen if Spain develops its plan for a vaccination registry5 that identifies those who refuse to be vaccinated against Covid-19 – particularly if the concept is taken up by other countries. However, such a move raises significant questions around civil liberties and human rights laws; for example whether those refusing would face penalties such as paying higher rates for insurance and financial products or having applications declined.
Coping strategies
The Policy Tracker highlights several key survey questions conducted across the world with a representative population sample, with the following among the topics:
How have activity and employment concerns developed since the start of the Covid-19 pandemic?
How have consumer confidence and spending evolved over the period?
What would people sacrifice to contain the virus?
Possibly reflecting the further extensions to furlough schemes and similar government assistance, the polls in the 5 January issue find that all European countries had seen a noticeable decline by late 2020 from three months earlier in the number of workers thinking their employment was more at risk. By contrast, the US saw an increase over the period.
"As people become more accustomed to alternative working environments, their productivity has gradually returned to normal," the report notes. In the most recent survey period, readings improved for the US and France, while remaining unchanged for other countries.
Consumer spending remains sharply lower. As shown in Figure 3, while the US, the UK, France and Spain saw an improvement in late 2020, spending in many categories was still firmly in negative territory after many weeks of activity having resumed. With countries having since either reintroduced restrictions or re-imposed full lockdowns, the decline is likely to have increased since Christmas.
Figure 3: Post-pandemic declines in consumer spending
The Policy Tracker concludes with a psychology poll. In the second half of 2020 survey respondents in the six countries were regularly asked how great a social, economic and emotional impact coronavirus has had on them. Germany has consistently appeared as the least impacted country on the metric, while Spain and Italy seem to be most impacted – perhaps a reflection of the fact that until quite recently it has been generally regarded as the one to have best responded to the pandemic.
Figure 4: Post-pandemic psychology: how great a social, economic and emotional impact has coronavirus had on you?
Deutsche Bank Research reports referenced
Exit Strategy Policy Tracker by Marion Laboure and Jim Reid (5 January 2021)
Stay up-to-date with
Choose your preferred banking topics and we will send you updated emails based on your selection
Sign-up

Sign-up
flow magazine is published twice per year and can be read online and delivered to your door in print
Subscribe

Subscribe
YOU MIGHT BE INTERESTED IN