DOSSIER COVID-19, MACRO AND MARKETS

Point of no return
17 September 2021
The slow progress of persuading employees back to the office after months of Covid-19 lockdowns and restrictions is accelerating, but the future of work post-pandemic will inevitably be different as more opt to work from home full-time or part-time. flow's Graham Buck and Clarissa Dann report on a brave new world of work
Stepping aboard the commuter services into London Bridge and Waterloo the other day, the only difference we could see from pre-pandemic days was shorter trains and most travellers in face coverings.
Much else was very familiar, such as crowded carriages with social distance guidance aspirational rather than practical in the rush to get to work, commuters nursing their morning coffees and mobile phones with some holding very loud intense business conversations (those of us drilled in company confidentiality in public places always find ourselves wondering why people do this). "The old normal: rush hour return as Britain goes back to work" was the 7 September front page headline for The Times of London.
"Offices will refill way faster than you think. We are already seeing in London a significant increase in traffic and people back in the office," reports Deutsche Bank Analyst Marion Laboure in her 7 September white paper The Future of Work – Learning from Sport: Part I. How to Be a GOAT While Working Remote.
"An increase is already underway in London as banks and corporates invite workers to return to the office. People are even returning to voluntary cooperative workspaces, such as WeWork. In August 2021, the use of transit in London is near 40% greater than the level recorded by Apple Mobility in mid-January 2020. In New York, this return has been slower due to the Delta variant, but is still 10% above mid-January 2020 levels. Steepening rent increases in New York City from mid-2021 also point to this return to the city. However, it is also likely that some companies will begin to include the option of working from home to attract future employees in a similar way to high wages and benefits packages, she adds.
Towards a hybrid solution
Striking the right balance between office and remote working remains an ongoing management issue all around the world as, at various rates of progress depending on vaccination roll-outs, governments and employers seek to move towards some form of new normal.
"Whether remote working continues to be common will depend, in part, on the preference of employees and perhaps where they feel most productive. Covid-19 has provided an opportunity to take a deeper look at this question, reflected The Economist in June 20211. Three months on, employers and employees have done just that. With office-based jobs that have been performed from home during the pandemic, a form of hybrid working is emerging, which is making new calls on absence management systems and line management responsibilities.
From 16 August, UK government guidance no longer instructed people to work from home if they could and said that the government "expects and recommends a gradual return" to work places over the summer. Employers were advised to "discuss a return to the workplace with workers, and trade unions to make working arrangements that meet both business and individual needs."2
"Offices will refill way faster than you think"

Carrots and sticks
According the Financial Times on 3 September, many firms are offering incentives ranging from yoga classes and DJs playing at "return to work" celebrations to cash bonuses, to encourage more to resume commuting after months of WFH.3 The back-to-work impetus also reflects a stick as much as these carrots – the UK's Coronavirus Job Retention Scheme, a furlough scheme that reportedly saved more than nine million jobs in the early months of the pandemic, is scheduled to finally close on 30 September4.
Germany took similar measures over the summer to persuade workers to return. According to state-owned media group Deutsche Welle5, a temporary national law to combat high Covid-19 infection rates known as the "federal emergency brake" expired at the end of June 2021. It removed one of its nationally applicable rules that obliged employer to facilitate working from home wherever possible. Since 1 July, German employers have the option of continuing to allow staff to work from home or summoning them back to the office.
And in Singapore, from 19 August, working from home was no longer the default requirement and around 50% of employees could return to their workplaces. "Employers must ensure that no more than 50% of employees who are able to work from home are at the workplace at any point in time, regardless of their vaccination status," explains a Singapore Ministry of Health announcement advisory updated on 8 September.6
Labour market resilience
On a positive note, the fact that the timing of returns to the office is currently an issue is a testament to the fact that government intervention has meant the forecasts of 18 months ago that the pandemic would trigger massive job losses did not become a reality. In his 31 August Deutsche Bank Research white paper "Focus Europe: Stronger-than expected labour market post re-opening", Senior Economist Marc de-Muizon noted that official unemployment in Europe's Big Four economies of Germany, France, Spain and Italy is only moderately higher than pre-Covid, at 8.1% versus 7.8%.
"The ability of labour markets to withstand the historically large drop in GDP and rebound so well suggests the risks of large scarring as observed in previous recessions may be more limited," he wrote. "In that sense, the European policy response has so far been very successful. Certain sectors and regions are already reporting labour market shortages."
Much of this success was credited by de-Muizon to "the furlough schemes (inspired by the Kurzarbeit scheme in Germany) that allowed employee-employer connections to be preserved. This would have avoided large number of dismissals that the relatively more rigid European labour market typically struggles to reabsorb promptly". As illustrated in Figure 1, at the peak of the pandemic shock in 2020 the hours furloughed represented nearly 12% of the Big Four economies' total hours worked. By July 2021, furloughed hours had dropped sharply and accounted for slightly less than 1.5% of pre-Covid total hours worked.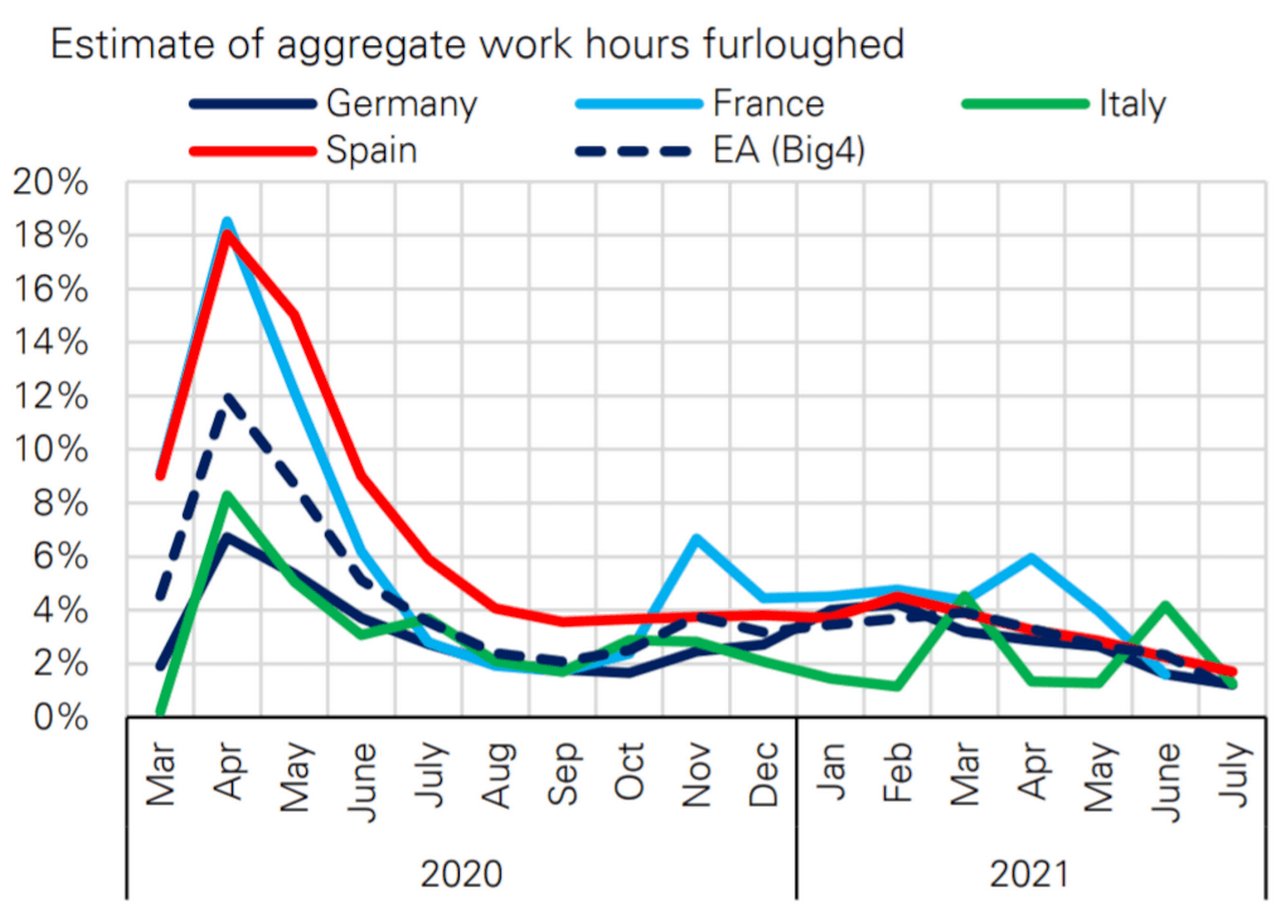 Figure 1: Europe's 'Big Four' use of furlough schemes dropped to record low levels in July 2021
Source : Deutsche Bank, Haver analytics LP, National sources
Across the Atlantic, some US employers have decided that it's not yet time to ask their workers to return to the office. For example on 25 August Ford Motor Co7, which earlier this year had planned to bring staff back in July before delaying the date to October, announced a second postponement to "no earlier than January 2022" in response to the resurgence of Covid new cases caused by the Delta variant. The original plan was based on a "flexible hybrid" system, reported Bloomberg, enabling employees to continue working from home but calling them into the office for meetings and team-building activities.
Google followed suit days later8, CEO Sundar Pichai announcing that the company's voluntary work-from-home policy will be extended from 18 October to 10 January 2022. "Beyond January 10, we will enable countries and locations to make determinations on when to end voluntary work-from-home based on local conditions, which vary greatly across our offices," Pichai told Google staff. "To make sure everyone has ample time to plan, you'll have a 30-day heads-up before you're expected back in the office." Apple is among other major US corporations reported to have also put back its office return date to early 2022. Smaller US corporations are being offered advice on reopening safely and keeping both employees and customers healthy and informed by business organisations such as the US Chamber of Commerce.
Managing performance
In Laboure's "The Future of Work – Learning from Sport: Part I. How to Be a GOAT While Working Remote" she reflects, "Workers, like athletes, could be evaluated by their performance, not only by how much time they spend at the computer. And they might learn a lot about maintaining good mental health from athletes, who endure high levels of pressure and stress."
"A major dilemma for post-pandemic employers is how to manage teams working remotely," explains Laboure. "On the one hand, managers and supervisors want to ensure that remote workers are doing their jobs—that they are in fact working. But in most work-from-home arrangements, managers can't see what employees are doing or how much time they are actually working. Thus, a central question is related to trust."
As the report notes, working from home has provided undoubted advantages. By not having to commute, workers saved time and money and fewer commutes have also benefited the environment with less road congestion and reduced carbon emissions. Increased vacancies in both residential and commercial property removed the upward pressure on rents in major cities.
However, for new graduates entering the labour market in 2020 and 2021, online working has stifled networking, caused professional invisibility and weakened soft skills related to communication and teamwork. The pandemic also threatens the survival of downtown businesses dependant on commuting office workers, such as sandwich bars and restaurants, shops and hospitality firms. And the shift of work to online platforms has encouraged cyber criminals to exploit fears surrounding the virus and the weaker security of those working from home.
Unequal access
Another issue is that not all economies or industries can support working from home and Laboure's report cites research that "only knowledge workers with computer-based jobs can work remotely", and that, to some extent, "the highest 10% of wage earners have the greatest access to telework" (see Figures 2 and 3). "The potential for remote work is highest for those who do not participate in physical or manual work, or those who do not require specialised equipment such as X-ray machines to be able to work," she adds.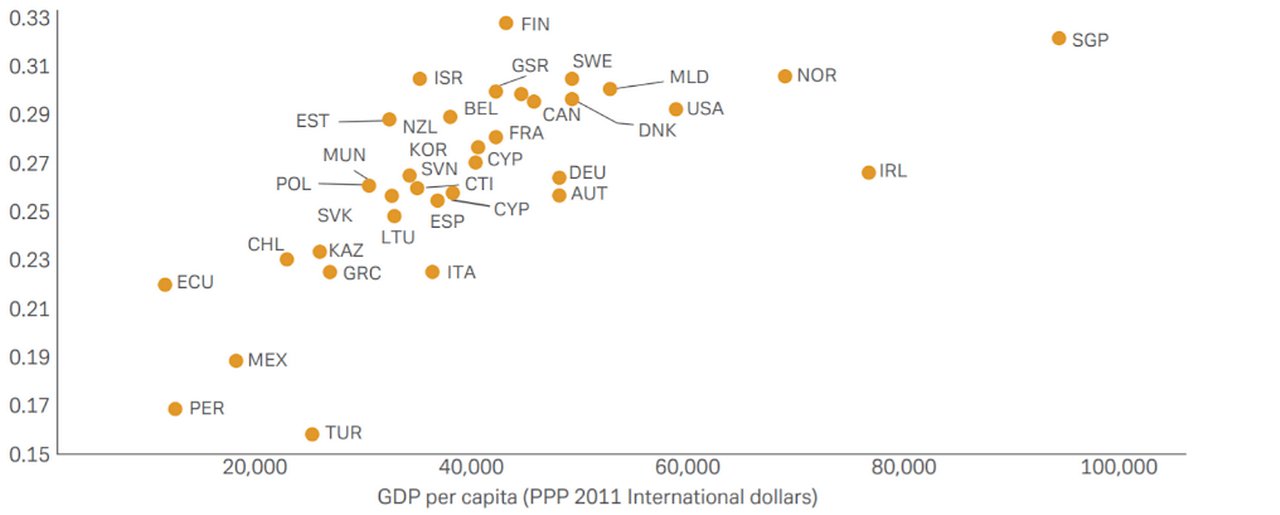 Figure 2: The richer are more mobile: in advanced economies, remote work is easier. Telework ability index by GDP per capita (PPP)
Sources: Deutsche Bank; PIAAC survey; Dingel and Neiman (2020); and IMF calculations. Note: Tele-workability index ranges from 0 (no task can be performed remotely) to 1 (all tasks can be performed remotely). Data represent country-level national averages of tele-workability index
Figure 3: Low-earning workers are in hospitality, food and construction
Sources: Deutsche Bank; PIAAC survey; Dingel and Neiman (2020); and IMF calculations. Note: Sectors are ordered by level of tele-workability from highest to lowest. Darker colours indicate higher concentration of workers in a given sector in an hourly earnings quintile from bottom (1) to top (5).
Global labour shortage
Overall, as pointed out in our report, Back to work (May 2021), lower than anticipated payroll figures (the UK recorded more than a million job vacancies in August despite the number of payroll employees increasing to 241,000 to 29.1 million that month9) are a threat to economic recovery from the Covid-19 shock.
In his helpful article, The global labor shortage,10 Deloitte's Michael Wolf observes that "Periodic complaints of worker shortages are not new. What is different this time is that worker shortages seem to coincide with elevated unemployment rates."
Different regions and different industries all have their own labour supply challenges and different ways of managing them. But, as both Deutsche Bank's Laboure and Deloitte's Wolf predict, a new way of thinking about work and labour relations is called for. "Changes in consumer and worker preferences are likely to continue. Some employers will have to continue to raise wages, while others may need to provide greater flexibility to attract the workers they need," concludes Wolf.
The world of work will never be quite the same again.
Deutsche Bank Research reports referenced
The Future of Work – Learning from Sport: Part I. How to Be a GOAT While Working Remote by Marion Laboure (7 September)
Focus Europe: Stronger-than expected labour market post re-opening by Marc de-Muizon (31 August)
Stay up-to-date with
Choose your preferred banking topics and we will send you updated emails based on your selection
Sign-up

Sign-up
flow magazine is published twice per year and can be read online and delivered to your door in print
Subscribe

Subscribe
YOU MIGHT BE INTERESTED IN