MACRO AND MARKETS, COVID-19 DOSSIER

Wellbeing takes centre stage at Sibos
16 October 2020
One of the constants at Virtual Sibos 2020 was the day starting with Dr Rangan Chatterjee's community sessions on wellbeing. Having tuned in at 7.30am UK time each morning, the flow team now report on feeling "better"
"My mission is to help 100 million people feel fantastic by restoring them to optimal health," says general practitioner Dr Rangan Chatterjee (pronounced Rongan), host of the most listened to medical health podcast in the UK and Europe, Feel Better, Live More.
From Monday 5 October, each day of Virtual Sibos 2020 began with a health and wellbeing session hosted by the charismatic wellbeing expert configured to prepare delegates "for the busy and varied Sibos day ahead keeping you mentally sharp and physically fit from the comfort of your office". Chatterjee believes that health has become "a little over-complicated" and "all of us have the potential to feel better". He aims to make it simpler by focusing on the four core pillars of movement, nutrition, mood and sleep; these being the structure of his sessions for the event.
With the pandemic having rearranged so many personal and business lives, wellbeing has ascended the scale of what corporates care about most. This point is picked up in flow's How ESG grew up during the pandemic , which notes that that employee wellness is a key component of the Environmental, Social, and Corporate Governance (ESG) performance and delivery.
This article summarises the main points that struck chords with the flow team as we prepared our top Sibos takeaway themes for each day.
Movement (and habit)
Chatterjee's opening message that all activities designed to improve mental and physical wellbeing need to be integrated into daily routines and be easily remembered. "The problem with making changes in general is that we make our plan when our motivation is high and we think that motivation is going to last. We should be making those new habits at the trough that means when our motivation is low, because it's easy to still do the behaviour. Businesses understand this very well."
"Amazon needs a one click for a purchase," he reflected. He continued, "Five years ago, in order to make an order on Amazon, you had to go through four or five steps to check your order. But every step you take is a reason that you can back out of that transaction. When it comes to behaviour change, rule number one is make it easy".
He advised attaching the "new behaviour" onto an existing habit that you already perform without thinking about it. He used the example of five minutes of strength workouts every single day which he does in his kitchen while he is waiting for his usual morning coffee to brew in the cafetière (an ingrained daily routine). An alarm bell rings when the time is up. "I don't think I missed a day for three years," he said.
According to Chatterjee, after the age of 30 we can lose up to 5% of our muscle mass every ten years. Not everyone has access to a gym (and in times of Covid-19 many cannot use the gyms they used to work out at). You can view his workout on YouTube here. We recommend watching the video and then learning the routine so that you do this before you start your working day (your flow team flunked the full press-ups and did the easy versions).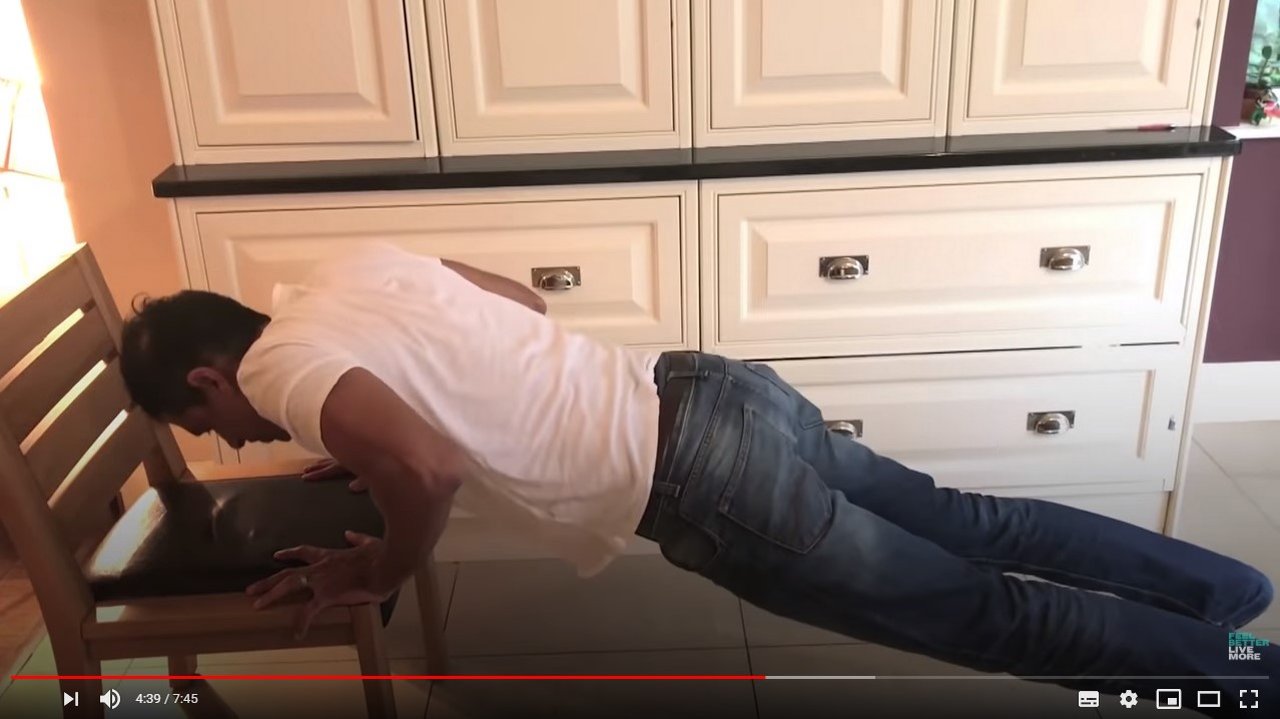 Press-ups with Dr Rangan Chatterjee
Source: The 5-minute kitchen workout – a step by step guide YouTube)
Nutrition
Day 2 of Sibos broke Dr Rangan Chatterjee's session on how good nutrition and healthy eating can boost the mood and creativity. He cited the Smiles trial in 2017 where a large focus group of people in Australia experienced a 32% remission rate from depression after switching their diets to a plan based on eating healthier foods. "We all need to be thinking about good quality nutrition, not just for our weight but many other aspects of health as well," he explained.
Dr Chatterjee recommended avoiding as much processed food as possible, advising "flip the label for the less than five rule (ensure the product has less than five ingredients)".
Mindful of his workaholic financial services audience he reminded us not to eat and work at the same time: "Stop to eat, and put down your laptop and phone." Diet agnostic himself, he reflected on how different diets and foods work for differing people but the seven to seven principle is a good one to try – meaning that if you have your breakfast at 7am you should not leave your main meal any later than 7pm. In other words, complete all eating within a 12-hour period, leaving your time to recover.
Another tip that we liked was attempting to "eat the rainbow" by eating a different colour of fruit or vegetable each day, something he said he enjoyed doing with his children. His helpful "download and attach to your fridge" chart can be downloaded here.
Mood
By the time we got to Day 3 of Sibos Dr Rangan Chatterjee's session on how to beat stress could not have been timed more perfectly. Our bodies, he said, have a natural response to stress of either fight or flight and "the stress response is designed to keep us safe". While this is no problem now and again, when faced with ongoing stressful situation such as the pandemic environment, this has negative long-term effects on the body when the stress hormone is continuously activated. "Stress that stays around too long increases blood pressure and the risk of diabetes and loss of libido." He added, "If you haven't processed your stress it sits there and impacts your decisions and concentration".
"If you haven't processed your stress it sits there and impacts your decisions and concentration"

He recommended being aware of one's own personal stress thresholds and taking preventative action to stop it accumulating. His tips included:
Write it down. Make short diary entry first thing in the morning – this helps get rid of anxiety and helps process thoughts and feelings from the previous day. This could take the form of answering the following questions:
What am I anxious about today?
What is the one thing I can do to prepare for it?
What is the one reason it might not be as bad as I think it could be?
What is the reason I know I can handle this?
What is the upside of the situation?
Breathing with the '3-4-5 rule'. We tried his tip of breathing in for three seconds, holding our breath for four and exhaling for five. He suggested starting meetings in this way to "help with general positivity. His video from February 2020, Is the way you breathe making you stressed? provides further insights into why these breath holds are "default mindfulness."
Take regular breaks. "A 15-minute walk during the day can activate the default mode network of the brain and improve the mood," said. He also advised seeking out a natural environment (for example a park or some gardens "as the brain processes the serenity and this reduces cortisol".
Sleep
The irrepressible Dr Chatterjee's fourth and final topic of focus was on the importance of sleep to help us feel, perform and focus better. In this Dream Big! Stay Fit! Session on Day 4 of Sibos, he advised that we are more able to resist temptation when we have slept well (writing from experience, one flow team member admitted to being more likely to reach for milk chocolate cookies in the afternoon to raise the sugar levels when tired – and another straight to the gin and tonic at sundown).
It's down to what you do in your daily lifestyle that impacts how you sleep, he explained, which makes your start of the day important. When you awake, get natural light exposure early in the morning. "We are not getting out as much as we used to, and with many people working from home, getting 15-20 minutes of natural light in the morning or at lunch time is important. The differential between maximum and minimum light exposure, he says, impacts how we sleep. For example we are exposed to 30 000 lux (the measurement of light exposure) when we're out in the morning, compared to 500 lux when we're in front of computer. At the end of day too much computer-generated lux is unnatural and over stimulates the brain, making it difficult to switch off.
In addition, avoid coffee after midday. Half of that large latte you enjoy at midday is still swirling around your brain at end of the day so try to drink it before noon, said Chatterjee.
Other tips include exercising before 5−6 pm, stop eating two to three hours before going to bed and avoiding the blue light from our laptop and smart phone screens as this reduces melatonin which helps you fall asleep. Blue light glasses can help reduce the glare from the screen, but it's better to just cut the device habit. Put the phone and laptop down one hour before bed. And finally, when in bed or just before, write in a journal three things you're worried about or three things you're grateful for as this helps to process thoughts and feelings and reduces anxiety.
The flow team unearthed Why Sleep is the most important pillar of health, where he interviews Professor Matthew Walker, an expert on sleep recorded pre-pandemic in 2018. The two of them discuss in detail how to manage jet lag (less of an issue in these locked down times at the moment), and ensuring that you get as much natural daylight as possible into your day (which is why one of the flow team works from home in her conservatory).
At the end of the four days of Sibos 2020, Chatterjee suggested taking one of his tips from each day on movement, nutrition, mood and sleep and "start applying them to your life". "It's easy these days to hear a lot of information and say that sounds good and not do anything because if feels overwhelming". Or even just take one thing. "That is all you need to do to start the cycle of positivity", he promised.
To conclude, although we found virtual Sibos almost as tiring as the physical ones, these highly practical and memorable sessions are already making a difference to your flow team…
Registered Sibos delegates can access each of Dr Rangan Chatterjee's sessions at
https://www.sibos.com/conference/online/sessions
Stay up-to-date with
Choose your preferred banking topics and we will send you updated emails based on your selection
Sign-up

Sign-up
flow magazine is published twice per year and can be read online and delivered to your door in print
Subscribe

Subscribe
YOU MIGHT BE INTERESTED IN