COMMUNITY

Creative enterprise
17 August 2023
Now in its 30th year, the Deutsche Bank Awards for Creative Entrepreneurs programme crowned five new winners in July 2023. flow takes a closer look at this remarkable enterprise programme
On 6 July 2023, at a special ceremony held at The Royal Society of Arts, five outstanding entrepreneurs stepped up to receive a coveted Deutsche Bank Award for Creative Entrepreneurs (DBACE). The event was hosted by arts, culture and entertainment correspondent Brenda Emmanus OBE, with a keynote speech from Farooq Chaudhry OBE, Co-founder Akram Khan Dance Company.
Celebrating its 30th anniversary during Deutsche Bank UK's own 150th anniversary, DBACE sits within Deutsche Bank's global Corporate Social Responsibility enterprise programme Made for Good, which aims to support entrepreneurial ventures driven to create wider social good. The bank has a long-standing commitment to encouraging creative talents including through DBACE, which is now in partnership with not-for-profit incubator MeWe360.
Commenting on the awards, Amy Harris, Head of Corporate Social Responsibility UK at Deutsche Bank, said that this year marks "a significant milestone for the programme" and that supporting entrepreneurial ventures committed to creating social good is a natural extension of what the bank does for businesses of all sizes, all over the world. DBACE is not only one of the UK's longest-running creative enterprise programmes but its highly creative winners have gone on to make a real difference to society.
Our 2023 winners
Awarded a collective prize fund of £60,000, our 2023 winners were also pledged £100,000 of tailored business support and leadership development from MeWe360's roster of top industry mentors, consultants and creatives.
As part of DBACE, an extra five bursary memberships with MeWe360 are provided to suitable shortlisted entrants who don't make the final five. The 12-month membership provides tailored business support to develop the entrepreneur and help them achieve their venture's next milestones.
This year's winners, selected for their exceptional commitment to driving positive societal change through creative enterprise, are:
Artistry Youth Dance – a London based youth dance company that supports young people of African and Caribbean heritage, dedicated to empowering and developing the next generation of black dance artists whilst cultivating a more culturally diverse UK dance community.1 Awarded £12,000
LEVILE – a casting and media agency that specialises in providing genuine opportunities for diverse and underrepresented creative talent to the TV and film industries, both in front of and behind the camera.2 Awarded £15,000
Rehema Cultural Arts – an arts organisation that partners with cultural institutions to decolonise their collections relating to African history, ensuring African stories are told from an African perspective, widening access to black communities. Awarded £10,000
The Bitten Peach – the UK's first queer pan-Asian cabaret casting agency and production company on a mission to diversify Asian representation on stage. Cabaret art forms include drag, burlesque, dance, circus, comedy, music and spoken word.3 Awarded £13,000
United in Design – a charity founded in 2020 to address the lack of equality, diversity and inclusion in the Interior Design industry with a focus on those from ethnic minorities and lower socioeconomic backgrounds.4 Awarded £10,000
About DBACE
When first established in 1993, the programme celebrated final year undergraduate or postgraduate university students, providing financial and business support to help launch creative careers.
Over the years, the awards have evolved in response to the changing landscape of the UK's creative sector, which has seen not just extraordinary economic growth, but also a deepening association with meeting society's most pressing needs. To meet shifting needs of entrepreneurs, the programme continues to reflect the dynamic business environments entrepreneurs work in and their passion for delivering a positive societal impact.
DBACE has celebrated more than 400 entrepreneurs to date, who have all received start-up capital, guidance from the bank and business mentoring from its partners. Thousands more applicants have gained knowledge and skills that can assist them in business and in life.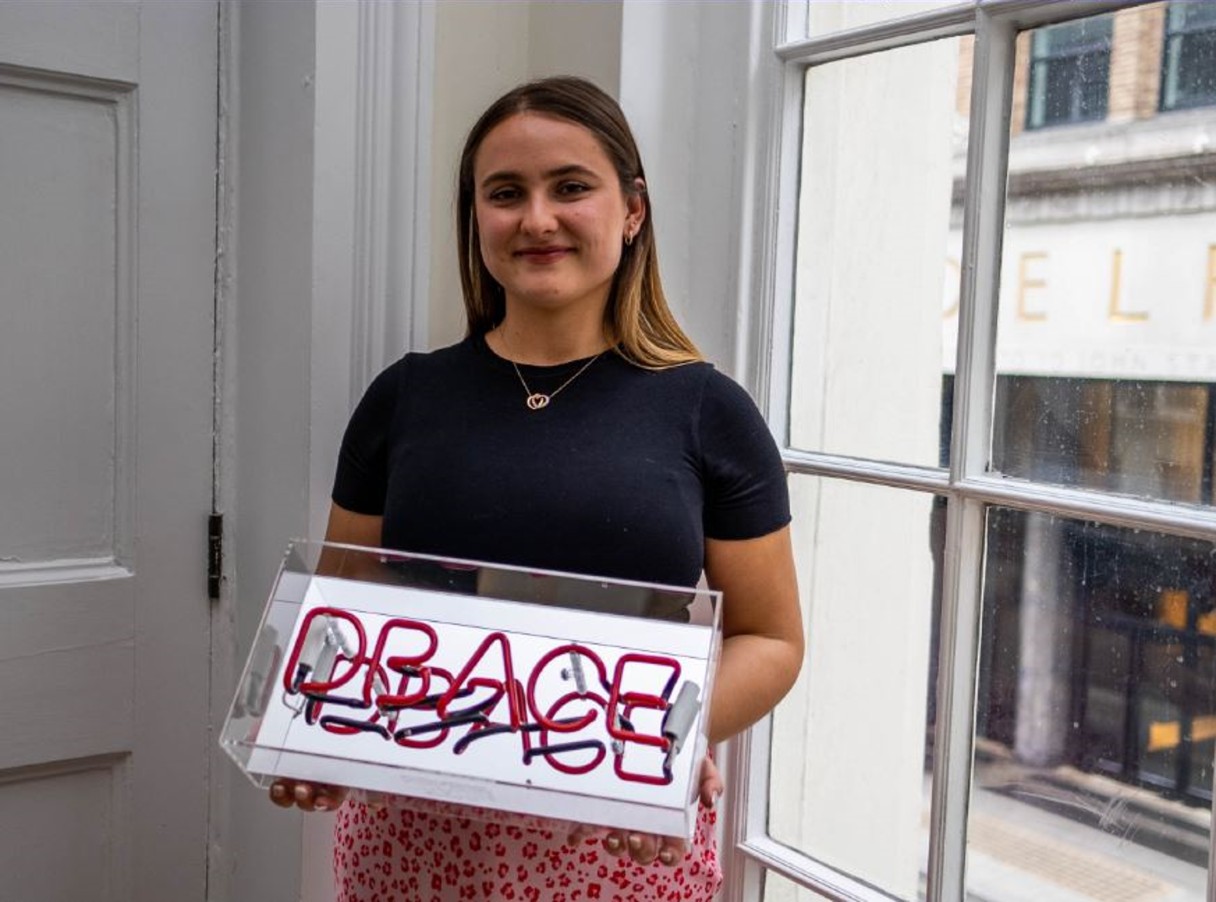 Chamiah Dewey with her 2022 DBACE award
One of the 2022 winners whose company was catapulted into growth after receiving the award was Chamiah Dewey Fashion, the UK's first clothing brand for short stature people under 4'11. With a BA in Fashion Design and Development, Chamiah Dewey was on a mission: to disrupt the fashion industry, encouraging positive representations of short stature people to mainstream media, changing societal perceptions and, in her words, "showing the fashion industry that small people are just as beautiful and deserving of stylish closing and a place in the industry". Conditions such as dwarfism, spina bifida, rheumatoid arthritis and brittle bone disease have only too often meant that children's clothes were the only options available to shorter individuals. Dewey's company, launched in 2021, set about changing this. She won £15,000 as part of her DBACE success.
How to apply
To be eligible for DBACE, applicants must:
Demonstrate that a key driver for the business is to create positive social impact – this can be a not-for-profit entity, a commercial idea or an enterprise
Own a material share in the business and be responsible for the direction and leadership of the organisation. This would normally include holding the title of CEO, Founder or Co-Founder. If applying as a group, then at least one applicant must hold on of those three roles
Demonstrate the enterprise is within the creative industries or will create a clear service in support of the sector
Be applying with an enterprise they wish to grow, rather than seeking support for a one-off project
Commit to a minimum of 20 hours a week to the business in the 12-months after receiving the award, and to engaging with the Incubator programme, including the wider group sessions, events and training
Legally reside in the UK within each programme year – and if applying as a group – all the applicants must legally reside in the UK during this time
Once eligibility is confirmed, applicants then undergo the process set out in Figure 1.

Figure 1: DBACE application timeline 2023
If you know of an enterprise that could be put forward for the 2024 DBACE awards, keep an eye on the website at https://dbace.org/ for details of how to apply. Applications open in mid-January and close at the end of March of each year.
Stay up-to-date with
Choose your preferred banking topics and we will send you updated emails based on your selection
Sign-up

Sign-up
flow magazine is published twice per year and can be read online and delivered to your door in print
Subscribe

Subscribe
YOU MIGHT BE INTERESTED IN