TRADE FINANCE, SUSTAINABLE FINANCE

Export finance gets a full house in Lisbon
11 August 2023
After a busy 2022 of export finance deals, the prospect of a new OECD consensus and the continued demand for equipment and infrastructure to support clean energy transition were key themes at the 2023 TXF Global Export and Project Finance event in Lisbon. flow's Clarissa Dann reports
When the export finance community reconvened in Lisbon for the annual TXF Global Export and Project Finance event, it was no surprise that the delegate count had surged past the 2022 total of 850 in-person attendees with 1,000 gathered in Portugal's capital.
As the Covid threat lessens the bounce-back effect, combined with the sheer volume of project financing demand to meet energy transition commitments was always going to make for a full auditorium – an impressive milestone since the event's humble 2013 launch in Paris, along with the TagMyDeals database. In addition to the in-person attendees, the event hosted 350 virtual guests and 160 speakers.
"Export finance sits at a cross-section of geopolitics, economics, development, and international collaborations – which is even more important now," reflected TXF's co-founder Daniel Sheriff (and CEO of its parent The Exile Group) during his opening welcome on 15 June. Given that over 15 years exporters have navigated a global financial crisis, a pandemic and a battle for energy and raw materials security, accompanied by energy transition commitments in developed and developing economies – agency finance has become, as Sheriff put it, "front and centre" in cross-border trade.
This was evidenced in TXF Intelligence's full year data shared at the event – of the overall US$100bn of export finance transactions recorded in 2022, infrastructure and equipment were top loan purposes scorers (see Figure 1).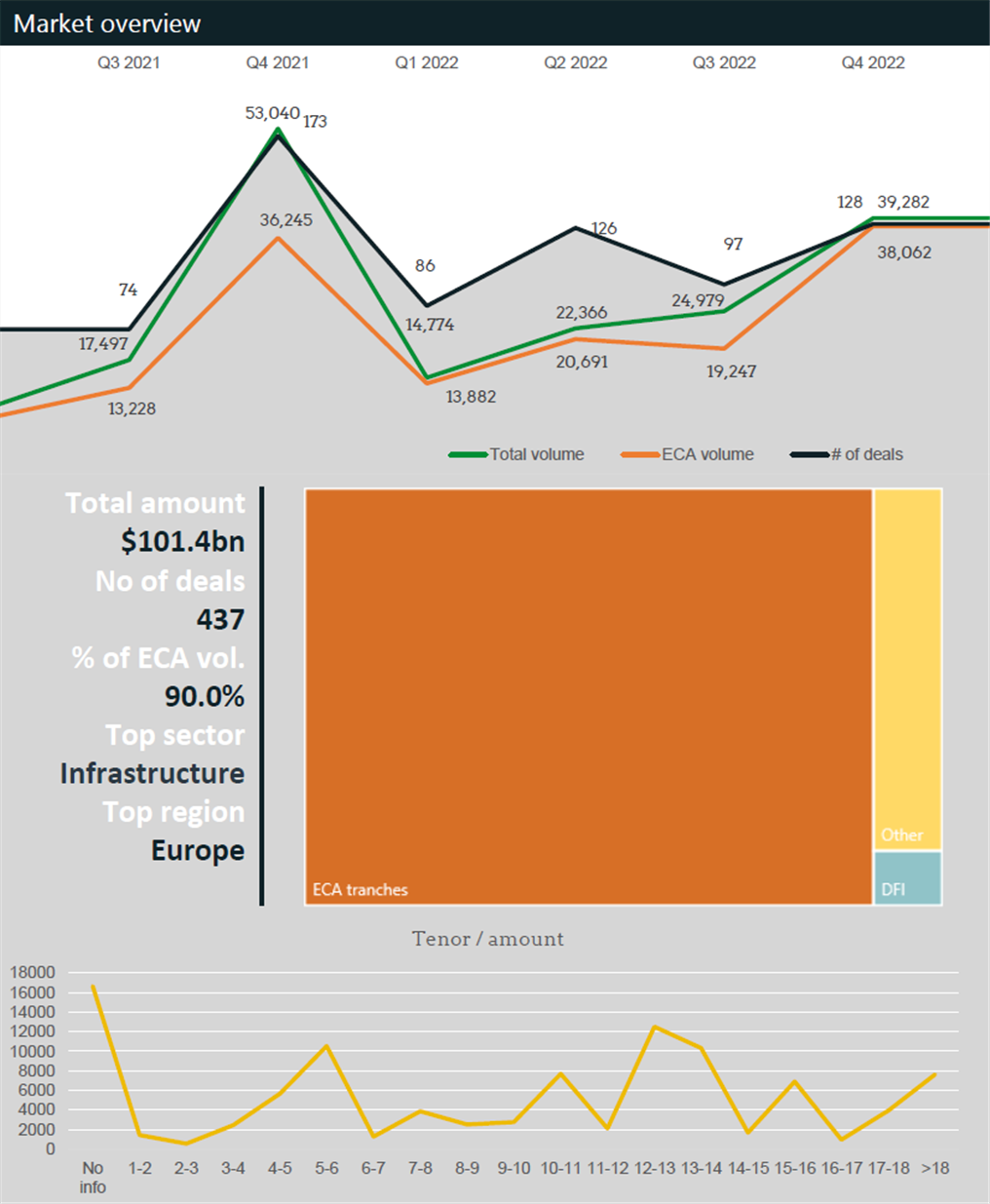 Figure 1: Export finance 2022 – TXF analysis
Source: TXFIntelligence.com
Updated OECD consensus
An important backdrop to this year's event was the updating of the OECD 'Arrangement'; first set up in 1978 to build on the export credit 'Consensus' agreed among a smaller number of OECD countries in 1976. Although it has since been updated – with more countries operating outside the OECD Arrangement (for example China), and with a more flexible approach in response to energy transition projects – a thorough overhaul was long overdue.
"[OECD changes] should help in levelling up the so-called 'playing field' with those countries operating outside the OECD Arrangement"

On 31 March 2023, European Union member states along with Australia, Canada, Japan, South Korea, New Zealand, Norway, Switzerland, Turkey, the United Kingdom, and the United States – the participating countries to the OECD Arrangement on Officially Supported Export Credits – reached an agreement in principle to modernise it after several years of negotiations.1
At the time, TXF Editor in Chief Jonathan Bell commented that the changes "will lead to a simplification of the Arrangement text through streamlined provisions, as well as a more robust transparency regime and review procedures. "He added, "These are likely to be complete game changers for the export finance community and are what many involved in export finance – commercial banks, export credit agencies (ECAs), sponsors, borrowers, exporters, governments, funds, investors etc - have been pushing for over a good number of years now." He concluded that "it should ultimately also help in levelling up the so-called 'playing field' with those countries operating outside the OECD Arrangement."2
The scope of green or climate friendly projects (i.e. those eligible for longer repayment terms under the Climate Change Sector Understanding (CCSU)) is to be expanded.3 Such projects would include:
Environmentally sustainable energy production,
CO2 capture, storage, and transportation,
Transmission, distribution and storage of energy,
Clean hydrogen and ammonia,
Low emissions manufacturing,
Zero and low emissions transport, and
Clean energy minerals and ores.
Commenting on these developments, Deutsche Bank's Global Head of Distribution for Trade Finance and Lending said he welcomed the long-awaited update on the Arrangement "as this will foster a stronger and more dynamic export market, improving transparency and reactivity for all parties involved".
Jonathan Bell, a veteran analyst and commentator on export finance transaction patterns for several decades chose the 2023 TXF Global Export and Project Finance event as his swansong and received a standing ovation after the team shared a celebration video of some iconic moments. As for my own recollections, I am digressing slightly in this article to thank Jonathan for the encouragement and support he gave me as a trade finance writer 12 years ago when I first found myself catapulted into the industry by chance and he was still at Euromoney.
Adaptation to new landscape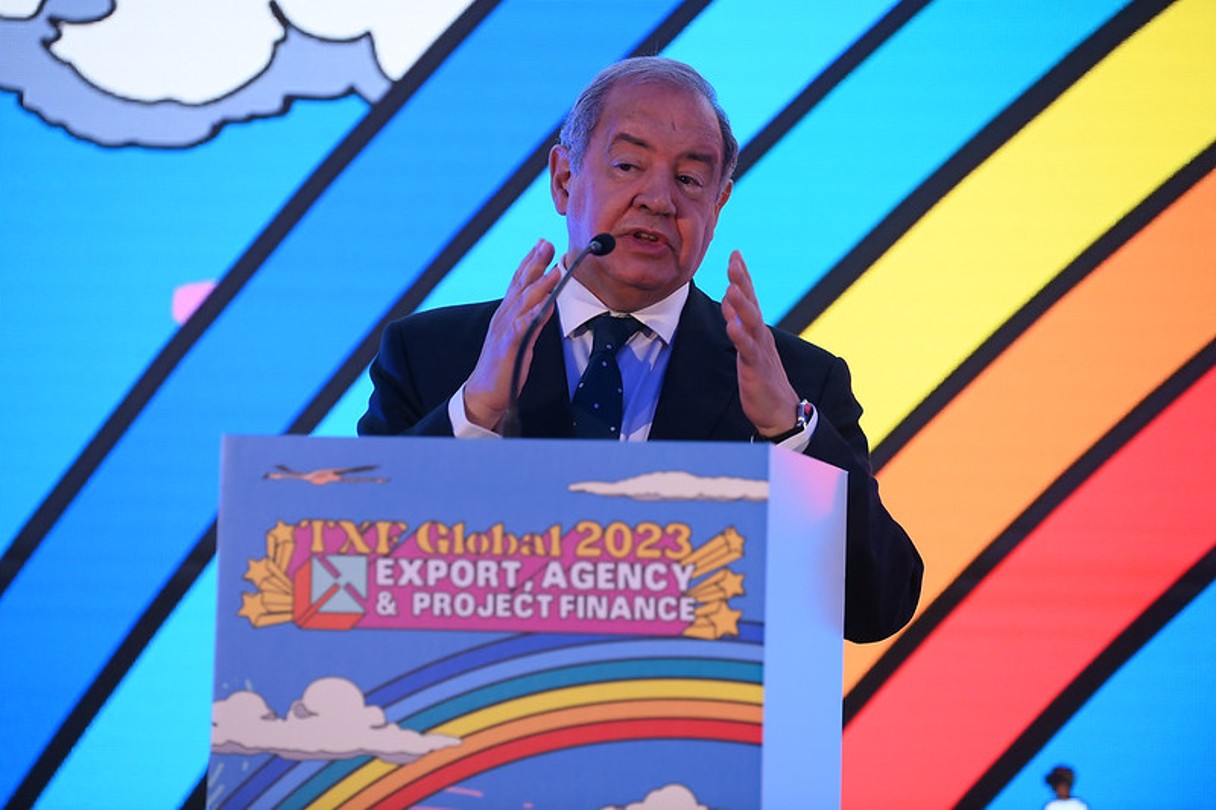 António Costa Silva, Portugal's Minister of Economy and Maritime Affairs, welcomes delegates to Portugal
In his opening keynote address, António Costa Silva, Portugal's Minister of Economy and Maritime Affairs, welcomed delegates and explained that the transition of its export credit function from the privately run COSEC to the state-sponsored national promotional bank, 'Banco Português de Fomento'4 is "gradual" and will "align export credit activities with the huge transformation we are seeing in the Portuguese market". All existing agreements will be kept in place, he said. His address set the overall tone of the event that noted "world markets are changing" and "we have to rethink our tools and be more adaptive to world transformation".
A key area of focus is the energy transition. "We need to link export credit agency and financing projects to the energy transition," said Costa Silva, adding that most electricity markets were designed in the 1990s. Around 60% of Portugal's energy now comes from renewables, and "the plan is to reach 80%".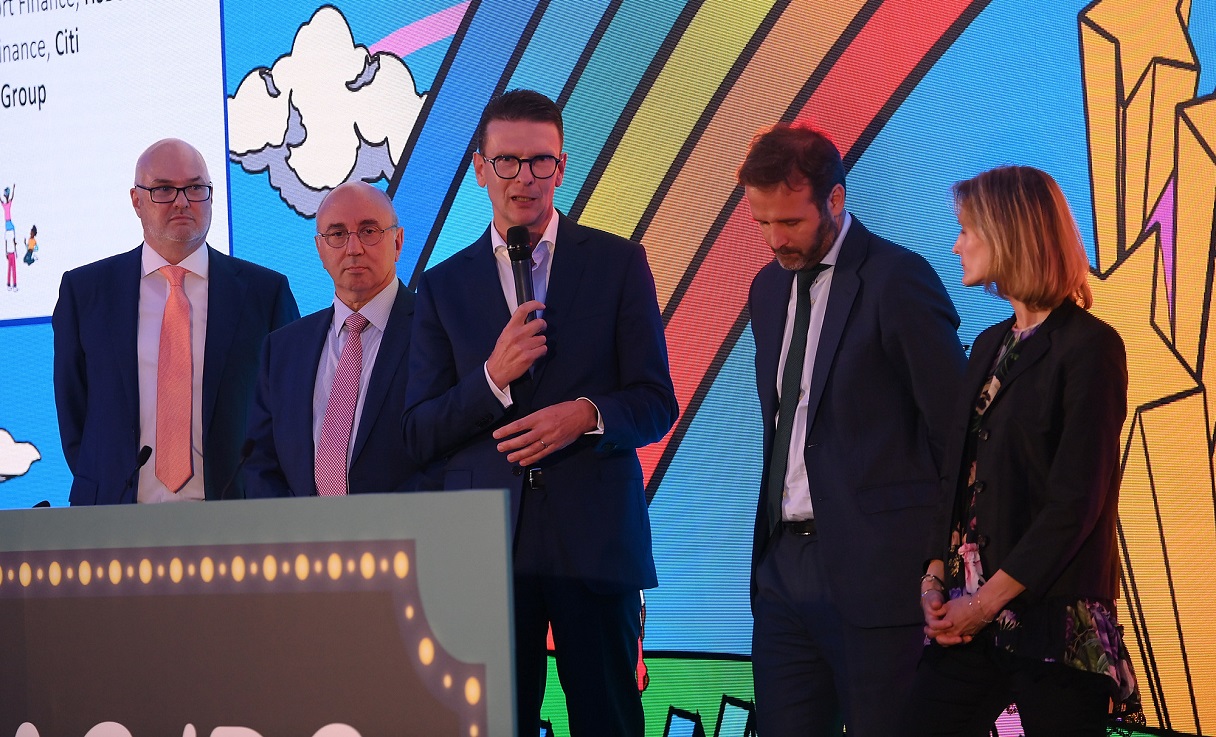 Deutsche Bank's Werner Schmidt (centre) reflects on export finance risk during the Global Heads Debate
Deutsche Bank's Global Head of Structured Trade and Export Finance Werner Schmidt described the wider risk climate as one of a perfect storm. Speaking at the Day One Global Heads debate, he said that a combination of the ongoing Russia/Ukraine conflict, the US/China trade wars, high inflation, climate change, food crises and corporate leverage, demands a solution that this community can provide when it teams together. "Across ECAs, banks and clients, we are sharing the burden and are looking at how we bring liquidity into the market and address these challenges". The solution he added, lay in different products beyond export finance – such as bringing investors in to share the risk.
"Across ECAs, banks and clients, we are sharing the burden and are looking at how we bring liquidity into the market"

ECA perspectives
Among the high points of this event is the ECA CEO 'Hot seat' interviews where it became clear how supporting pathways to net zero diversifying from hydrocarbons – while ensuring today's energy security is provided for – were key considerations in all the countries represented. With 18 very different interviews (all available to delegates on demand), below are some of the points made that stood out:
Canadian ECA EDC has facilitated more than US$29bn in Canadian cleantech exports – in subsectors such as power generation, agriculture and infrastructure.
Italian ECA SACE has undergone a rebranding journey that refreshes its mission to support companies in Italy through helping them to strengthen liquidity, resilience and overall competitiveness. All this is underpinned with a focus on sustainability and support for the Green New Deal (Italy's guarantee programme for companies reducing their impact on the environment – around €3bn of guarantees have been issued so far).5
Saudi Arabia has undergone a significant transformation as it has sought to lessen dependence on oil revenues via diversification – the strategy being enshrined in the country's Vision 2030 strategic framework.6 Its ECA, Saudi EXIM Bank was set up to "empower the Saudi non-oil economy in global markets".7 This includes supporting the planned mega city Neom – part of the 2030 plan for a climate-friendly oasis in the desert.8
The Swedish export credit agencies, EKN and SEK work closely together and in May 2023 EKN confirmed the highest guaranteed volumes ever seen by the ECA in its 90-year history, reflecting global demand for Swedish exports – such as those supporting green infrastructure and electrification. Both see themselves as a strategic partner with commercial banks, multilateral finance institutions and development finance institutions and reinsurers and underline the need to collaborate even more to deliver transformation outcomes – such as clean water in Africa.
The big focus in Germany and for its ECA Euler Hermes is energy security and energy transition, to protect the country's industrial base and ensure its resilience. Of its energy portfolio, around 70% of the ECA's projects comprise renewables and the pipeline is growing with huge transformation projects, such as batteries cell productions, hydrogen green steel projects, solar, hydro-electric power and wind.
Energy transition activity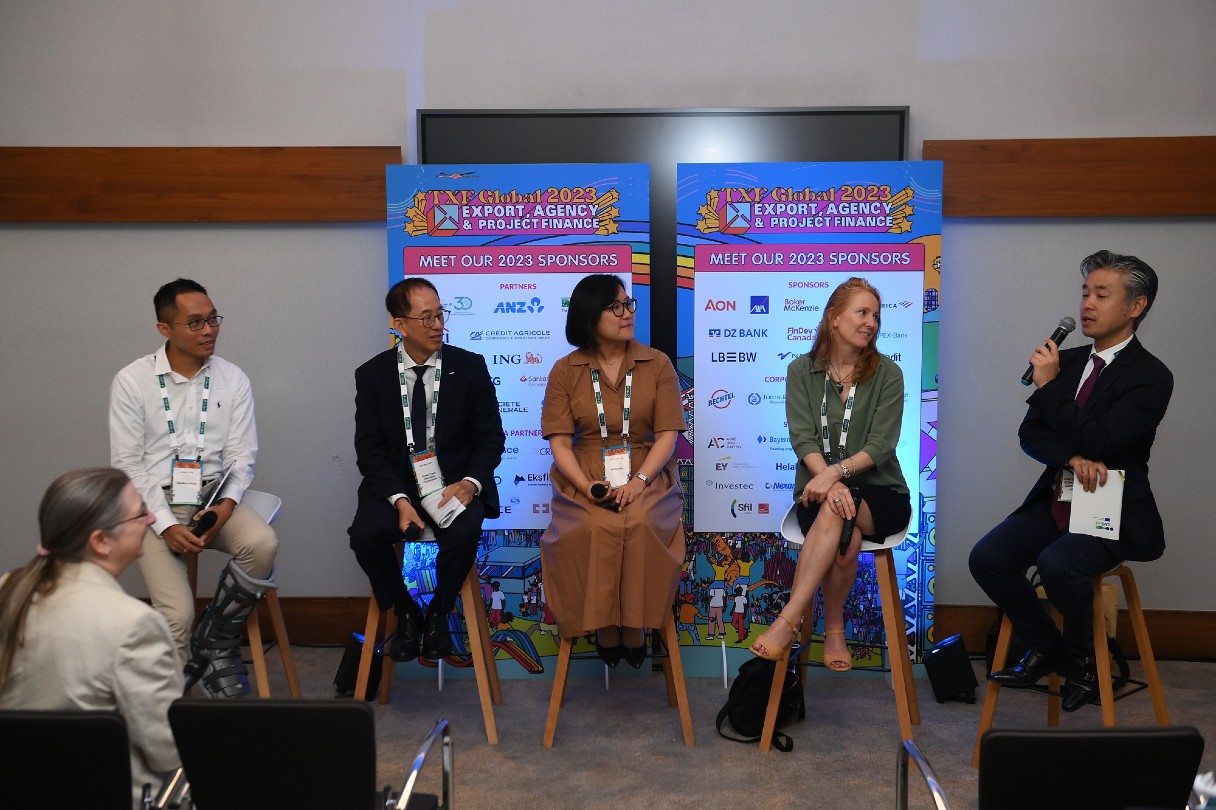 From left to right: Katharine Morton (TXF Media, seated front row); Edward Hui (Deutsche Bank); Youngkuk Kim (Korea trade Insurance Corporation); Sun Jung Lee (Santander); Laure Duvernay (Alcatel Submarine Networks); Toshimichi Hasegawa (Japan Bank for International Cooperation)
On Day 2 the theme of ECAs supporting energy transition was reprised in several other panel sessions, in particular the Asia Regional Round Table. Edward Hui, Regional Head of Structured Trade & Export Finance Asia Pacific at Deutsche Bank commented that while ECAs are providing liquidity and risk mitigation for multiple offshore wind projects (TXF Data reported around US$10bn of ECA financing across eight large Asia projects), they are turning their attention to securing the entire electric vehicle supply chain. "This is from taking the minerals out of the ground, processing them, producing batteries and then supplying the car companies."
One case study that caught delegates' attention was the presentation from Faisal Talata, Head of Finance for Ocean Winds, wind farms developer and the sponsoring and founding shareholder of the EFGL floating offshore wind project in the South of France. This involves the construction and operation of three 10 MW floating wind turbines, more than 16 km offshore from Leucate (Aude) and Le Barcarès (Pyrénées-Orientales). The EFGL project, expected to cover the annual electricity needs of more than 50,000 coastal residents, is scheduled to be commissioned at the end of 2023 with a planned operating lifespan of 20 years, bringing around 400 direct and indirect jobs during construction and 40 during the ongoing operations.9
While offshore wind farms with foundations in the seabed are now part of the renewable energy mix, scaling up is limited by the fact that they are restricted to waters no deeper than 60 metres. As observed by The Economist in 2021,10 "Unfortunately, 80% of the world's offshore wind blows over places deeper than that. Making these accessible, says the International Energy Agency, an offshoot of the OECD, would unlock enough power to meet the world's probable electrical needs in 2040 11 times over. The trick is to build turbines which, though moored to the seabed, will float."
Issues remain surrounding stability in high winds and undersea cables to transmit the electricity to the grid, but this pilot sets out to address the fact that it is one of many using various technologies that all need to consolidate before scaling up can happen.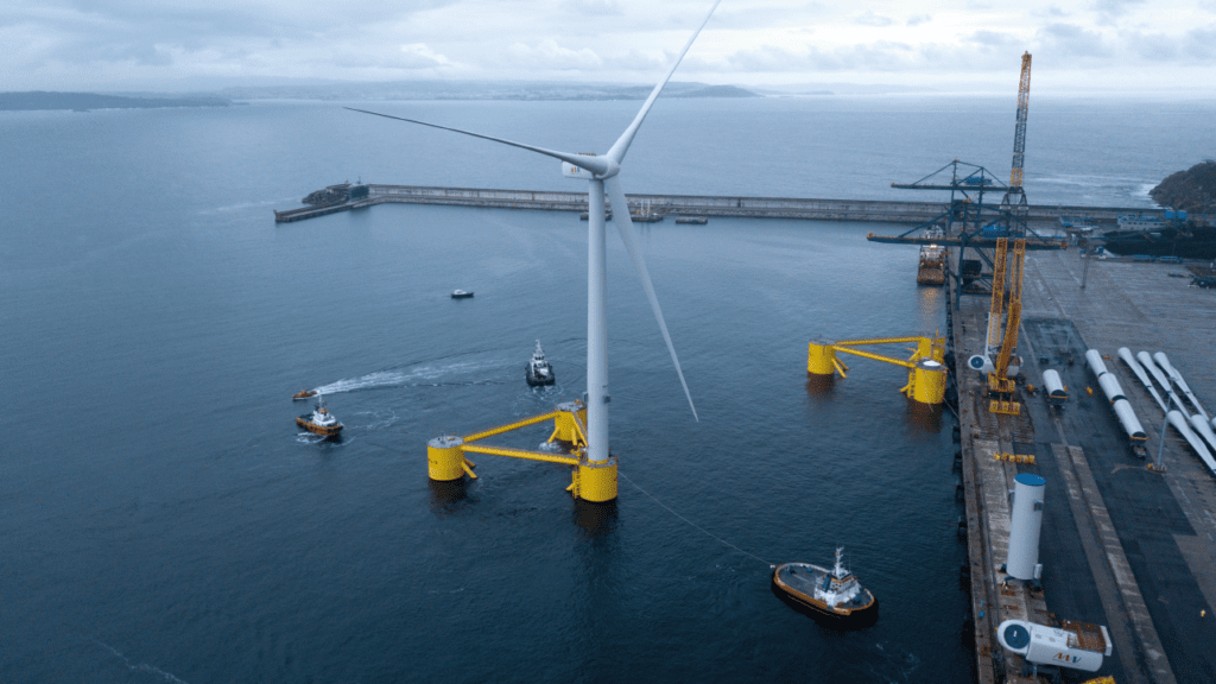 The EFGL project at the end of its development phase in January 2022 © Ocean Winds
The TXF Global 2023: Export, Agency & Project Finance took place 15–16 June 2023 at the Epic Sana Lisboa Hotel, Lisbon, Portugal. Next year's event will be held at the Divani Caravel in Athens, Greece on 11-12 June 2024.
Stay up-to-date with
Choose your preferred banking topics and we will send you updated emails based on your selection
Sign-up

Sign-up
flow magazine is published twice per year and can be read online and delivered to your door in print
Subscribe

Subscribe
YOU MIGHT BE INTERESTED IN