TRUST AND AGENCY SERVICES, FLOW CASE STUDY

Autohome: in the driving seat
03 July 2023
Autohome is a dynamic sales and information portal in the world's largest automobile market. flow's Clarissa Dann provides a summary of the mileage so far, and reports on how its American Depositary Receipt programme has helped the company broaden and enhance its investor base worldwide
On every reading of the dashboard, the Chinese car market is remarkable. China leads the world in both annual sales and number of cars produced, according to data gathered by the US Department of Commerce's International Trade Administration.1 China also leads in the electric car race: the International Energy Agency found that China accounts for 60% of global electric car sales, and that more than half of the world's electric cars currently on the road are in China.2
Since the restrictive 'zero Covid' policy was dropped in December 2022, China's passenger car sales have been steadily increasing – see Figure 1.
Figure 1: China monthly passenger vehicles – sales volume growth
Source: China Passenger Car Association
Driving vehicle sales
Autohome has been very much part of China's car growth story. It's state mission is to "relentlessly reduce auto industry decision-making and transaction costs driven by advanced technology". It does this by providing, "occupationally-generated, professionally-generated, user-generated content, and AI-generated content, a comprehensive automobile library, and extensive automobile listing information to automobile consumers, covering the entire car purchase and ownership cycle".
From its beginnings in 2004, Autohome has launched and grown new consumer offerings. Its che168.com and autohome.com.cn websites were launched in 2004 and 2005, and the Autohome forum and app launched in 2007 and 2010 respectively. Its commercial lines have evolved too: che168 was reorganised as a used car website in 2011, Autohome Mall was launched in 2014, and a full-blown '818 Global Super Auto Show' was launched in 2019. Sitting at the nexus of such valuable information flows led to the launch of Autohome's first data product 'Che Zhi Yun' in 2017, followed the next year by Autohome's transformation from a '4+1' auto platform into an 'intelligent auto ecosystem'.
Original equipment manufacturers (OEMs) typically use Autohome's online advertising services to boost their brand and promote sales and new model releases; dealers meanwhile use the sites to market their inventory and services; both parties appreciate the chance to reach potentially millions of customers via the portal's visitors. That strong value proposition for advertisers, dealers, and customers together with the sites' high-quality content (featuring Autohome's large in-house editorial team) has created a virtuous traffic cycle for its stable of sites and products.
Hong Kong-based Deutsche Bank Research analyst Leo Chiang observed in his 16 and 17 May 2023 updates that Autohome is optimistic about China's auto market for 2023 given the potential launch of new government incentive programmes to stimulate auto sales, and the gradual recovery of consumption sentiment. "The company expects NEVs (new energy vehicles) to continue to outperform, while traditional ICE (internal combustion engine) vehicles may remain soft due to stricter vehicle emissions standards – National VI B, which will start to be implemented from 1 July with certain models having the deadline extended to the end of 2023," he said.3
Chiang explains how Autohome launched the first new electric vehicle (NEV) offline experience store in Shanghai in September 2022 allowing users to experience various NEV models at the same time via augmented and virtual reality (AR/VR) technology. "Initial feedback is encouraging, and the new initiative has been recognised by both consumers and OEMs", he reflects – more new stores with a franchising model are planned for 2023. NEVs are a growing business for Autohome – the company currently has partnerships with more than 30 NEV brands.
Global reach
Autohome's vision is "to become the world's largest intelligent automotive ecosystem, covering all stages of the ownership life cycle of automobiles".
The company's global capital markets footprint began with its IPO on the New York Stock Exchange (NYSE) in 2013 through a sponsored Level III American Depositary Receipt (ADR) program run by Deutsche Bank,4 and its secondary listed in Hong Kong in 2021.
The role of Chinese companies in transforming global capital markets can be seen in their impact upon depositary receipt (DR) programmes. Deutsche Bank research found that 18% of all DR programmes today originate from China and Hong Kong,5 up from low single-digit figures 20 years ago. DR programmes for Chinese companies today account for 41% of the value of all DRs traded in 2022, and 38% of the volume traded.6 In 2022 alone, Chinese DR programmes constituted around two-thirds of the capital raised through DR programmes globally.7
Despite thriving domestic exchanges, in particular in Shanghai and Shenzhen, Chinese companies have long sought access to international capital – and to mitigate some of the domestic legal and technical barriers to listing – through using DR programmes, whether ADR (American) or GDR (Global). Depositary banks in non-Chinese financial hubs issue investors with DRs representing equivalent shares in the underlying Chinese company's stock. DR programmes connect issuers based in China with investors from all over the world, and Autohome has (with support from Deutsche Bank) seized the opportunity to offer this to its investors.
Sterling Song heads Autohome's investor relations team and his own career has developed in step with China's economic opening up. He started out 20 years ago at a biotech/healthcare products company, at the early stages of China's foray into the capital markets. Song notes that the market then viewed the investor relations (IR) profession as something relatively novel. However, the value added by IR professionals soon became apparent to his first employer, which had just completed a reverse take-over and had graduated to the American Stock Exchange mainboard from the now defunct FINRA-regulated OTCBB (Over-the-Counter Bulletin Board) quotation medium for foreign companies.
This marked the start of Song's experiences of communicating with US investors, which constituted not so much a 'random walk down Wall Street' as rather a "closed loop", taking in as it did IPOs, secondary offerings, and then back full circle to take privates, and encompassing sectors ranging from e-commerce and online education through to food and live streaming in the process.
Banks play a key part in bridging the needs gap between capital and clients for companies such as Autohome. Since its listing on the NYSE in December 2013, Deutsche Bank has, says Song, "been a long-term value partner".
"The IR team touches base with senior management all the time"

Building the investor community
Such experience has been brought to bear on Autohome's extensive shareholder base. Song notes that "as of Q1 2023, the top 20 institutional investors hold more than 30% of total shares outstanding, featuring the names of European and US long-only value investors such as Fidelity, Invesco, Lazard, abrdn and Mondrian".
Ping An Group, one of the largest financial groups in China, became the controlling shareholder of the company in 2016, and accounts for more than 40% of Autohome's total shares. The tie-in was a savvy move, given natural synergies with motor and related insurance products; that move into the aftersales market naturally led to the move into the investments in TTP Car Inc. and the used car market generally.
Autohome's capital market innovations, particularly in the US, Hong Kong, and with its ADR programme, have done much to expand and enhance the investor pool.
These investors are serviced by Song's IR team. Four-strong, the team's daily IR tasks are divided between them, from fielding investors' enquiries and preparing for earnings reporting and meetings, through to communications with sell- and buy-side analysts across the world.
Song's team is based in Beijing and reports to Autohome's CFO Craig Yan Zeng, who also oversees the financial, capital markets, business development, and legal teams. Song and Autohome's IR team also have close communications with senior management, especially the CEO Quan Long and the business operations teams.
Each morning, Song's team prepares a Capital Markets Bulletin for senior management. Key points include:
Capital market updates (US, Hong Kong, and China's A-shares);
Sell side analyst expectations and consensus; and
Auto industry overviews and peer information.
In addition, he explains, the team "touches base with senior management all the time on feedback and suggestions from investors, capital markets movements, and any changes in government policies".
Half the IR team's time is spent communicating with external stakeholders. For example, in 2022 alone, the team held over 300 investor meetings – in person and virtually – with nearly 400 funds. In addition, each quarter the team holds regular meetings with Autohome's top institutional investors, and the team is "extremely occupied during earnings seasons".

Pre-pandemic, it was the norm for IR team members to fly to regional hubs (Singapore, Hong Kong, the US, etc.) for both investor conferences and non-deal roadshows (NDRs). The pandemic put paid to physical meetings for a while, but Song notes that "as there are no more restrictions on domestic and international travel, Autohome plans to conduct more US and European NDRs in 2023" and adds that the team had already attended five large investor conferences in Hong Kong by the end of March 2023.
ESG
Autohome has "continuously paid a lot of attention" to environmental, social, and governance (ESG) matters over the years as interest in ESG from both investors and governments has increased.
Since its secondary listing in Hong Kong, Autohome has produced bilingual ESG reporting for investors, culminating in its first 'ESG Report 2022', released in Q1 2023. That report "objectively and fairly presents Autohome's understanding, specific practices, and key achievements in ESG matters", adds Song.
Given Autohome is a leading Chinese company, it is worth noting China's national goal of "carbon peak and carbon neutrality" and the carbon emission reduction targets set with respect to the automotive industry. Autohome shares these goals, to better address the challenges posed by climate change. Specifically, Autohome is "committed to achieving carbon neutrality in operations by 2030, ahead of the country and the automotive industry". Drilling down, Song shares that Autohome's 'eco strategy' centres upon "new energy vehicles, and combining used car transactions with our data products to help with the digitalisation and carbon emissions transformations of the auto industry".
The road ahead
Autohome's IR team is a well-oiled machine, helping investors continue on their Autohome journey. This is part of a larger narrative of growth in China's auto segment.
China's electric car market, a significant economic pillar, has vast untapped potential in rural areas. To leverage this, the government is extending charging station coverage and urging car makers to diversify their product offerings to appeal to rural markets. The objective is to boost rural car ownership to 160 cars per thousand people by 2030, underlining the promising prospects for Autohome's expansion.
With even more alluring milestones on the horizon, Autohome has benefitted from partnering with those enabling its access to capital, finding that such parties (such as Deutsche Bank) are not 'back seat drivers' but rather trusted navigators, guiding and fuelling the company's international expansion.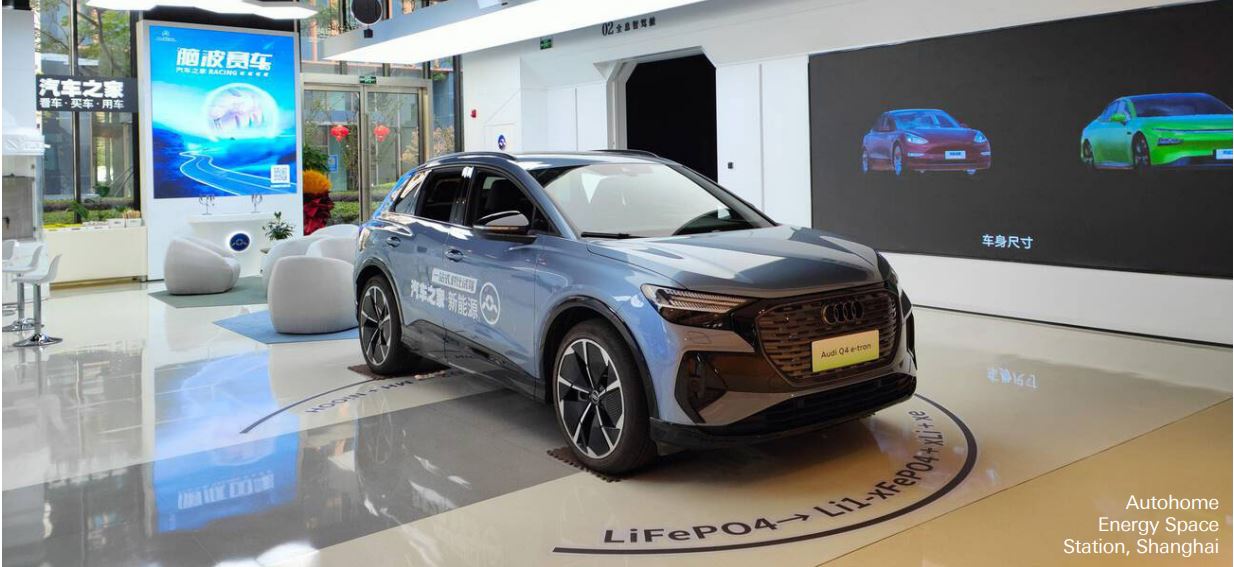 Source: Autohome Energy Space Station
Sterling Song's tips for a successful IR meeting:
Preparation is key: be well organised and collate all the information you need to thoroughly understand the buy side investor (whether current or potential).
Understand the buy side's background, their interest in the company, and their shareholding information (again, whether current or potential).
Being frank should be the basis for all your communication; develop a relationship via continuous contact and candid discussions.
The quality of your investor meeting is ultimately evidenced when the buy side investor begins to build a position in your company.
Stay up-to-date with
Choose your preferred banking topics and we will send you updated emails based on your selection
Sign-up

Sign-up
flow magazine is published twice per year and can be read online and delivered to your door in print
Subscribe

Subscribe
YOU MIGHT BE INTERESTED IN