CASH MANAGEMENT

Bank support during Covid-19
17 April 2020
As the Covid-19 pandemic continues its disruption and dislocation of economies, businesses and supply chains, banks are working with governments and their clients to ramp up support initiatives. Here are some examples of Deutsche Bank activity
In the early weeks of the coronavirus pandemic, as it became clear that Covid-19 would deliver a massive macroeconomic shock to the global financial system and to peoples' everyday lives, Deutsche Bank's CEO Christian Sewing spoke – in a 15 March interview with German Sunday newspaper FAS – of the banking sector being part of the solution to the current crisis.
Government partners
The primary focus of its members has been on working with governments to maintain the liquidity of companies until business conditions can begin returning to normal. As a financial institution with a global footprint, Deutsche Bank has been at the centre of various Covid-19 relief efforts. One recent example saw it act as joint lead manager and bookrunner – with Citigroup, Goldman Sachs, HSBC and Standard Chartered – for a US$4.3bn triple-tranche bond offering by the Republic of Indonesia.
The offering was dubbed a "pandemic bond", with the proceeds used partially to "fund its Covid-19 relief and recovery efforts". Indonesia is South-East Asia's largest economy and has been hit hard by the pandemic as companies such as Japanese carmakers Suzuki and Honda suspend production at their plants. The transaction also served as a reopening of South East Asia's bond market.
In response to the sharp reduction in market liquidity over recent weeks, the Bank's team members are working closely with clients in securing FX liquidity to help them maintain business continuity. In response to market dislocations across FX and rates curves, they are assisting them in optimising hedging costs through onshore and offshore markets through Deutsche Bank's access solutions, aiding 10 clients in China within a two-week period.
Cash position optimisation
Other areas in which the Bank has supported clients include help for multinational corporations (MNCs) seeking to optimise their cash positions across subsidiaries in various regions of the world. It has provided upstream company loans and also specialist advice on items ranging from local regulatory considerations to hedging solutions. As working from home becomes a way of life for millions, the Bank's digital solutions and technology capabilities have been in high demand. These include the FX platform capabilities that enable treasury team members to maintain liquidity when it matters while their office is shut down.
Medical supplies
The past few weeks have also seen Deutsche Bank employees around the world devote their time and energy to specific initiatives for addressing problems created by Covid-19. The following are just a handful of recent examples of individual efforts as much as good service and robust technology.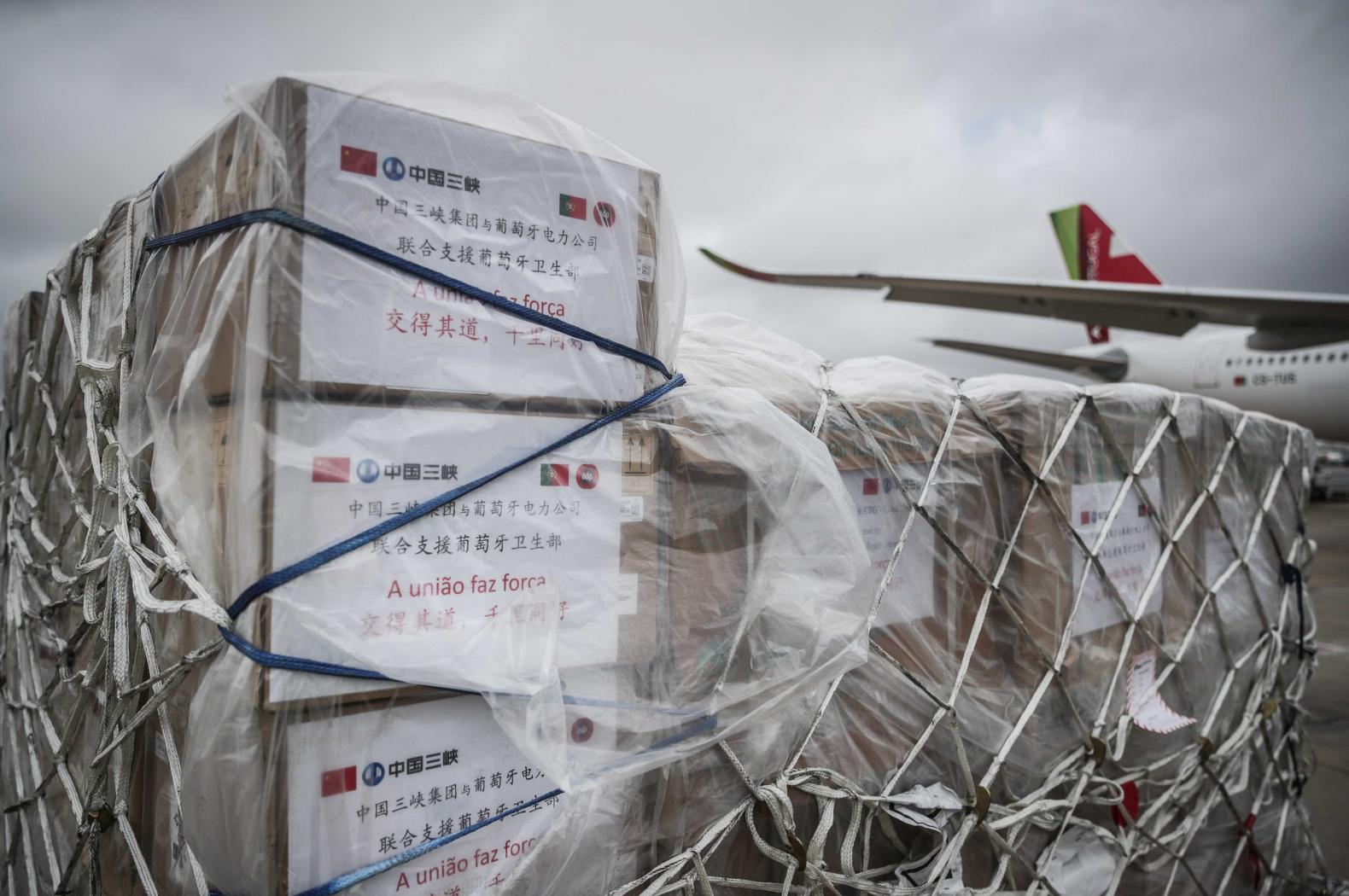 Medical that arrived in Lisbon, Portugal for onward distribution hospitals
Source: EDP
The team at Deutsche Bank Portugal, helped by colleagues in China who were in close contact with the beneficiary bank, processed the payment for medical supplies carried by a charter flight to Lisbon that brought much-needed items donated by Portuguese electric utilities company EDP and its main shareholder China Three Gorges (CTG). The cargo, worth €4m, included 50 ventilators, 200 monitors and other medical support material acquired by EDP and CTG and given to the Portuguese Embassy in China.
"The teams in Portugal and China that were involved, tirelessly followed payment with correspondent banks for proper settlement with the beneficiary, whose bank did not have Swiftkeys exchanged with Deutsche Bank for automated and secure communication," says Catarina Ribeiro, Managing Director and Head of Deutsche Bank Corporate Bank Portugal. She explains: "Personal and dedicated contacts were required to successfully trace and finally settle the payment. It showed remarkable teamwork spirit, allowing our client to make a great contribution towards the Covid-19 combat."
Team members at Deutsche Bank Greece worked 24/7 to ensure that payments totalling €20m for medical supplies went through successfully and on time. The consignment involved 30 individual payments for sensitive medical products, which were routed through Deutsche Bank systems to Asia.
"Millions are routed through Deutsche Bank and clients can reach out to us for assistance on sensitive and complicated issues"


"Deutsche Bank Institutional Cash Athens team is always available to offer DB clients its services, support and expertise", says Elizabeth Koskorou, Head of Corporate Bank and Institutional Cash Greece at Deutsche Bank. "Millions are routed through Deutsche Bank and clients can reach out to us for assistance on sensitive and complicated issues, or even in cases where a simple payment can have a major positive impact on society."
At the bank's trade financing and lending (TF&L) middle office in Luxembourg, team members have recently worked extended hours and over weekends to ensure that a flood of incoming syndicated loan requests from front office can be processed speedily and avoid potential bottlenecks. Complex syndicated loans that typically took six weeks are now processed within days as a result of these efforts, without any compromising of risks and controls.
"All of my teams here in Germany, the Netherlands and Luxembourg are extremely challenged," says Anke Budzisch, head of TFDM lending, who is responsible for this area as part of the Europe, Middle East and Africa (EMEA) region. "We often work - like many other colleagues - until late at night.
"When it comes to matching, it helps that many colleagues have been with the bank for a long time and offer great experience and specialist knowledge. Everyone here knows what they have to do - we can rely 100% on each other," she adds.
Swift action
India also provides a story of a Deutsche Bank team member going above and beyond the call of duty – in this case to ensure colleagues could continue providing a service to clients.
As the country prepared to go into a nationwide lockdown at midnight on 24 March, Shekhar Mehta, Deutsche Bank India's Head of Corporate Security in Pune, volunteered to drive more than 160 kilometres to Mumbai to collect more than 200 laptops. As Pune is a key technology and operations hub for the Bank's global businesses, the India crisis management team wanted to ensure that employees had the infrastructure that could enable them to start working from home with minimum business disruption.
"Like Shekhar, many of our colleagues in India have gone the extra mile – to not only ensure the safety of our staff and partners, but also to enable continuous delivery of commitments to our businesses, clients, regulators and stakeholders across the globe," said Khurshed Drodi, Deutsche Bank's India Chief Operating Officer. "These are our heroes."
Stay up-to-date with
Choose your preferred banking topics and we will send you updated emails based on your selection
Sign-up

Sign-up
flow magazine is published twice per year and can be read online and delivered to your door in print
Subscribe

Subscribe
YOU MIGHT BE INTERESTED IN