COMMUNITY

Music to all ears
November 2018
How did six disadvantaged children end up playing concerts in Boston as members of the Metropolitan Youth Orchestra of Hong Kong? Neil Jensen finds out how the Deutsche Bank youth engagement programme is changing lives
In many ways, music underscores life itself, helps people overcome adversity, celebrate a special occasion or acts as an outlet for creativity. It is no coincidence that major events are invariably accompanied by music in some shape or form – as are significant family occasions and celebrations in communities all over the world.
Deutsche Bank's Born to Be – Dream Beyond concerts in Asia recognise the value and power of music as a force for good and a way for people to realise some of their potential, even in the most difficult of circumstances.1 In the region , the bank has worked with a number of organisations to give young people facing significant hurdles a chance to grow, achieve and develop as people through music.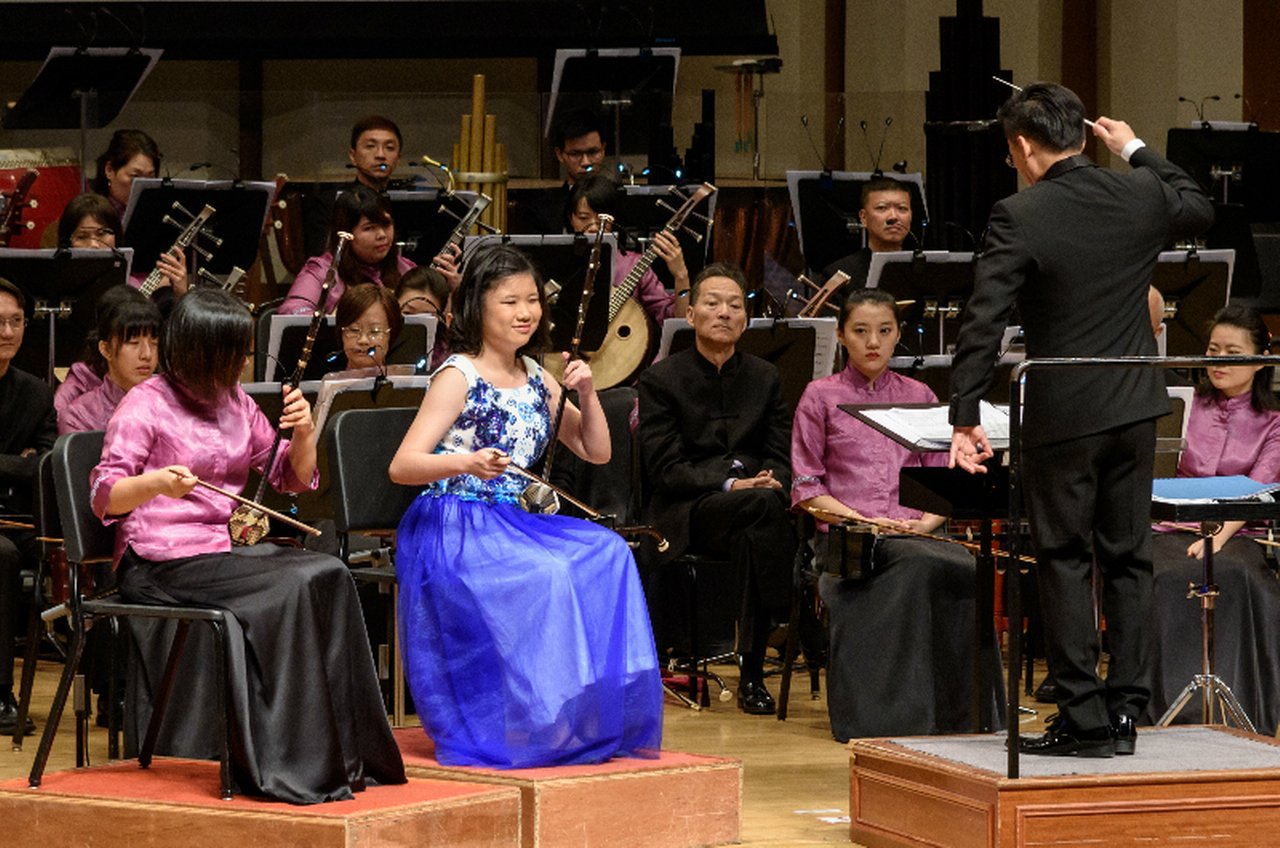 Stephanie Ow, erhu soloist, performing with the Singapore Chinese Orchestra
Dancing in the street
Deutsche Bank has a vibrant Corporate Social Responsibility (CSR) operation within Asia and as Annie Yeo, Head of CSR for the region, explains, there is no shortage of people willing to help others.
"In Asia Pacific, we have a strong volunteering culture and this creates infectious enthusiasm for our various projects. It is not uncommon for young people wanting to join the bank to ask about our CSR programmes – they genuinely want to work for a company that has a soul," she says.
This enthusiasm has been matched by the bank's appetite for putting muscle into some innovative programmes. "Asia has a lot of urban deprivation and this includes children who live on the street and have very uncertain futures. We discovered that music was something that could break barriers, help them realise untapped potential and provide a distraction from their everyday lives, which, for some of them, is a dangerous existence," reflects Yeo. She adds, "Music was also one way that the children in the Philippines, for example, came together after they had been roaming the streets. In 2009, our Rock Ed initiative was started by Deutsche Bank volunteers to coach street children in playing rock music."
Deutsche Bank linked up with the singer Joss Stone, who was in the Philippines for a music festival and wanted to be an inspiration to disadvantaged music students. "Joss worked with us and came to our office, teaching the Rock Ed kids and also bringing along her band members to show them how to play musical instruments better," says Yeo. Stone said she felt "inspired" by what she had seen, with the children clearly enjoying the experience.
Strings to the bow
The Born to Be music programme has produced some genuinely heart-warming stories, such as the tale of Stephanie Ow, a blind musician in Singapore who was abandoned by her parents as a child and brought up by her uncle and aunt. She was encouraged to learn the two-stringed traditional Chinese instrument, the erhu, by her uncle. Deutsche Bank sponsors her music scholarship at a university and additional training with the Singapore Chinese Orchestra. Her music skills have gone from strength to strength. As she is unable to read scores, she has to memorise everything. Stephanie's philosophy is simple and extremely motivational for anyone facing major obstacles, "Music knows no barriers…and challenges are things that shape us." 2
Since 2016, Deutsche Bank has been the main sponsor of the Hong Kong-based Metropolitan Youth Orchestra's (MYO) concerts. The orchestra is one of the pre-eminent youth orchestras in Asia and was founded in 2003. It has around 300 musicians in its ranks and one of its specialities is "flash mob" performances. Through Born to Be, the bank partnered with MYO to provide music scholarships to promising young people (under 24 years old) with disadvantaged backgrounds or special needs requirements. The programme is reviewed on an annual basis, so the scholars have to apply for their place each year. The scholarships include weekly training with the MYO, as well as a place on a summer tour and the chance to appear centre stage in Deutsche Bank's Dream Beyond concerts.
For the past three years, Deutsche Bank has been supporting the music scholarship of the Pang twins, Yuk Lam and Yuk Shing, who both have autism. These two young violinists are overcoming their personal difficulties, thanks to the pleasure and sense of achievement they get from their music.
"Music knows no barriers... and challenges are things that shape us"

It's easy if you try
Both Yuk Lam and Yuk Shing say that music has provided meaning and direction for them. "If there was no music in my life, it would be like putting in so much effort and having nothing in return," says Yuk Lam, whose musical tastes range from Mozart to the pop group K-391. Yuk Shing also likes classical and pop, but turns to John Lennon's Imagine whenever he encounters difficulties, "It gives me confidence and cheers me up."
There is little doubt that the programme has transformed their lives. "It has helped me to manage my time well and it has also meant we have the opportunity to join a music tour overseas – prior to that, we had never travelled outside of Hong Kong," says Yuk Shing. His brother adds, "I am very thankful to have this scholarship. Although we have autism, we are treated exactly the same as any other member of the orchestra."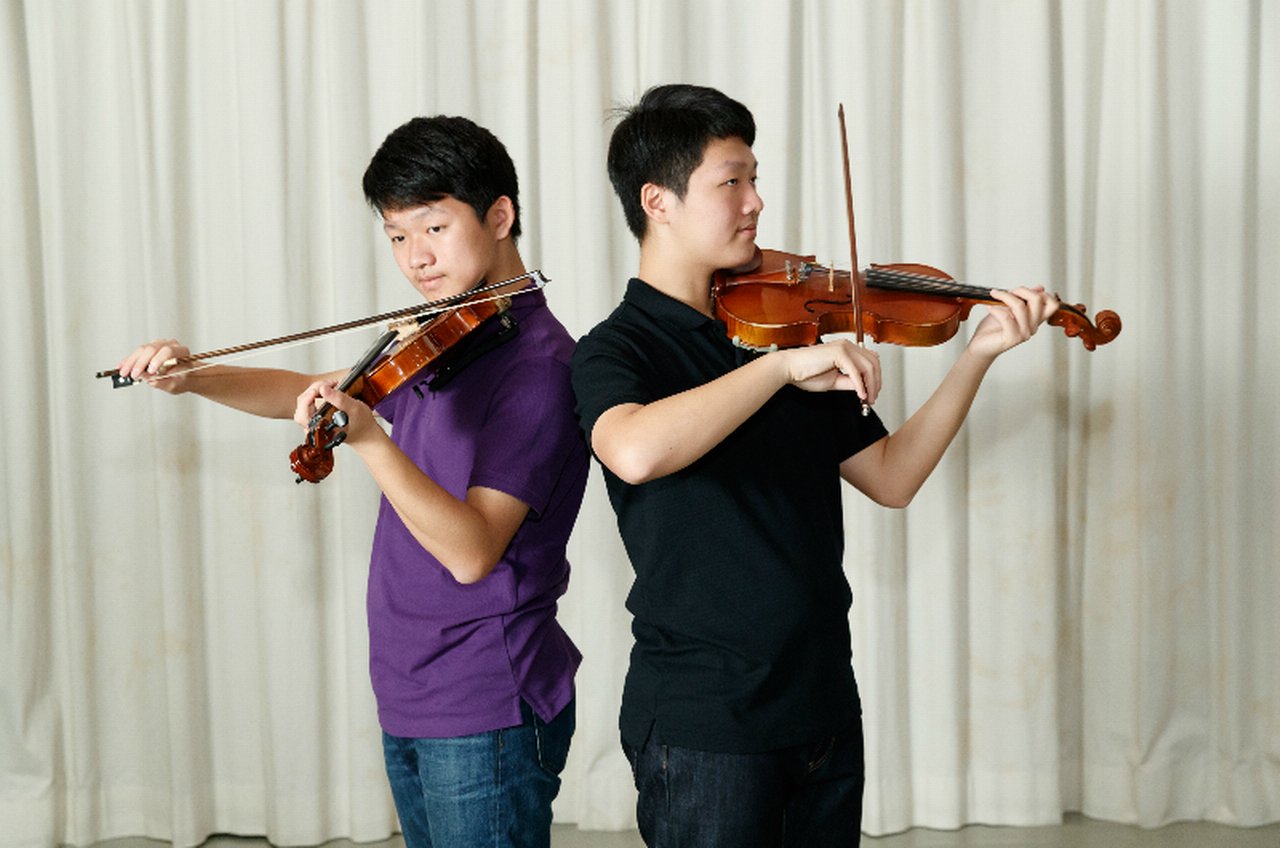 The Pang twins performing violin in the Metropolitan Youth Orchestra
The twins joined four other scholars on an 11-day tour to Boston and New York earlier this year. All of these young musicians appeared in the bank's inaugural Dream Beyond concert in Hong Kong in April 2018 to mark Deutsche Bank's 60th anniversary in one of Asia's financial hubs. These concerts, which have been running in Singapore for the past five years, are free for the bank's charity partners, staff and clients to attend. Staff also take part in the event, on stage and behind the scenes.
Playing with accomplished musicians is also a big inspiration for the twins. Yuk Lam and Yuk Shing performed with the one-armed Canadian violinist Adrian Anantawan in 2017, which Yuk Shing described as a "wonderful experience". The reaction of the audience also provides a major boost to their confidence, which grows as they become more and more proficient with their violins and their success continues. The twins' mother, Elaine, says, "Playing in the orchestra has made my boys more confident when it comes to communicating with people." She adds, "Thanks to the scholarship, I see many opportunities for them in the future and that makes my heart soar."
In tune
Annie Yeo finds the programme a source of great encouragement. 3 "To see children who have learning difficulties performing on a grand stage in front of a large audience, knowing how difficult it must be for them, is incredibly moving. Moreover, the way our colleagues support and play a part in helping these kids is very gratifying. It really is one of those projects that makes me feel I have the best job in the world."
Neil Jensen is a freelance financial journalist and a former co-Editor of flow
Stay up-to-date with
Choose your preferred banking topics and we will send you updated emails based on your selection
Sign-up

Sign-up
flow magazine is published twice per year and can be read online and delivered to your door in print
Subscribe

Subscribe
YOU MIGHT BE INTERESTED IN