FLOW CASE STUDY, SUSTAINABLE FINANCE, CASH MANAGEMENT

An energy self-sufficient future
14 December 2022
Global technology and services provider Robert Bosch GmbH is testing a new type of highly efficient fuel cell system that generates low-emission energy and is independent of the power grid. flow reports on how a usage-based financing solution helped drive this project forward
Founded by Robert Bosch in 1886, this Gerlingen-headquartered household name technology and services has always taken the long-term view on what its products and services contribute everyday living.
Generating sales of €78.7bn in 2021,1 its operations comprise:
Mobility solutions
Industrial Technology
Consumer Goods
Energy and Building Technology
"We are motivated by the desire to develop products that are 'Invented for life', that spark enthusiasm, that improve quality of life, and that help conserve natural resources," says the mission statement. In an era of net zero emission targets, the timing of Bosch's climate-friendly stationary solid oxide fuel cell (SOFC) system could not be more apposite. At the company's Salzgitter plant, Bosch is not only piloting the SOFC system, but is also testing a new business model for the use of SOFC fuel cells together with Deutsche Bank. This article shares the journey.
About the technology
The SOFC system can be operated with natural gas, biomethane and, in future, also with hydrogen and produces electricity and heat. If powered by green hydrogen (where water is split into hydrogen and oxygen using only renewable energy), it would generate emission-free energy. When the generated heat is used, the SOFC can reach an overall efficiency of more than 85%.
The use of these devices offers strategic advantages, as explained by Julian Schatz, who is responsible for the business model validation at Bosch SOFC for the project: "Fuel cells produce energy where it's needed. They can provide energy autonomy and, as self-sufficient units, create security of supply independent of grid stability." In addition to industrial plants, potential application areas include data centres and urban quarters.
"Bosch can offer the user needs-based services"

Ten fuel cells are being tested in the Salzgitter plant. By connecting up several fuel cells at once they can be scaled up as required. A central tool of the business model is the so-called digital twin of the SOFC system. Control technology and sensors of the fuel cells transmit large amounts of relevant operating data to the Cloud and create a virtual mirror image of the cell. "As the system provider, Bosch can also offer the user needs-based services and predictive maintenance directly through the use of artificial intelligence," Schatz explains.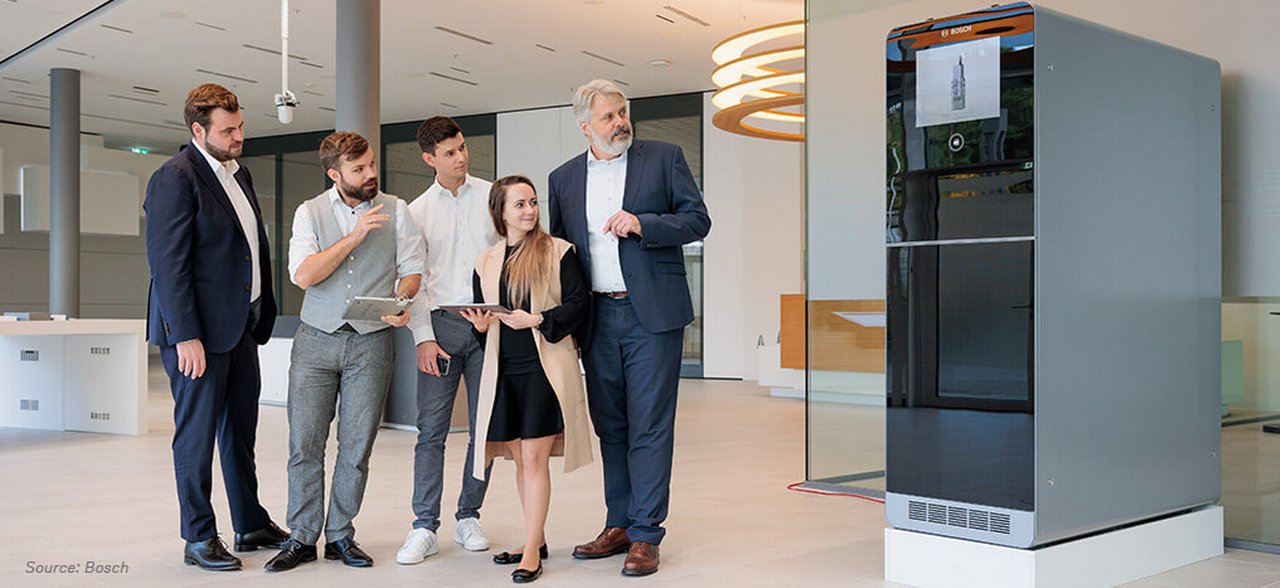 Deutsche Bank AaaS and Bosch SOFC project teams with the SOFC system. From left to right: Maximilian Josef Bauer (Deutsche Bank), Florian Greppmair (Bosch), Julian Schatz (Bosch), Anne-Katrin Brehm (Deutsche Bank), Victor Winterhalder (Deutsche Bank). © Robert Bosch GmbH
Connecting the finance
This presence of a digital twin is what enables the usage-based financing model for which Bosch chose Deutsche Bank as its partner. In this model, known as "SOFC-as-a-Service", the financing partner acquires the system and provides it to the user in return for a usage-based fee. "SOFCaaS makes the use of a fuel cell system simple, convenient and secure in supply for the users. All technical aspects and financing issues are handled by the user's contractual partners," explains Victor Winterhalder, Senior Relationship Manager for Bosch at Deutsche Bank. The fuel cell includes a pay-per-use model for the energy consumed; but goes far beyond that: all technical aspects and financing issues are handled by the user's contractors. The customer receives an SOFC system in permanent best possible condition, installed and proactively maintained.
The advantage for the users of this kind of "Asset-as-a-Service" model (AaaS)2 is that the operating expenditure and financing costs rise and fall with the utilisation, a one-off investment is no longer necessary at the beginning, and expenditure is brought into line with operating expenses over time – ecology combined with balance sheet optimisation.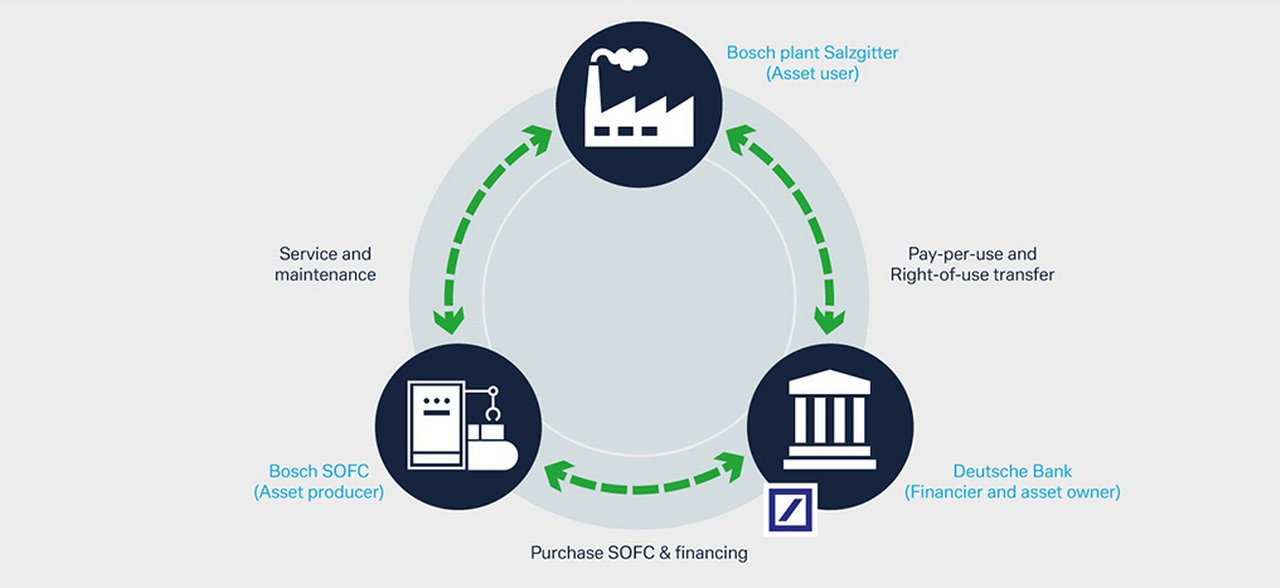 Figure 1: Purchase of SOFC and financing – how the model works
Source: Deutsche Bank
Asset-as-a-Service models are on the rise
Three topical trends are currently providing tailwind for innovative Asset-as-a-Service (AaaS) financing models:
Sustainability;
The difficult economic situation with its uncertain outlook; and
Rising interest rates.
Corporates are currently scrutinising investment projects more closely than ever. At the same time, it is becoming more expensive for manufacturers to keep assets they produce themselves on their own balance sheets to make them available to their customers. In AaaS models, the asset provision is made by the financier and owner of the system. Turning to the example of the Bosch SOFC pilot project, the finance partner is Deutsche Bank.
"Models such as SOFC-as-a-Service are so attractive because corporates, in particular, do not have to make any initial investments that will normally take years to pay off," says Günther Pöttler, who heads the structuring area for non-vanilla credit solutions in Trade Finance & Lending at Deutsche Bank. He goes on to explain that: "For us as a bank, SOFCaaS is also particularly important because we can develop new, sustainable financing concepts for the industry." In the future, this business model could also be opened up to institutional investors looking for alternative capital investments. This could result in a new asset class in the industrial environment.3
Secure, real-time acquisition of usage data is essential for this step, as it makes it possible to predict usage and the associated usage risk. This data, which is captured in the system's "digital twin", offers the potential to provide usage-based financing solutions in a scalable way over the long term and to create new classes of risk and investment for institutional investors.
"Asset-as-a-Service models have a positive impact on the operational cost efficiency of businesses"

Anne-Katrin Brehm, who is responsible for as-a-Service financing solutions in Trade Finance & Lending at Deutsche Bank, ventures a look into the future. "The better we understand how SOFC systems are used across various industries, the better we can tailor financing and billing services in a more customised and sustainable way." And the larger an owner's asset portfolio, the more widely the risk can be diversified, with corresponding positive effects on financing costs.
In addition to eliminating high investment costs, Asset-as-a-Service models also have a positive impact on the operational cost efficiency of businesses. "From operators, service partners and system integrators to manufacturers and financing partners: Everyone works together in an ecosystem for the benefit of all," says Deutsche Bank's Günther Pöttler.
A transformative legacy
Robert Bosch's original vision of the "Workshop for Precision Mechanics and Electrical Engineering" was the birth of today's globally operating company. Right from the start, it was characterised by innovative strength and social commitment. As the world continues its energy transition, his legacy continues.
For further information about SOFC-as-a-Service project on the Bosch website, please click here for English language and here for German language
---
Sources


1 See bosch.com
2 See "Asset-as-a-Service" at corporates.db.com
3 See "Trade finance funds – where next?" at flow.db.com
Note: The header photo of the fuel cells and the headshot of Julian Schatz is © Robert Bosch GmbH
Stay up-to-date with
Choose your preferred banking topics and we will send you updated emails based on your selection
Sign-up

Sign-up
flow magazine is published twice per year and can be read online and delivered to your door in print
Subscribe

Subscribe
YOU MIGHT BE INTERESTED IN