SECURITIES SERVICES

Securities services in 2025
July 2018
How is the securities services industry using a business mindset to harness the power of data and digitalisation while co-operating with industry partners to build platforms for the future? Janet Du Chenne reports from The Network Forum in Vienna
"With the evolving regulatory landscape, financial institutions don't just need to think about 2020, but also 2025 and even 2040 – that's when the data proposition becomes even more relevant." During a panel discussion at The Network Forum, Fiona Gallagher, Global Head of Securities Services at Deutsche Bank, noted the potential of data insights that have come about from helping clients adapt to regulatory and market reform.
Those reforms have forced industry participants to co-operate on service components of the custody value chain that help them individually to address their unique challenges and through that partnership, become not only custodians of clients' assets but also of their data. Gallagher asserted that as an industry, "we are becoming more comfortable around data culture and partnerships ethics."
With those foundations in place, the consensus among Forum-goers is that now is the time to do more. Over two days, 450 securities services industry professionals gathered in Vienna to hear how a combination of data culture and business culture, and co-operation and partnerships are seen to be enhancing the client experience and the drivers for future value.
Future platforms – data and a whole new world
On day one, a panel of financial institution representatives shared their digital transformation journeys and how they were leveraging data to provide service enhancement and process efficiency for their clients. With margin pressure, costs, risk management, inefficiencies as ever present topics, these have formed the basis of these journeys. "And if we talk about future solutions you have a longer platform to build," said Gallagher. "Regulations forced us to do things to adapt for 2025 and if we map that around data and digitalisation it becomes really interesting." Gallagher added that the partnerships between client and provider mean there is a lot of untouched data that can be potentially transformative for the client. "The industry hasn't scratched the surface when it comes to enhancing the client experience with data," she urged Forum-goers. "It's a whole new world and a matter of how do we transform the industry using it."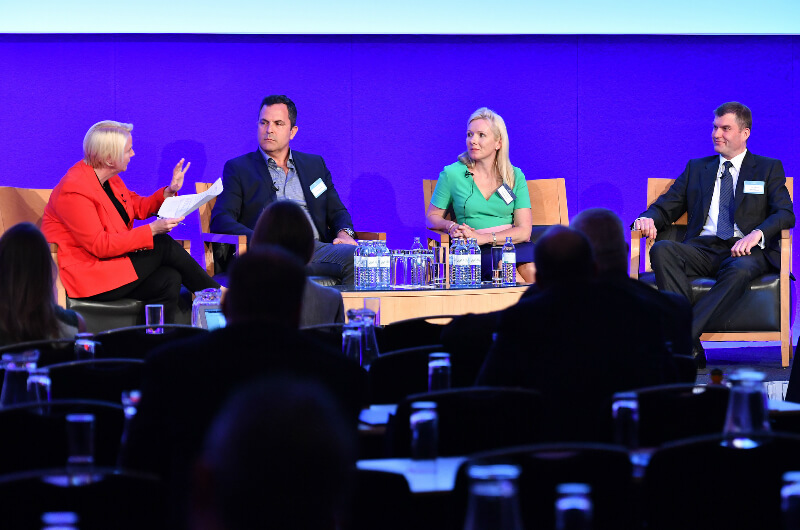 Digitalisation & Data in the Custody Industry panel: Deutsche Bank's Fiona Gallagher (third from the left) shares insights on the bank's digital transformation at The Network Forum
Voice of the client
On the panel a large global custodian described the challenge of using products and technology to bring down unit costs and add value to the end investors and industry. He shared how new technologies such as AI and robotics are particular transformation initiatives. "In my experience, what becomes apparent is that when companies understand the data and stitch it together, and understand what the customer wants, that can provide valuable insights."
Merging talent with experience
According to Gallagher, while financial institutions have been through a lot they can be confident of the experience what they can offer talented people with technology backgrounds into the organisation, while financial institutions have been through a lot they can be confident of the experience they can offer talented people with technology backgrounds. "When you look at 'digitally native' companies such as Google, Facebook or Dropbox, they tend not to have the level of industry expertise that a bank would have, however there's lots we can learn through partnering with these technology companies. This is how you continue to evolve data and digital work in securities services," she said.
Gallagher asserted that new entrants, who have experience with new technologies and data, present a compelling proposition for financial institutions. "We have a lot to learn from technology but if we look at it from the other way and think through 2025 to 2040 our skillsets as people managers, client managers can translate really well on the other side," she said.
Sharing her own experience on digital transformation, Gallagher noted that within the data labs in Dublin where she is based, they have "really smart people who have come from technology and retail, but we also need to guide them to get around the challenges of a big organisation."
In her dual role as Chief Country Officer of Ireland, where Deutsche Bank's data labs are based, Gallagher also shared insights of the bank's digital transformation and it's harnessing of skill sets in order to make them relevant for the securities services business. Within the data lab, these individuals bring with them the analytical skills needed to conduct KYC investigations for the bank as well as investigations around GDPR and MiFID for securities services. "So we started to look at regulation and things like liquidity," she reflected. "If we're looking at the levels of details, for one market in one year we had to go through 6 billion lines of data which is incredibly complex, but you've got the talent and people to help you do that. When I talk about balance between price and margin, it's all about the development of that type of analytics and focus."
According to Gallagher, while financial institutions have been through a lot they can be confident of the experience what they can offer talented people with technology backgrounds into the organisation. "When you look at Google, Facebook or Drobox, all of those organisations themselves are getting older and they are going through some of the challenges we've had so they will go through maternity leave, parental leave, people wanting to take time off, those are the sort of things that as large financial institutions," she said. "We can do a fantastic job partnering with these technology companies and bringing the level of management experience we have. This is how you make data and digital work in securities services."
Gallagher described how securities services explored AI to change the client experience so that they could interact more effectively with their end clients on trade settlement status and introduced Debbie, the new chatbot created for this purpose.
Cooperation and partnerships
With day one focusing on digital and data, a panel discussion on day two looked at how to make the securities services industry more efficient by working together "across the trenches". As global markets evolve there is a need to co-operate in order to achieve the goals of the industry. The panel discussed the standardisation of the custody provider selection process is a way to achieve this. With trade association AFME working on a standardised set of due diligence questions for buyers when selecting their providers, the consensus was that more can be done to evolve the questionnaire and take account of the many additional questions that come about to suit individual buyers.
Another area of co-operation needed is around products. The panel discussed the need for the standardisation of components bringing providers together into a single solution that brings maximum benefit to the entire value chain and the network. "The only way to change the industry is by moving forward together with some of these technical products," said Mike Clarke, Securities Services product management, Deutsche Bank.

The results of an audience poll revealed that the industry has been hugely successful with co-operation on regulatory topics. According to Clarke, more can be done: "Where the industry has been successfully collaborating on regulation is in describing things like asset protection but when it comes to the execution, that's where we go back into our own silos to find solutions."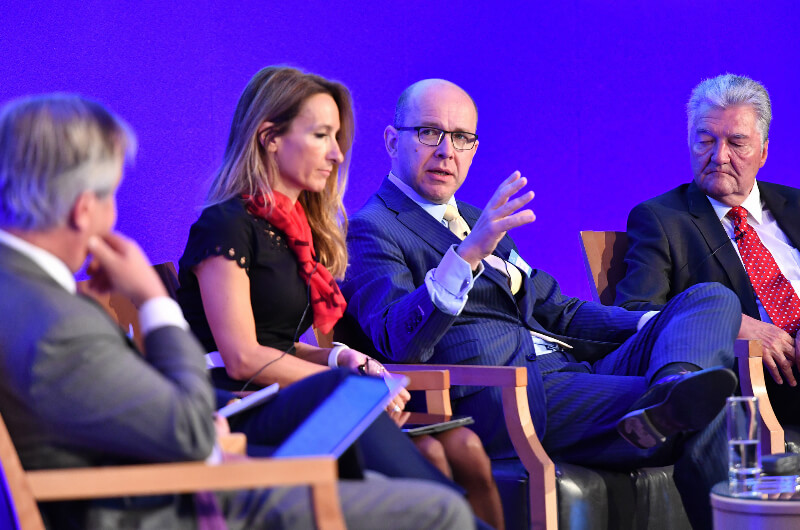 Co-operation and partnerships panel: Deutsche Bank's Mike Clarke calls for more collaborative solutions in the securities services industry
Stay up-to-date with
Choose your preferred banking topics and we will send you updated emails based on your selection
Sign-up

Sign-up
flow magazine is published twice per year and can be read online and delivered to your door in print
Subscribe

Subscribe
YOU MIGHT BE INTERESTED IN