Trade Finance

Ghana's next-generation infrastructure
12 March 2021
Over the last decade, Deutsche Bank has arranged more than €2bn of financing in Ghana across 20 transactions. The latest such deal – a €150m financing for two critical infrastructure projects in the Southern and Western regions of the country – was announced in February 2021. flow's Clarissa Dann reports on a history of collaboration
With a current population of more than 31 million citizens living on a continent characterised by an infrastructure deficit, Ghana and its government is determined to buck the trend. The past few years have seen a concerted effort to build, maintain or redevelop infrastructure networks that can meet the needs of this growing sub-Sahara African and foster its long-term economic development – much of it driven by private-sector investment, with banks and export credit agencies.
"Infrastructure, particularly that relating to energy, water, and transport, has been identified as a priority sector in both Ghana's Nationally Determined Contributions under the Paris Climate Agreement and its National Adaptation Plan (NAP) Framework. The vulnerability and resilience of Ghana's infrastructure to the impacts of climate change will be crucially important to a number of different economic sectors," stated the Ghana's Adaptation Strategy and Action Plan for the Infrastructure Sector (Water, Energy, and Transport Sectors) in May 2020.1
One success story is the country's significant hydroelectric power potential. According to the International Hydropower Association, Ghana's total grid electricity generation in 2018 was 14,069 GWh of which 4,991 GWh (39.2 per cent) was from hydropower. This is accounted for by three hydropower stations: Akosombo on the Volta River which supplies almost all of Ghana and half of Togo with energy at 1,020 megawatts (MW) along with Kpong (160 MW) and Bui (404 MW). Hydropower makes up 40% of total electric installed capacity.
Key projects
Within the country's environmental, social and governance ESG strategy, other projects tackling the S element have included the Kumasi Central Market development in 2019. This was the largest single open-air market in Western Africa. Outlined in the flow article Market Makeover, the new site more than tripled in capacity to accommodate some 45,000 stalls and stores. Financing for the project involved four different Deutsche Bank offices – across Dubai, London, New York and Brazil – as well as the governments of Ghana, Brazil and the UK via their respective export credit agencies. The contractor, Fabio Camara, CEO of Contracta Engenharia talked more about the transformational impact project when he was a guest on flow's Trade Finance TV in conversation with James Pumphrey, Deutsche Bank's head of Structured Trade and Export Finance UK.
Another is the €45.6m contract for Ghana's University of Environmental and Sustainable Development – set up to encourage young people to choose sustainable agriculture (rather than just cash crops such as cocoa) as a career – and thereby addressing both the 'E' and the 'S'. This initiative is projected to create 2,400 jobs in the country and make a material contribution to its national economy as well as improving food security. The university supports social development in a country that sources 20% of its GDP from the agricultural sector.
Infrastructure development in partnerships with ECAs and private sector banks have kept pace into 2021. In February, Deutsche Bank partnered with Italian export credit agency SACE to finance €150m via two separate loans for the construction and equipment of two major infrastructure projects – the Keta Water Supply Rehabilitation and Expansion Project, and the New Takoradi Market. The projects themselves will be led by two Italian contractors relying on the expertise and technical skills of over 40 Italian small and medium-sized (SME) suppliers.
Speaking at the time of the announcement, Dario Liguti, Chief Underwriting Officer of SACE, remarked that Africa – and Ghana in particular – represents important ground for such infrastructure projects. "We are proud to be part of these two major projects, which, thanks to the expertise and supplies of many Italian SMEs, will have a positive impact on local communities," he added.
"Thanks to the expertise and supplies of many Italian SMEs, [these projects] will have a positive impact on local communities"

Turning on the taps
The new infrastructure promises tangible benefits for local areas. In the Southern Volta region, the existing water supply system is often limited to pumping from local boreholes and is unable to meet the increasing demand of a surging population. As a result, state-owned Ghana Water Company Limited commissioned the Keta Water Supply Rehabilitation and Expansion Project to improve water and sanitation conditions for the region.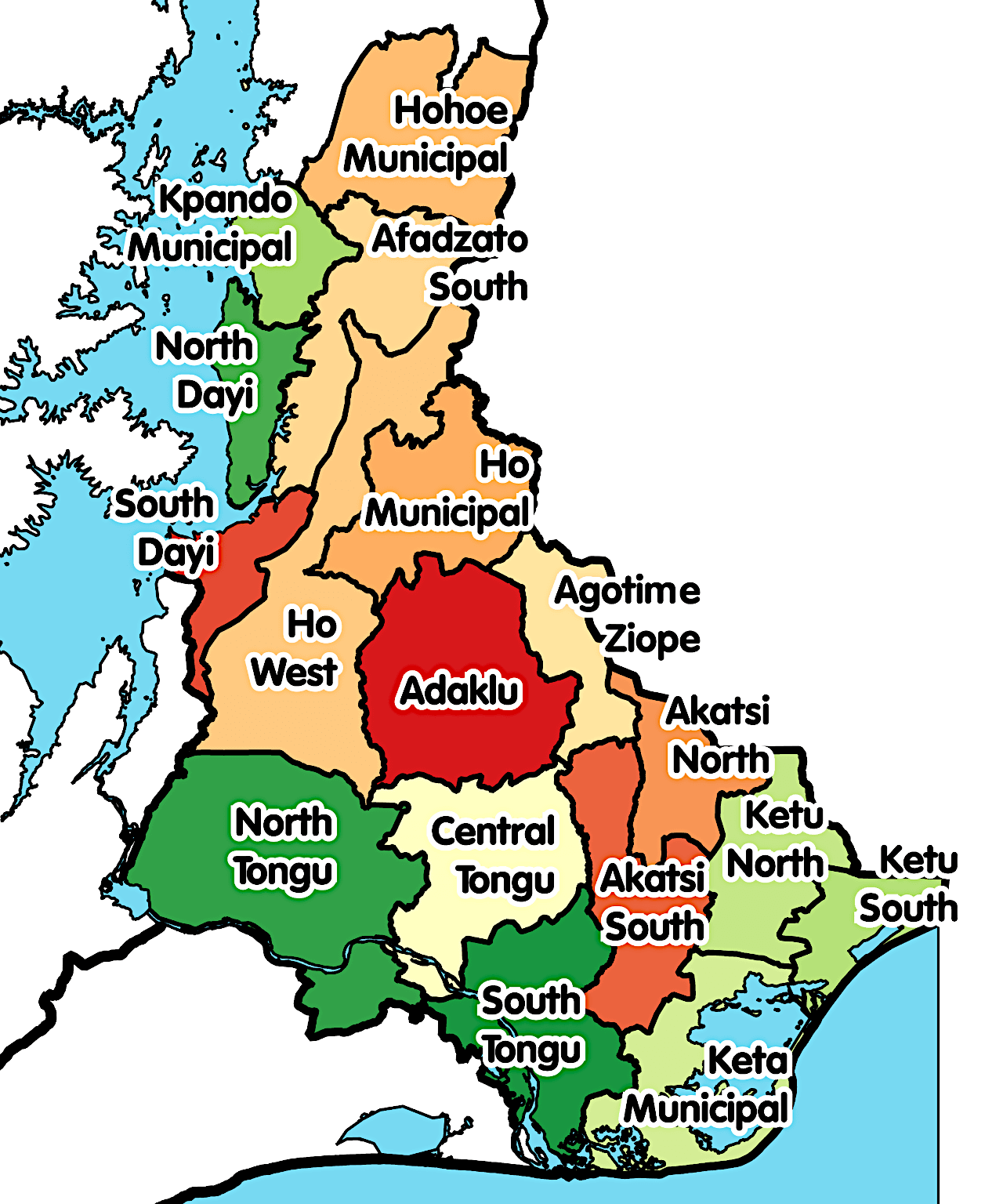 Figure 1: Districts of the Volta region
Source: Rwhaun - Own work, CC BY-SA 4.0 (Wikipedia)
The project will involve the rehabilitation of the existing Keta Water Treatment Plant in Agordome, restoring production to its full capacity of 7,200 cubic meters (m3) per day. It will also fund the construction of a new water treatment facility in the city, with a capacity of 35,000m3 per day. Once completed, both plants – together with the transmission pipeline, a booster station and reservoirs – will combine to meet the water requirements of over 400,000 residents in the communities of Ketu, Anloga and the Tongu districts until 2030.
Construction on the project is being carried out by Lesico Infrastructures Srl – the Italian subsidiary of leading Israeli construction company Lesico Group – with 16 Italian SMEs involved in the project supply chain. Commenting on the deal, Lesico CEO Eyal Leshamn expressed pride at being part of "this strategic agreement with Ghana government". He continued, "We consider this a major milestone for Lesico, as a leading player in the water and environment design build domain… This project will allow us to open a new market, in which we will be able to use all of our capabilities and proficiencies of our different lines of activity. It is also merges with the Group vision and strategy re business expansion in Africa."2
The New Takoradi Market
The largest commercial facility in the Western region of Ghana, the Takoradi Market – built in 1960 and significantly expanded in the 1970s – covers an area of around one square kilometre and has been a source of significant development for the city, greatly enhancing the trade of goods and services in the area.
However, situated in one of Takoradi's most densely populated and visited areas, the market has become congested and unsafe over the years. As the population continues to grow, existing structures have fallen into disrepair and security and sanitation facilities have become inadequate. The site's redevelopment will provide a well-organised, modern and safe facility, able to attract more visitors yet also ease congestion in and around the area.
Figure 2: The New Takoradi Market
Source: Deutsche Bank
The new market will include over 2,400 stores, restaurants and food courts, bulk breaking areas, waste separation docks, administrative offices and public facilities – including a police station, a fire station, a post office and a medical clinic. Its construction has been assigned to the company that built the Kumasi covered market, Contracta Costruzioni Italia – the Italian subsidiary of Brazilian construction group Contracta Engenharia – with 25 Italian SMEs involved in the project supply chain.
Collaboration and commitment
As indicated above, Ghana, Deutsche Bank and Italian ECA SACE have a well-established track record of working together to support major infrastructure projects. In addition to the University of Environmental and Sustainable Development, in 2019 the partnership arranged the financing of another important infrastructure contract, providing €45m for the modernisation of four hospitals in the Eastern region of the country. Dubbed the "four hospitals project", the transaction financed a supply contract between Contracta Costruzioni Italia Srl and Ghana's Ministry of Health to modernise and equip selected existing health facilities in Ghana, including the Tetteh Quarshie Memorial Hospital, Kibi District Hospital, Aburi Hospital and Atibie Hospital.3
This latest deal with Deutsche Bank and SACE is indicative of the Ghanaian government's commitment to infrastructure development across the country, with an extensive programme in place designed to strengthen economic growth and create job opportunities, all while assuring better living conditions for a rapidly growing population.
This meets a direct need for Ghana, and Africa more generally, where improved infrastructure is essential to its future economic development. According to McKinsey, most of the continent "lags behind the rest of the world in coverage of key infrastructure classes, including energy, road and rail transportation, and water infrastructure."4
Since 2000, infrastructure investment in Africa has remained at around 3.5% of GDP per year, yet the McKinsey Global Institute estimated in 2016 that this would need to rise to 4.5% if the continent is to close its infrastructure gap. With sufficient funds and appetite to invest, international investors are helping to bridge this gap, and infrastructure investment in Africa has been steadily rising for 15 years as a result.5
"We remain committed to supporting infrastructure projects that have a positive impact on communities and which contribute to long-term economic growth"

Deutsche Bank has already been a part of this journey for several years and is set to remain an important partner for both Ghana and the wider African continent. "Deutsche Bank has a longstanding presence in Africa and we are proud to be a leading export finance partner for Ghana," explained Werner Schmidt, Deutsche Bank's Global Head of Structured Trade and Export Finance (STEF). "We remain committed to supporting infrastructure projects that have a positive impact on communities and which contribute to long-term economic growth."
Stay up-to-date with
Choose your preferred banking topics and we will send you updated emails based on your selection
Sign-up

Sign-up
flow magazine is published twice per year and can be read online and delivered to your door in print
Subscribe

Subscribe
YOU MIGHT BE INTERESTED IN