Cash management, Technology

E-commerce: separating real growth from glitz
10 March 2022
The pandemic has accelerated the rise of e-commerce sales and the potential for further growth is immense for companies ready to be innovative. flow reports on the third publications from Deutsche Bank Research's series on the future of payments, which distils the realistic options from the hype
The year is only weeks old but 2022 has already witnessed several landmark events in the payments world. Economic sanctions triggered by Russia's invasion of Ukraine have seen its banks expelled from the Swift financial messaging system.1 China's digital yuan, already with more than 260 million users, was showcased at the Beijing Winter Olympics. And Facebook's ambitions to launch a global cryptocurrency – announced to much fanfare in summer 2019 – were quietly buried at the end of January as parent company Meta pulled the plug on its Libra Project at the end of January 2022.2
Meanwhile, as the global pandemic enters its third year, online shopping goes from strength to strength at the expense of high street retail, according to Deutsche Bank Research analyst Marion Laboure in her white paper E-Commerce disintermediation for B2B businesses: Hype or Reality? – the third in her series 'The Future of Payments'. Her data suggests that by the end of 2021 consumers in Western Europe were spending 30% to 60% more on online retail than in March 2020 when the first lockdowns occurred. Shoppers in the US led the way, where e-commerce sales increased by more than 60% in December 2021.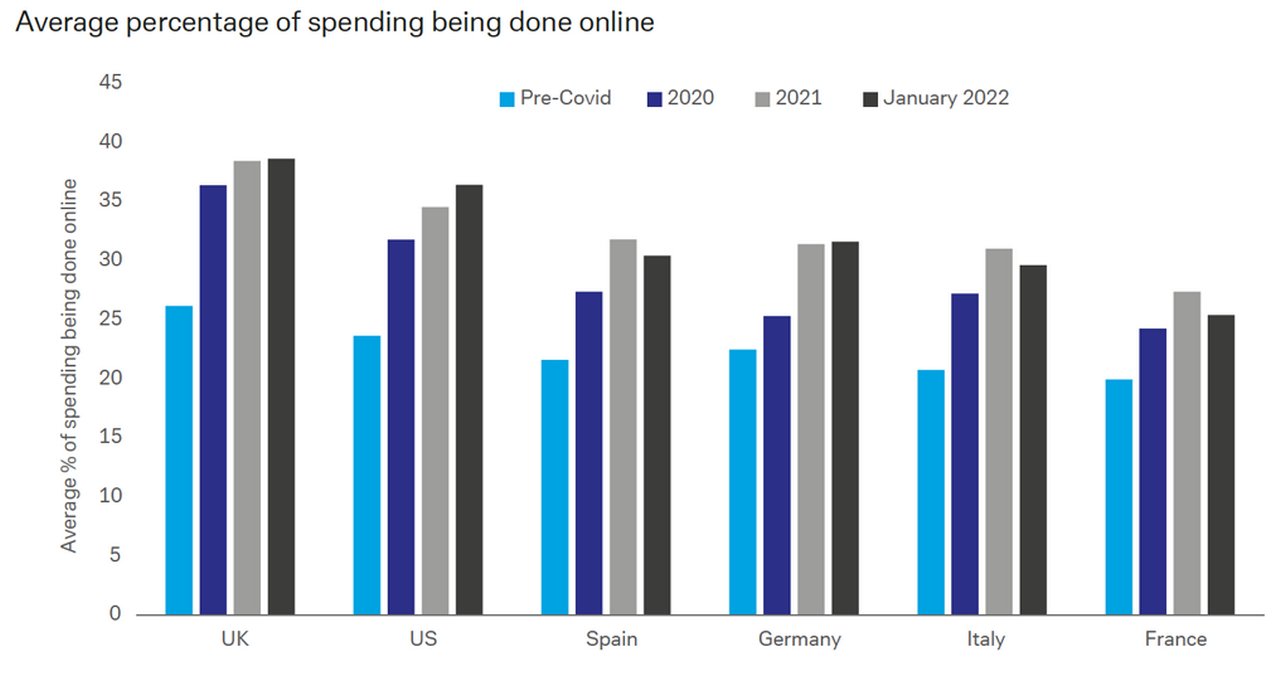 Source: dbCIG Primary Research, Deutsche Bank.
Figure 1: Increases in online retail for Western Europe, the US and the UK

As Laboure notes, Covid-19 has seen more consumers resort to online shopping platforms and persuaded more corporates to invest in e-commerce initiatives, often with ambitions of selling directly to consumers. However, as the paper demonstrates, they must distinguish between hype and reality if they are to employ e-commerce successfully.
More than a fad
The shift requires retailers to innovate new ways for serving customers as "a new retail landscape" of mobile shopping, flexible delivery, and pick-up options emerges. Many companies in this sector have never had physical stores. Dubbed digitally native vertical brands (DNVBs), they seek to disrupt traditional product categories and have hastened the decline of traditional high street retail that was underway even before spring 2020.
Laboure expects only a partial revival of fortunes for traditional retail as the pandemic's impact recedes, with both American and European consumers growing accustomed to shopping online and signalling a more permanent shift as they use it for luxury goods in addition to everyday items.
Increased adoption of the internet and inflation are the tailwinds for increased demand, the report suggests. "In the future, all consumers will be digital natives," explains Laboure. "They will be very comfortable with online shopping and further drive the demand for e-commerce options." At the same time resurgent inflation and more expensive groceries are also driving consumers to actively compare prices, which can be done quickly and easily online.
Accompanying this is a shift from laptops to mobiles for e-commerce, with more than 80% of the world's population now owning a smartphone against less than 50% as recently as 2016. "The ubiquity of mobile devices, including tablets, will continue to drive online retail sales," predicts Laboure.
The grocery sector offers the biggest scope for further growth in e-commerce with more than US$1trn annual sales in the US alone, but online accounting for less than 5%. Although digital disruption has progressed slowly for several reasons – including consumers' preference for seeing and touching products – the pandemic has boosted grocery e-commerce services.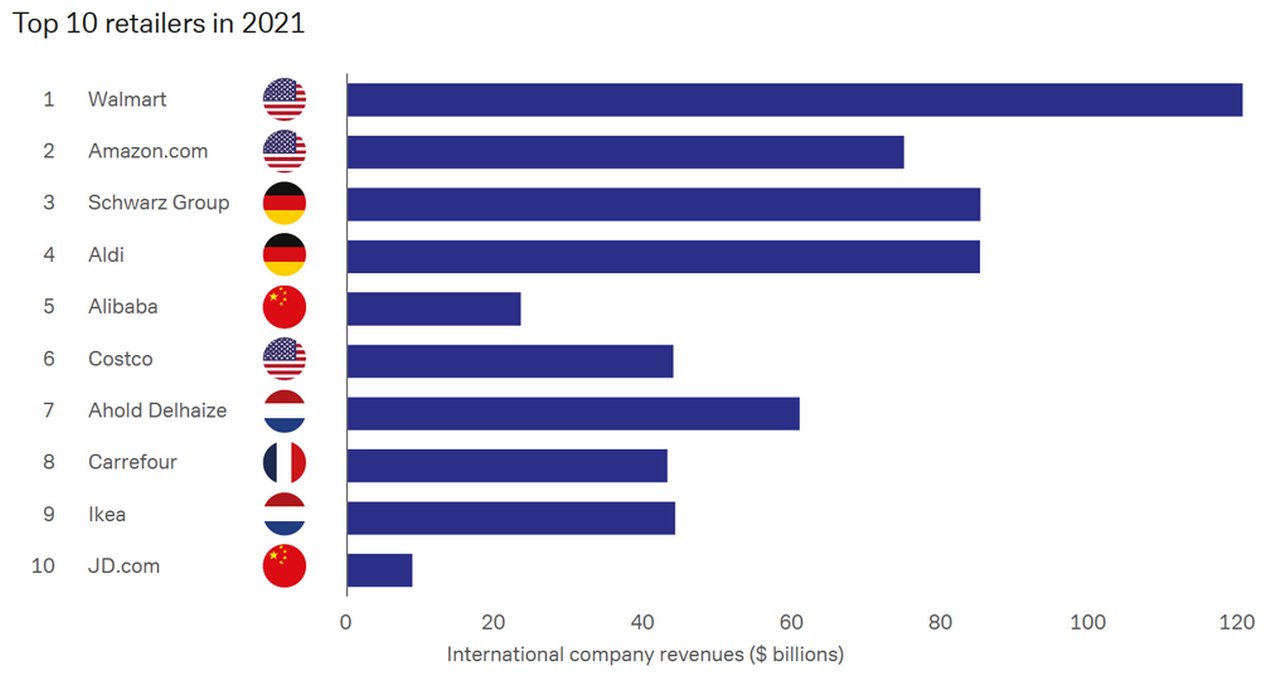 Source: National Retail Federation, Deutsche Bank.
Figure 2: World's top 10 retailers in 2021
With Amazon and Walmart as exceptions, most players in the grocery sector are "pure play" companies that focus exclusively on one type of service. They potentially have much to gain – or lose – if e-commerce becomes a major sales channel and many are already investing. In Europe, for example, one in five grocers now offers next-day delivery for online orders.3
Among the biggest challenges for pure play grocers preparing for the shift to e-commerce is to reimagine their stores as distribution centres rather than consumer shopping destinations. Some have launched options such as in-store or kerbside pickups, that are already gaining popularity with customers. Another option enables consumers to buy online and have their order shipped from a local store. Laboure reports that this new omnichannel approach is evident in the US, where Amazon acquired Whole Foods and its 500-store network in 2017 and has integrated Amazon Fresh, its e-commerce service that includes mobile ordering, delivery, and pickup with a physical retailer.
Grocery delivery has also initiated mobile apps like DoorDash, GrubHub, and Instacart, allowing consumers to order groceries via a phone for same day delivery.
The DNVB model
Another new entrant to the retail sector is digital native vertical brands (DNVBs), online direct-to-consumer brands that control their supply chains from manufacturing to marketing to selling. Launched as digital-only brands, many have ventured into brick-and-mortar retail and increased competition.
The DNVB model enables companies to quickly test demand for new products and their viability, reports Laboure. A DNVB could create a product listing on its website for a new item before investing in marketing and advertising via social media platforms such as Instagram or Facebook. Data on potential demand for the new product then informs decisions about how many items to manufacture.
While the DNVB model might appear more cost-effective than traditional retail models, the rising cost of digital advertising has made operating online stores increasingly expensive and several DNVBs such as US eyewear retailer Warby Parker have added physical stores.
The report also examines the appeal of selling direct to consumers (DTC), with e-commerce technology enabling more companies to set up their own transactional websites and collect their own transaction data about shoppers. However, success in DTC e-commerce appears to be limited to a narrow range of fast-moving goods, such as beauty, personal care and household products. "The hype around DTC and digital advertising does not necessarily translate into sales," reflects Laboure. "As many as 80% of DTC brands fail within 24 months."
At the same time many of the new start-ups attracting venture capital reinvest a large share into adverts, when the price of online advertising is rocketing: the cost of Facebook ads has increased 89% year-on-year while Google and YouTube's rates are 108% higher.
A trio of recommendations
The report concludes with three practical recommendations for corporates seeking to make a success of e-commerce.
Leverage online channels to sell offline: A direct selling strategy will not suit all manufacturers, but all brands should consider using digital channels to capture more customer data and to drive brand awareness and sales. Most global brands already have a presence on at least one digital marketing channel, such as email, social media, or a brand website or app.
Consider e-procurement: E-commerce is not only changing the consumer-facing retail industry, but also disrupting other parts of the supply chain, such as the sourcing and procurement of materials and finished goods. In China, Alibaba's international wholesale marketplace connects suppliers with global brands, having grown 165% since 2016. Amazon's B2B marketplace is used by over five million businesses, including 80 Fortune 100 companies, to procure goods.
Upgrade the payment experience online and offline: As consumers change the ways they shop; they are also changing how they pay. The use of cash in stores at the point-of-sale (POS) has declined 32% globally in the past year, reports World Pay. The shift away from cash is set to see it making up just 12.7% of POS transactions in 2024 compared to 20.5% today.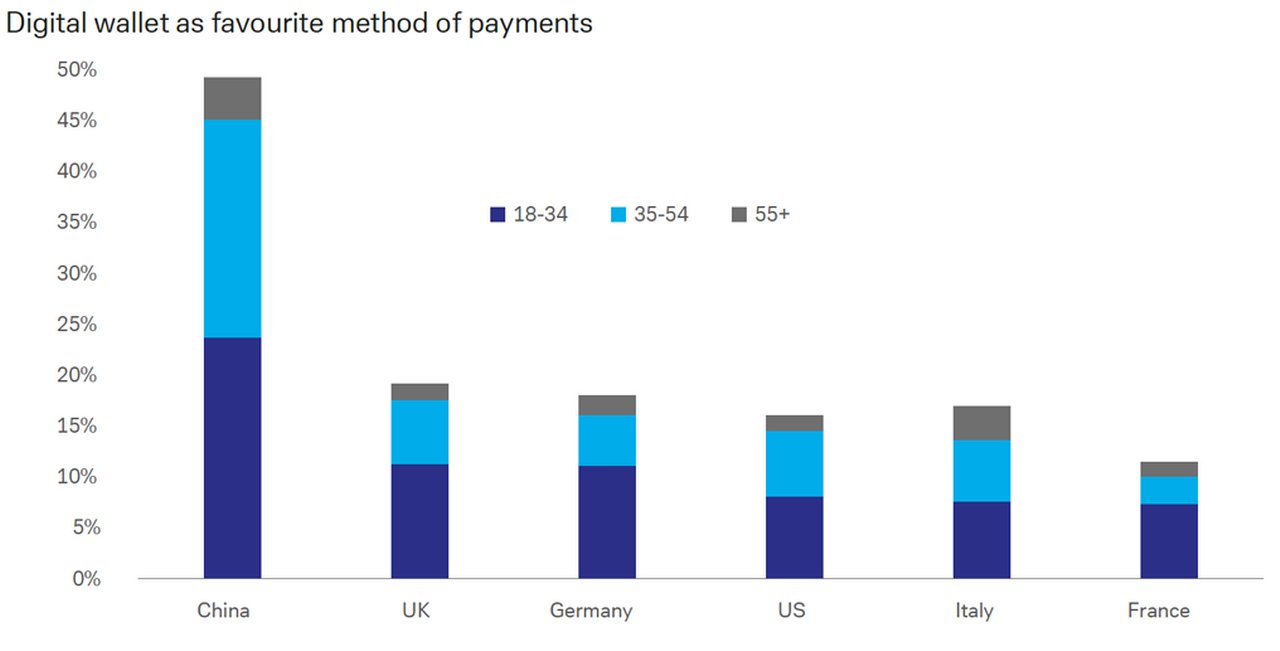 Source: dbDIG Primary Research, Deutsche Bank Research.
Figure 3: Digital wallet as favourite method of payment
Meanwhile, use of digital and mobile wallets in stores is expected to increase nearly 8% over that period, accounting for 33% of POS transactions by 2024. Digital and mobile wallets, already accounting for 45% of e-commerce transactions worldwide, is set to grow to 52% by 2024 as credit card use declines. Digital and mobile wallets make it convenient to store multiple credit cards, debit cards, gift cards, and loyalty cards in one online wallet. Retailers, tech companies and financial service providers including Google, Apple, Amazon, Walmart, and Visa are all boarding the digital payments train.
Deutsche Bank Research reports referenced
The Future of Payments: Series Three – E-Commerce disintermediation for B2B businesses: Hype or Reality? by Marion Laboure (February 2022)
YOU MIGHT BE INTERESTED IN