MACRO AND MARKETS, TRADE FINANCE

Heirs of Lac Long Quan
04 June 2021
Vietnam has managed to weather the Covid-19 pandemic better than many Asian economies. flow examines what underpins this resilience and how it is driving flows of foreign direct investment and export growth
In Vietnamese folklore, the mythical Lac Long Quan, King of the Hong Bang dynasty of ancient Vietnam, vanquishes various monsters to protect his people, before showing them how to live in a more healthy, peaceful, and prosperous way. In the eyes of some citizens and investors alike, Vietnam's government is similarly curbing Covid-19, and setting the scene for what could be a golden age for the country. But what underpins Vietnam's growth, its success in tackling Covid-19, and its post-pandemic prospects?
Solid fundamentals
In 1986, at its 6th National Party Congress, the Vietnamese Communist Party (VCP) signalled a move from a closed, command economy to a more open, market-based one − its 'Doi Moi' programme. Both party and country have not looked back since.
As the VCP concluded its 13th National Party Congress in February 2021, Vietnam was able to point to an average of 7% GDP growth each year over the previous three decades. Such a rate lifted more than 28 million people out of poverty, transforming the country from a low-income economy to a middle-income one. While Vietnam's GDP growth in 2020 slowed to 2.9% due to Covid-19, this rate kept pace with China, and far exceeded that of Thailand (-7.7%), Malaysia (-6%) and others in the Association of Southeast Asian Nations (ASEAN). Several factors have driven this success.
Figure 1: Vietnam's GDP to rebound back to the pre-Covid-19 trend
Stable politics
"We have a very stable political environment, and I think that is so important," says Huynh Buu Quang, Chief Country Officer for Vietnam at Deutsche Bank. "Vietnam has also been able to maintain very good relationships with both neighbouring countries as well as the Americas, Europe and Australia." The country has more than 50 bilateral investment treaties (BITs) − the third highest tally in ASEAN and sixth highest in Asia.
The 13th Party Congress saw the reappointment of Nguyen Phu Trong as General Secretary of the VCP, confirming the continuity of the country's political direction. Its one-party system provides local and foreign businesses and investors with stability, and the VCP's handling of the various Covid-19 waves has further bolstered public confidence.
A safe haven for FDI
BITs are just part of the story. Vietnam's efforts to enter into treaties with investment provisions and investment-related instruments also helps garner foreign direct investment (FDI). For example, further evolution in the nation's economic stability and integration into the global trade system came when it joined the World Trade Organization in 2007. Since then, Vietnam has received a total of US$108bn in FDI.
The country has also facilitated foreign competition, including opening up more than 50 industries in 2015 alone. The latest chapter in Vietnam's accumulation of investment treaties is still being written: the UK-Vietnam Free Trade Agreement signed at the end of 2020, the EU-Vietnam Investment Protection Agreement of June 2019, the EU-Vietnam Free Trade Agreement signed in June 2020, and the Regional Comprehensive Economic Partnership completed in November 2020, all of which Vietnam entered into in the run-up to and during the country's recent chairmanship of ASEAN. These agreements, once in full force, are expected to further boost its FDI and export-led growth.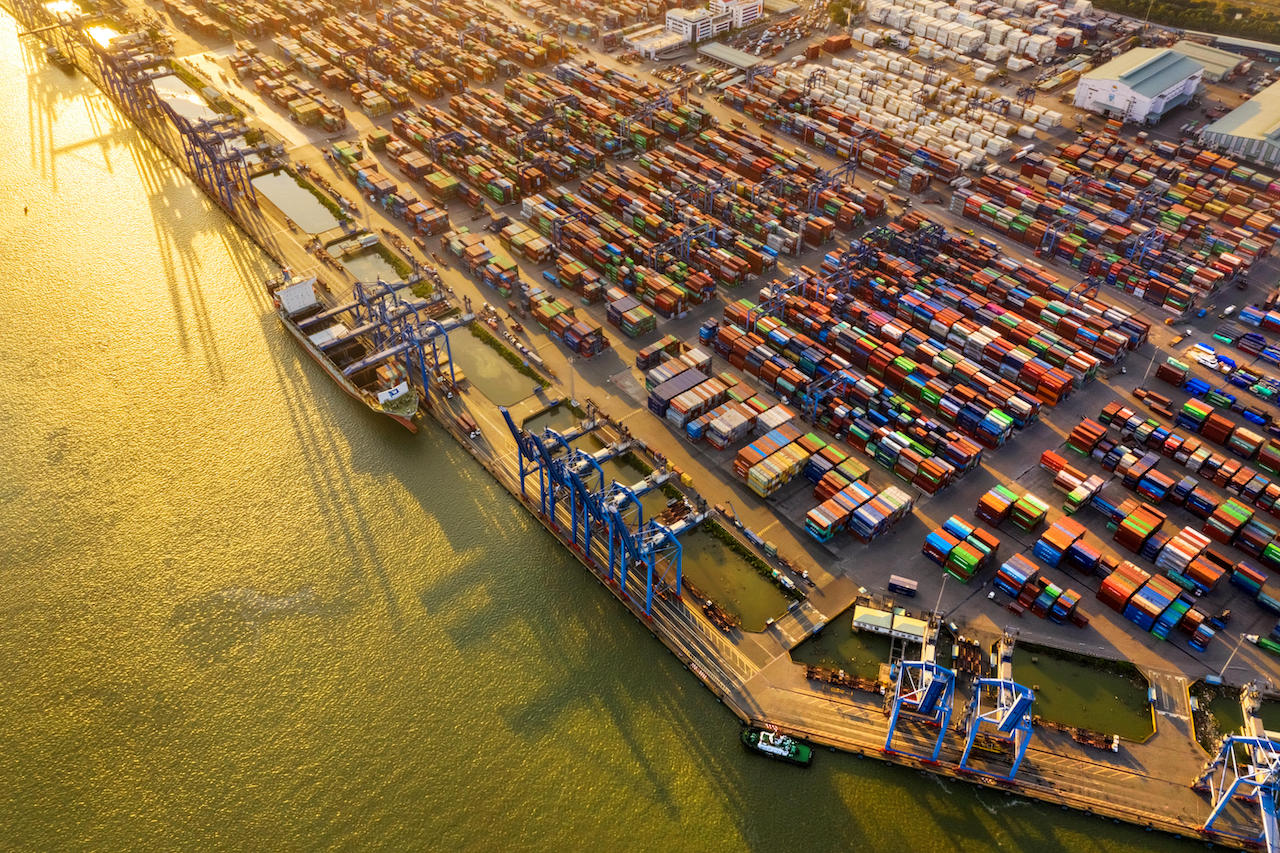 Cat Lai Port in Ho Chi Minh City is one of the largest container terminals in Vietnam
Vietnam does not just attract foreign investors: it also has a track record of treating them fairly. On the very rare occasions foreign investors have aired grievances by using treaty provisions to bring arbitration claims against it, adjudicating independent arbitral panels have almost invariably exonerated the conduct of the state.
While Vietnam has a broad and diverse base of trading partners, perhaps its most important are China and South Korea. Many inputs for its factories, both multinational and state-owned, depend upon China, while FDI from South Korea − in particular from Samsung − has helped bolster macroeconomic fundamentals.
The country's top exports have become progressively more value-added, from basic agricultural products in the 1980s, to footwear and textiles during the 1990s−2000s, through to electronics in recent decades.1 FDI is also becoming even more 'high tech'. Developments such as Samsung's US$220m research and development plant, which is scheduled for completion by the end of 2022, will create a virtuous circle of value-added production and upskilling for the Vietnamese economy and workforce.2 "Samsung is the number one export revenue earner for the country and that investment is a gamechanger," notes Quang.
Sound economic management
The government spends around 5.7% of its annual GDP on infrastructure improvements; the highest percentage in Southeast Asia.3 Examples include the construction and expansion of 39 ports, an improved network of expressways across the country − including the expressway linking North and South Vietnam that is currently under development – and the new Long Thanh International Airport, on which construction began at the end of 2020.
Infrastructure investments in sanitation and dramatic changes to the national energy mix are also laying the groundwork for long-term prosperity. Within two years, Vietnam smashed its targets for the installation of solar-powered generation which, alongside advances in wind power, means 10% of its energy generation is now renewable. Privatisations and other supply-side reforms have continued apace since the distant memory of the default by state-owned shipbuilder Vinashin in 2010.
Vietnam also has a sound legal system and strong rule of law, including strengthened consumer protection laws. The ease of doing business has also improved, with the country rising from 99th position in 2013 to 70th in 2020, according to the World Bank's annual global ranking.4 In January 2021, the Organisation for Economic Co-operation and Development praised Vietnam for providing a business environment "conducive to business growth" that has "constantly improved".5
Fiscal and monetary levers have been managed prudently. The State Bank of Vietnam has focused on reducing its external borrowing and its domestic credit growth,6 a discipline rewarded by the main credit rating agencies continuing to classify Vietnam as 'stable'. "The government has recognised the challenge of high debt to GDP," comments Quang. "For the past five years it has focused on reducing the deficit and external borrowing to get this down – we are close to 50%, which is very welcome to foreign investors."
"We have a very stable political environment"

Currency interventions have kept the dong within a narrow band, which has allowed reserves to be accumulated while maintaining macroeconomic stability.7 Vietnam also enjoys low inflation and interest rates, and an increasingly vibrant domestic capital market.
A wealth of natural and human resources
55%

The ability to sustain a high annual growth rate over three decades is − like the FDI − underpinned by a wealth of natural resources (including ebony, teak, oil and fish). A young, upwardly mobile workforce (55% of all Vietnamese are under 35 years old) supports robust domestic demand – and output. The population is the third largest in ASEAN and 15th largest in the world. Its 96.5 million population exceeds that of Myanmar, Malaysia, Laos, and Singapore combined. Furthermore, Vietnam itself sits at the gateway to an even greater market: China's 1.4 billion people.
Structural changes to the economy, such as the movement of workers from agriculture into manufacturing – and from the countryside to towns and cities – have also fuelled productivity growth. Pre-pandemic, roughly one million people were moving to urban areas annually and, with 66% of the population still living in rural areas,8 this growth driver has some way to play out.
"From an ASEAN perspective," adds Deutsche Bank's Burkhard Ziegenhorn, Head of Global Transaction Banking and Corporate Bank Coverage for ASEAN, "Vietnam is the fastest-growing economy with a very young population that started off from a low base in terms of GDP per capita."
He reports that the fastest-growing corporates in the ASEAN portfolio are those in sectors that cater for this upwardly mobile consumer group. In other words, there is a hungry, fast-moving consumer goods market in Vietnam's growing middle class, with high demand for telecommunications, mobile payments and banking solutions that can cater to an unbanked and youthful population; while energy, engineering and infrastructure projects are also needed for a country with a growing urban population and ambitious targets for green growth.
"Vietnam is the fastest-growing ASEAN economy with a very young population"

Ziegenhorn adds that more supply chains are shifting into Vietnam as many Asian companies expand and diversify their production hubs. One high-profile example is Foxconn moving some iPad and MacBook assembly work from China to Vietnam at the request of Apple.9 This rerouting of supply chains brings opportunities for Deutsche Bank to work with local banks and corporates. Demand for supply chain finance support continues to rise. "Our strong supply chain financing platform enabled us to win a few mandates from large multinational companies," Quang says. Domestic producers are venturing forth with exports as well; Quang and Ziegenhorn report that "a small group of Vietnamese local corporates are setting up sales and production overseas – these include a local car manufacturer and food producer."
Superfast connectivity and the highest adoption rate of the internet in the region is helping innovation, as is the trend of Western-educated Vietnamese returning with fresh ideas. One recent example of such entrepreneurship is the free-rice-dispensing ATMs developed by Vietnamese corporates to alleviate pandemic-related hunger, an initiative which has received government blessing. Such domestic business innovation is also being replicated abroad, with several firms setting up operations in Europe.
With such solid growth fundamentals, the World Economic Forum (WEF) currently ranks Vietnam 67th in the world for competitiveness, just ahead of India and Brazil. The WEF recognised the country's improvements to its institutions, infrastructure, information and communication technology adoption, skills, product and labour markets, financial system, market size, business dynamism, and innovative capability.10
Weathering the storm
Vietnam's success in curbing the Covid-19 outbreak and its rise in the region's manufacturing supply chain allowed its economy to rebound to pre-pandemic levels very quickly. "It is one of the few places in the ASEAN region that has got the virus under control so far," reflects Ziegenhorn. Analysis by the International Monetary Fund ascribes the lessons of the 2003 SARS crisis as the root reason for the country managing the virus so successfully to date. Vietnam's rapid introduction of aggressive and cost-effective containment measures, and its de-politicised 'whole-of-society-fight' public health control measures, were also considered key reasons behind its containment of the virus.11
The pandemic has inevitably impacted tourism, airlines, and related sectors, but others have been more resilient, resulting in a positive GDP growth of 2.9% in 2020. Vietnam also fared better than its peers in private consumption, which did not contract, but rose slightly by 0.6% in 2020. Supported by base effects, retail sales growth accelerated to 35% year-on-year in April 2021, from 4.9% in Q1 2021 and 1.8% growth in 2020, while investment growth also rose.
There is also improvement in investment data. FDI growth accelerated to +7.7% year-on-year in April 2021, compared to +5.7% in Q1 2021 and -2.8% in 2020, while exports surged by 44.9% in April 2021, as opposed to 25% in Q1 2021 and 8.1% in 2020. Deutsche Bank's Singapore-based Chief Economist Juliana Lee noted12 that "Vietnam remains one of the favourite destinations for the China-plus-one strategy for global manufacturers, and its success in curbing Covid-19 infections further improved investor confidence."
In a world of high uncertainty amid sustained pressure from the Covid-19 pandemic, Vietnam's socio-political stability continues to contribute to its attractiveness for FDI investors. Investor appetite and FDI decisions can − like viruses − develop in unanticipated ways. However, as the view of the post-pandemic landscape becomes a little clearer, Quang believes that "the future looks bright". He adds that "the consensus on GDP growth for 2021 is now 7.3%, fuelled by a rebound in goods exports". This is slightly weaker than Deutsche Bank Research forecasts of 7.5% in 2021 (7.2% in 2022), but well above the pre-Covid five-year average growth rate of 6.8%.
The nation's scorecard on curbing Covid-19, weathering the economic storm and laying the groundwork for Vietnam's continued economic advancement, suggests that the heirs of Lac Long Quan are doing him proud.
flow magazine is published twice per year and can be read online and delivered to your door in print
Subscribe

Subscribe
YOU MIGHT BE INTERESTED IN