TECHNOLOGY

Recharging personal transportation
30 April 2021
More than a decade after Tesla launched the first mass-produced electric vehicle, the end of the road is approaching for the conventional internal combustion engine. flow's Graham Buck and Janet Du Chenne report on how an all-electric future is to be achieved
"Premium automakers Volvo, Jaguar and Mini have signalled their intentions to abandon the combustion engine and transform into all-electric brands," reported Automotive News1 on 19 April. The paper added that Mercedes-Benz under US chief Dimitris Psillakis is preparing to launch electric vehicles (EVs) in North America from autumn 2021, while Daimler's CEO, Ola Källenius, announced "We will gradually move towards zero-emission".
One by one, the world's major automotive brands are confirming their conversion to an electric future, 11 years after Tesla and its CEO, Chairman and Product Architect Elon Musk announced the launch of the Model S sedan2, billed as the "world's first mass-produced, highway-capable EV". The attraction of EVs is their smaller environmental footprint – replacing five million petrol cars with EVs equates to 36 million fewer tonnes of CO2-related emissions being pumped into the atmosphere, reports Pictet Asset Management3.
Add to this the fact that the new breed of cars is also becoming cheaper and more efficient. By 2025 "most EVs will probably be more affordable than comparable conventional cars as production scales up and innovative technologies become cheaper," comments Pictet.
"Thanks to impressive efficiency improvements in lithium-ion battery technology, battery costs have fallen 90% over the past decade, and are forecast to drop by a further 50% or so between now and 2024. For example, the cost of standard NMC622 type batteries is now €112/kilowatt hour (kWh)".
While Tesla has established itself as the world's best-selling EV brand over the subsequent decade and its Model 3 is currently the best-selling plug-in EV globally, total vehicle deliveries worldwide in 2020 were just short of 500,000 units4. The company is a leader in battery technology and software, but as The Economist's industry editor, Simon Wrightnoted in November 2020, has been less successful in ramping up production. "Musk dreams of making 20 million cars a year; in 2019 he made 370,000," he reflected. By comparison, as The Times of London reported5 on 21 April, in 2019 a total of 17 million new cars were sold in the US alone, of which only 2% were plug-in EVs.
Tesla's gigafactory 3 in Pudong district, Shanghai, China
(Photo: iStock)
Ramping up production
President Biden stated in his election campaign video, "I believe that we can own the 21st century market again by moving to electric vehicles." The US$2.3trn American Jobs Plan unveiled on 31 March to upgrade infrastructure includes US$174bn for EV development and charging stations. And on 28 January, eight days after Biden's inauguration, General Motors announced that it aims to phase out production of cars, trucks and SUVs with diesel and petrol-powered engines by 2035 in favour of EVs and to be carbon neutral by 2040 in all its global product and operations. GM has earmarked US$27bn for developing EVs over the next four years and plans to have 30 EV models – including more than 20 for North America – ready to launch by 2025.
However, Deutsche Bank Research analysts Emmanuel Rosner, Edison Yu and Conor Walters supplied a note of cold realism in their 21 April e-Manual Transmission paper. GM's North America chief Steve Carlisle has indicated that the 2035 timeline for zero-emission vehicles (ZEVs) "is simply a goal, and by no means a guarantee" and the GM – which currently offers just one EV model in the US – is ready to continue supplying internal combustion engine (ICE) vehicles "for the foreseeable future so long as the demand is sufficient". Carlisle also commented that "GM will not allow the existing business to suffer just to win the race to an all-electric future, and the market environment will dictate the pace of the transition".
The Paris-based International Energy Association (IEA)6, an intergovernmental organisation set up nearly 50 years ago in the wake of the first oil crisis, observes that the subsidies offered to stimulate the transition to electronic mobility are being reduced or phased out as policy measures shift to "regulatory and fiscal measures to underpin the deployment of EVs – including increasing reliance on supply-side measures such as zero-emission vehicles mandates and fuel economy standards".
The IEA adds that "more comprehensive policies are critical to lay the foundation for a transition to electrification and to assuage stakeholder uncertainties. Increasingly stringent regulations on tailpipe CO2 emissions and mandates requiring that automakers sell a minimum share of zero- or low-emission vehicles are well suited to this purpose".
Regardless of what form consumer incentives take – possibly shifting more to stick than carrot – the relatively modest EV sales volumes to date will soon be eclipsed and the battle within the industry is about to intensify. It will be marked by "the new kids versus the old hands" forecasts Wright, who reported that Covid-19 caused a 20% drop in global light-vehicle sales in 2020, but this year will see them rebound and "led by China, the proportion of vehicles powered by batteries will grow quickly".
In Western Europe alone, sales of battery-powered electric vehicles (BEVs) are expected to exceed one million for the first time in 20217, but are then likely to slow "as normality is restored to the "traditional but currently coronavirus-impaired ICE market," reports Forbes magazine. According to business/market intelligence firm Schmidt Automotive Research, BEV sales will accelerate again when more stringent CO2 emissions targets take effect in 2025 and account for a 13% share of the total market – although more bullish forecasters predict a figure closer to 19%.
Deutsche Bank Research's latest European Automotive Market Update (21 April) reports on Q1 2021 sales as follows: "While January and February volumes have been falling off from the December 2020 high, March has pushed back to this peak for BEVs and plug-in hybrid electric vehicles (PHEVs) in some markets among the European top five."
It continues, "Some of this is clearly seasonality linked, but we would argue it also still underlines the accelerating roll-out of electrified models. On a relative basis, BEV regs grew by 191% in Germany, 182% in France, 88% in the UK, 689% in Italy and 174% in Spain - all relatively easy comps."
The Forbes article includes data from the Inovev B2B automotive market analyses and data centre showing Tesla's Model 3 as the best-selling EV in 2020, with 365,240 vehicles sold, giving it a 17% market share followed by the Wuling Hong Guang Mini EV (127,651), Renault Zoe and the Tesla Model Y. Tesla was also the world's leading BEV maker according to Inovev with 499,535 sales, followed by China's SAIC Motor (243,201), Volkswagen's VW brand Porsches and Audis (227,394) and Renault-Nissan (172.673).
Choice for the European buyer in 2021 will broaden with new BEV models launches that include "the Volkswagen ID.4, Volvo XC40 Recharge, Audi RS e-tron, Mazda MX-30, Fiat 500e, Dacia (Renault subsidiary) Spring, (VW's) Skoda Enyaq, Mercedes EQA, B and S, BMW iX3, Nissan Ariya and Tesla Model Y".
Quoted in The Sunday Times of 25 April Richard Black, former director of the Energy and Climate Intelligence Unit forecast that the average (UK) cost of an electric car (£44,000/US$61,000) will steadily reduce as competition intensifies and a second-hand market starts to emerge.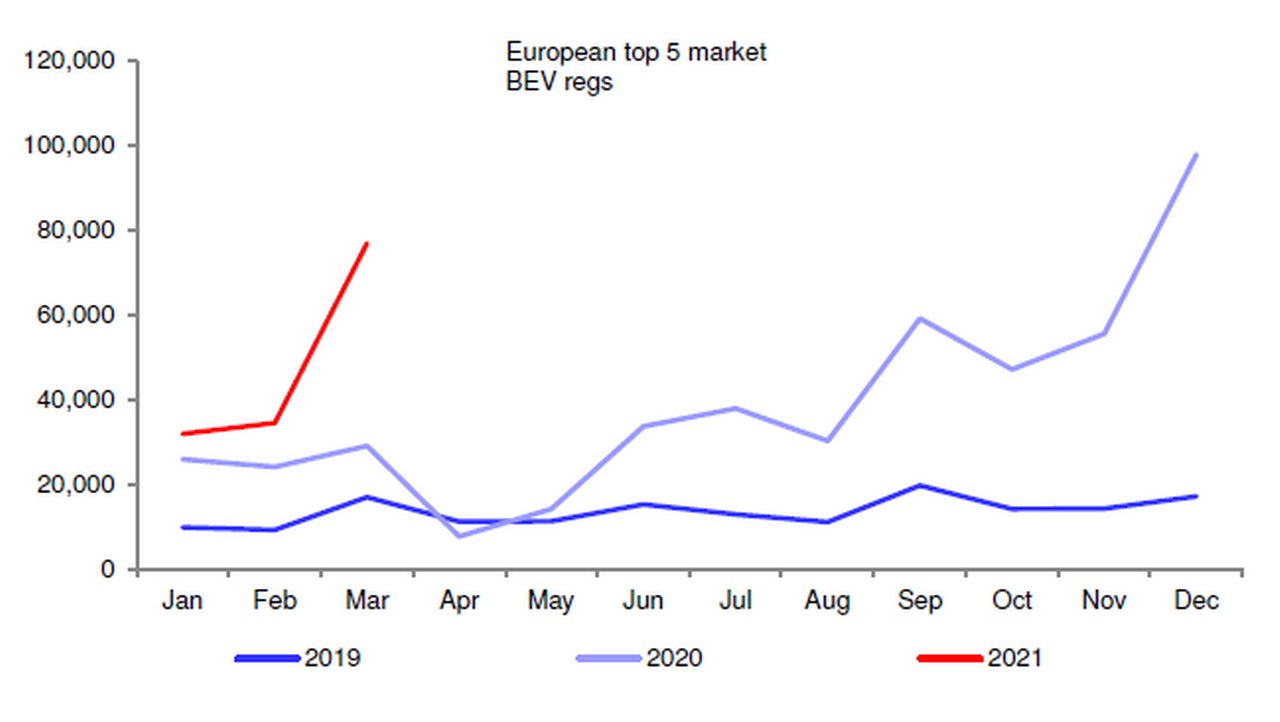 Figure 1: EU top 5 BEV regs by month
Source: KBA, CCFA, SMMT, UNRAE, ANFAC, ANIACAM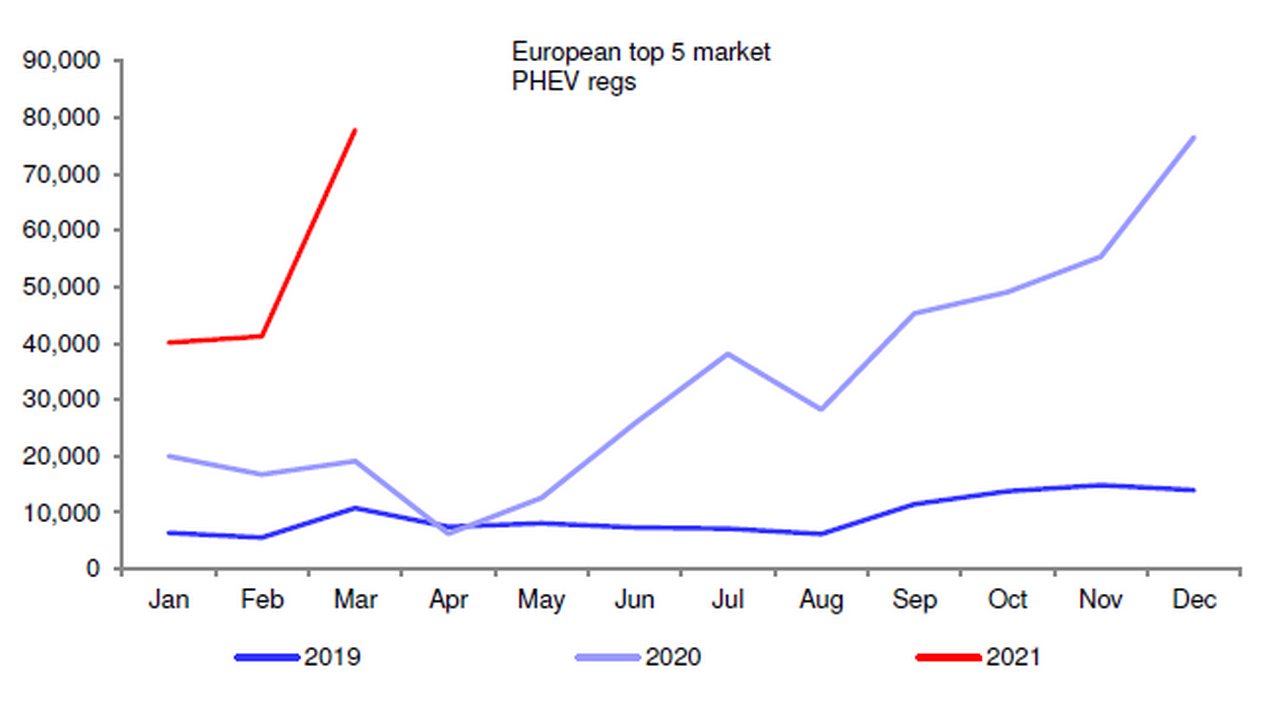 Figure 2: EU top 5 PHEV regs by month
Source: KBA, CCFA, SMMT, UNRAE, ANFAC, ANIACAM
VW's plans
Ambitious plans by major auto manufacturers such as Volkswagen to step up production also point towards accelerating EV sales figures. Deloitte forecasts that VW will overtake Tesla to be the biggest producer by 2030, by when the group aims for EVs to represent more than 70% of its sales in Europe by 2030 and 50% of those in China and the US. VW has announced a joint initiative with BP8 to develop a network of ultra-fast EV charging posts at BP garages in the UK, Germany and its other Europe outlets.
Deutsche Bank Research analysts noted in their 22 March report Volkswagen AG: All in for an electric future, "with its new EV sales target of one million units this year, of which the majority will be BEVs [and the remainder plug-in hybrid electric vehicles, aka PHEVs], VW should come very close to Tesla's BEV sales. Moreover, with the global roll-out of the ID.4 [ID=Intelligent Design] we see a good chance that VW could surpass Tesla's BEV sales as soon as next year, which should increase the credit given to its EV strategy". This includes building six gigafactories by 2030 to provide an aggregated output of 240 gigawatt hours (GWh).
Figure 3: Volkswagen targets one million EV sales for the US in 2021
Source: Deutsche Bank, company data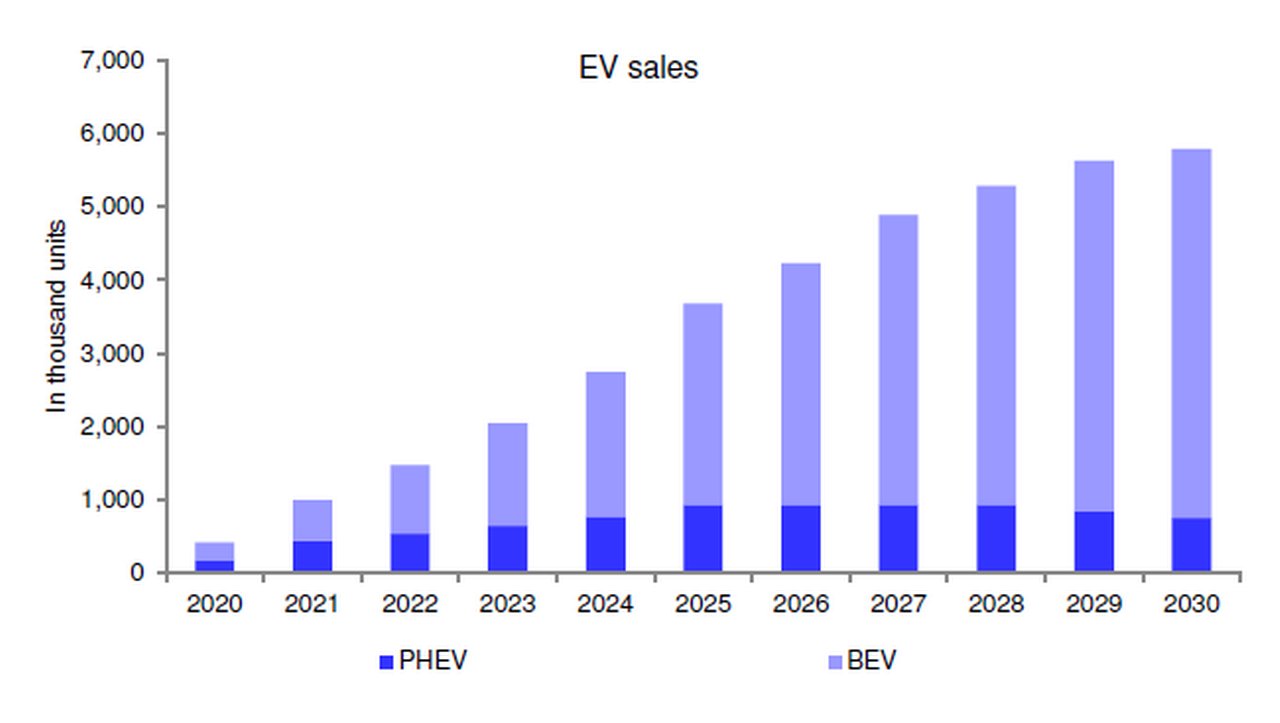 Figure 4: Volkswagen projects annual EV sales in US of 5 million-plus by 2030
Source: Deutsche Bank, company data
In the just-released Horizon Scanning podcast Dan Hunter, Deutsche Bank's Head of Corporate Communications, Americas asks the Bank's auto industry analysts Tim Rokossa and Emmanuel Rosner whether the future of EVs will be marked by a battle for dominance between "Germany, the undisputed, current king of automotive engineering and excellence [and] the challenger, America, home to the world's largest economy, Silicon Valley and the Detroit auto giants". Both analysts believe that the competition is more likely to between the legacy carmakers that can adapt best to the new era – Rosner cited GM's aggressive targets and also Ford9, which in February announced it will now invest US$29bn in EVs over the next four years – as well as some of the new start-ups that are attracting investor support.
"The first generation of EVs wasn't well suited to US tastes, which are driven more by concerns about performance than being seen as 'green'"

The two analysts also agreed that consumer attitudes to EVs differ each side of the Atlantic "The first generation of EVs wasn't well suited to US tastes, which are driven more by concerns about performance than being seen as 'green'," suggested Rosner. "That's changing incredibly fast – witness the response to Tesla's cybertruck, while Ford's first electric offering is the Mustang Mach-E SUV".
In Europe, said Rokossa, VW initially focused on the need for its offerings to be green, but soon found that consumers also want them to be "cool". "The auto industry has realised this and responded accordingly," he added. And while younger generations of Europeans are increasingly disinclined to regard cars as aspirational, the combination of green credentials and cutting-edge technology could win them over.
Component concerns
As Wright's article noted, electric power "requires a fundamental rethink of a car's internal architecture, turning it into a computer on wheels. An array of new electronic systems brings connectivity and produces data, making possible new business opportunities, better mobility services and, eventually, cars that are fully self-driving". Wright marked 2021 as the year when "Tesla, its copycats, established carmakers and tech giants will be jockeying for position in the race to an electrified future".
The rivalry is made more intense by a well-publicised shortage of semiconductors on which the automotive industry is heavily reliant and has already caused major manufacturers to scale back production of all vehicles. Reports suggest the new generation is particularly impacted10 as an EV has more than 3,500 such chips, against 1,300 for a conventional petrol or diesel car.
To put this rivalry into further context one need look no further than China where the just published Five-Year Plan for 2021−2025 looks set to put the country on a path towards manufacturing self-sufficiency. As part of its anti-pollution drive, by 2035 the government wants every other new car sold to be an EV. China, a country with over 1.4 billion citizens had a total of 3.3 million EVs in 2019, according to the IAE's Global Energy Outlook. Research firm Canalys estimates a further 1.3 million were sold in 2020, representing around two-fifths of total global sales.
In its 23 April issue, The Economist marked the opening of Auto Shanghai11, the first big global car show since the start of the pandemic, by commenting that, rather than the familiar names such as Cadillac and Kia, the most popular booths "belonged to a clutch of Chinese companies with little carmaking experience: Huawei, a telecoms giant; dji, the world's biggest drone-maker; and Evergrande, a property developer".
These newcomers believe that China's future EVs will compete less on the "eye appeal" of their hardware and more on the sophistication of their software, the paper explained. "Fully autonomous vehicles, able to understand their surroundings, are the ultimate (if distant) goal. Conveniently, both Huawei and dji have developed advanced laser-based detection systems which, they reason, could easily be applied to passenger cars. China's most popular search engine, Baidu, another star turn, unveiled its own radar self-driving technology."
More than just hardware
In Shanghai, China's EV Mecca, new manufacturers are setting up and basing their global headquarters and R&D centre for production models here. But, like Huawei, they are weighing in on more than just the hardware. Instead, they are presenting a whole vision of a future where social media, e-commerce and the daily commute converge in one lifestyle app where people can fulfil their clothing, groceries and self-driving car needs.12
In The Nio normal: Chinese electric carmaker seeks to plug buyers into lifestyle app on 27 April Reuters notes manufacturer Nio's grand ambitions. The start-up is now valued at US$70bn according to its New York stock listing, via a Deutsche Bank-managed American Depositary Receipt listing with each representing the underlying shares of the company for US investors. It also operates its own digital currency with tradeable credits that clients can gain from buying a car, attending events or even simply posting their stories on the Nio app. It is relying on building on loyalty with an app which its executives say now has around 150,000 users.
Li Auto is another manufacturer with ambitions to dethrone Tesla in its home market by successfully commercialising extended-range electric vehicles. Like Nio is it closing in on the US EV giant as it works on developing new electric vehicle technologies such as ultra-fast charging and autonomous driving technologies.13
"From a high level, we think the China EV market is already the most competitive in the world and the number of well-funded players seems to increase every week with essentially every major technology company now planning to build at least some part of the electric vehicle (Baidu, Foxconn, Huawei, Xiaomi, etc...)," says Deutsche Bank's China EV & Mobility Research Analyst, Edison Yu.
"We will witness several years of creative destruction where the winners will have to constantly innovate to maintain their position"

"Ultimately, we believe the majority of efforts from start-ups will fail and many legacy automakers will become irrelevant, but in the process of getting to the endgame of a much more consolidated market, we will witness several years of creative destruction where the winners will have to constantly innovate to maintain their position," he adds. "Similar to the smartphone market, this will enable the top Chinese EV companies to compete at a global level and be much more dominant than they could ever be during the internal combustion era".
In the meantime, a shared concern for both US and Chinese manufacturers is a worldwide semiconductor chip shortage – a consequence of the increased global appetite for electronic goods since the pandemic began. Hence the virtual meeting hosted by President Biden on 12 April, billed the "CEO Summit on Semiconductor and Supply Chain Resilience".
Semi-conductor supply chain risks are a worry for both sides14. While Beijing and Washington are waging a tech war on multiple fronts, they have found common ground on one issue: both are concerned by their respective lack of domestic production capability in semiconductors and are looking to remedy it. Given these worries, it is no surprise that Chinese manufacturers such as Nio are hedging availability by setting up North American headquarters and "global R&D centres for advanced technology"15 in Silicon Valley, and vice versa for US manufacturers.
Add to these supply concerns the current dependence on cobalt as an essential component of batteries – not only for EVs. As The Guardian16 reported back in January 2020, data firm Benchmark Minerals project a global demand for cobalt by 2029 of 300,000 tonnes against an estimated 70,000 tonnes used in 2019.
However, as the paper reported almost 75% of the world's cobalt supply is sourced from the Democratic Republic of Congo (DRC), a country where the rule of law is among the weakest in the world and whose record on working conditions and child labour is commensurately poor. The majority is then shipped to China, as the world's largest battery manufacturer for processing. Tesla has already moved to enhance its ESG credentials by pledging to remove cobalt mined in the DRC from its future models.
The burgeoning EV market also has implications for companies such as France's tyre manufacturer Michelin, as Forbes17 writer Jim Henry noted on 12 April. The company aims to include at least 40% sustainable materials in its product by 2030; it also has to adjust its tyres to make them suitable for EVs and hybrids that are weightier due to the batteries carried and also generate more torque (the twisting power that launches a car from a standing start) than ICEs. Henry reported that Michelin and its peers have developed and continue to refine "low-rolling-resistance" tyres that lose less energy when a vehicle is started up.
Deutsche Bank Research reports referenced:
European Automotive: Kickstarting electrification – Mar-21 - bumping up regs, residuals weakening by Christoph Laskawi, Tim Rokossa, Nicolai Kempf and Katharina Werner (21 April)
Global Autos Daily: The Morning News by Tim Rokossa, Emmanuel Rosner, Christoph Laskawi, Nicolai Kempf, Edison Yu, Katharina Werner and Conor Walters (various dates)
e-Manual Transmission: DB Global Autos Conf., GM clarifies EV target, Toyota's updated EV plan by Emmanuel Rosner, Edison Yu and Conor Walters (21 April)
China EV & Mobility Stocks under pressure: what happened this week? Endgame becoming clearer? by Edison Yu, Emmanuel Rosner and Conor Walters (16 April)
Volkswagen AG: All in for an electric future by Tim Rokossa, Christoph Laskawi, Nicolai Kempf and Katharina Werner (22 March)
EVision: China pricing on the rise, EV demand trending up, Deep Dive Lithium S&D by Chris Terry, Corinne Blanchard, David Begleiter (18 March)
Stay up-to-date with
Choose your preferred banking topics and we will send you updated emails based on your selection
Sign-up

Sign-up
flow magazine is published twice per year and can be read online and delivered to your door in print
Subscribe

Subscribe
YOU MIGHT BE INTERESTED IN