September 2019
eNotes are driving the surge in digital mortgages for residential housing. BAML's Eileen Albus tells Janet Du Chenne how new innovations are helping to improve the consumer experience and lower lenders' costs
If becoming a homeowner is a top priority for 72% of millennials, more so than travelling (61%), getting married (50%) or having children (40%),1 it is little wonder that the mortgage industry is finding better ways for this group to connect and consume. It has introduced electronic notes, or eNotes, which are digital versions of the promissory notes or documents borrowers sign promising to repay their lender for the amount borrowed.2
The eNote contains all of the information that would be included in a traditional paper note – property address, title agent address, loan amount, percentages, etc. – but is created, signed and managed digitally. Its digital make-up has been said to reduce the time it takes for a typical mortgage to close from 45 days to less than 30.
The take-up of eNotes has been remarkable. The Mortgage Electronic Registration System (MERS®) – a US national electronic database that tracks changes in servicing and beneficial ownership interests in residential mortgage loans on behalf of mortgage lenders and originators – shows that the total number of registrations of eNotes up to June 2019 was 402,526.1 MERS® registered 7,593 eNotes in June alone, compared with 558 in June 2018.
This rapid growth is a key indicator that the residential lending industry continues to drive towards greater digitalisation of the production process. eNotes are an essential component of a digital mortgage strategy, are enforceable in all 50 states and easily integrate into an electronic closing process that improves the consumer experience and lowers lenders' costs (see Figure 1).
However, for an industry that until a few years ago was largely paper-based and was still reeling from the financial crisis, the road to digitalisation has relied heavily on industry collaboration. For Eileen Albus, Director – Mortgage Finance at Bank of America Merrill Lynch (BAML), this meant not only getting comfortable with the technology, but also having a partner to review and hold the eNotes in an 'eVault' – a secure digital repository for the exchange of documents – making it one of the first large bank warehouse lenders to offer an e-Note solution to mortgage companies.
Discovering eNotes
The journey of discovery began when Albus first joined the bank after the financial crisis. Back then, digital mortgages seemed a taboo subject. Over the next few years, however, there was increased chatter at industry meetings about how eNotes were being used to fund closings. "It seemed this was going to happen because it's what millennials wanted and we needed to be ready for it," Albus explains.
This prompted Albus and her team to research the collateral behind eNotes and the reporting and risks involved, particularly in how they could be transferred and how they would be held up in court – it had to be the legal equivalent of what is done with a paper note. They also analysed cybersecurity needs and considered the processes that needed to be in place for this new concept in order to get internal approval to fund them.
"When I first mentioned doing electronic notes, I remember colleagues saying that it will never happen and there is no way anybody will sign a digital mortgage and feel comfortable," Albus says. "I reminded them that if they had bought a car in the last three years they would have probably signed for it using an iPad or computer, and that the mortgage space would see the same trends in terms of purchasing or refinancing homes." In other words, when people started to think about digital mortgages in terms of their own personal transactions, it began to make a lot of sense.

All systems go
Then, about three years ago, management gave Albus the go-ahead to begin working on a capability to be able to support eNotes as one of the first major warehouse lenders in this space.
Key to her exploration was an understanding of what would happen if the mortgage company to which they were lending defaulted and BAML needed to step in and own the notes. "What was also critical for us to understand was where we could liquidate the collateral and sell it," she says. To allay these concerns, US-government-sponsored enterprises Fannie Mae and Freddie Mac were ready to buy eNotes and securitise them in the secondary market. "Not only did that give us the comfort that we were on the right track, it also gave lenders and our clients another reason to do it."
US$15.5trn

However, not many of them were immediately convinced, and most of the market participants that came together to discuss eNotes were small lenders that were waiting for one of the big banks to step in and offer them before they would follow suit.
That moment came a few years ago when a large US mortgage company started to look at eNotes in the borrowing process. BAML followed suit and, after meeting with its document custodians, engaged Deutsche Bank as a third-party document custodian in mortgage lending to build an e-Note solution. "They worked in parallel with us, talking to technology vendors and amending the loan agreements," recalls Albus. "Our technology people were on the phone with theirs, all speaking the same language." An understanding of how these eNotes should be reviewed and held led Deutsche Bank to develop a secure eVault for the exchange of documents.
In implementing the eVault, the mortgage agreements and the underlying systems and technology that process them needed to be updated. Furthermore, clients needed to set up technology upgrades and eVaults that could have systems that communicated with Deutsche Bank's eVaults, which would in turn have to communicate with Fannie Mae's or Freddie Mac's eVaults.
"As an e-Note lender you have to be very detailed on your requirements, your systems and the data that you're taking in"

The moment of truth
The key moment came when the large US mortgage company said it was putting everything in place and BAML was ready to hit the on switch. The key piece was the technology that needed to be built so that Deutsche Bank could review and hold the collateral file as the third-party document custodian, reporting to BAML, MERS® and the mortgage company.
"We had already tested the solution with Deutsche Bank to ensure that it worked, that all the eVault systems could talk to each other and that all parties had what they needed to be able to use the technology," recalls Albus. "Deutsche Bank did not wait until we had a client so that we could put money to a transaction and know how to bill for it. It would not have worked if the client was ready to go, but we didn't have the systems and eVault to work with."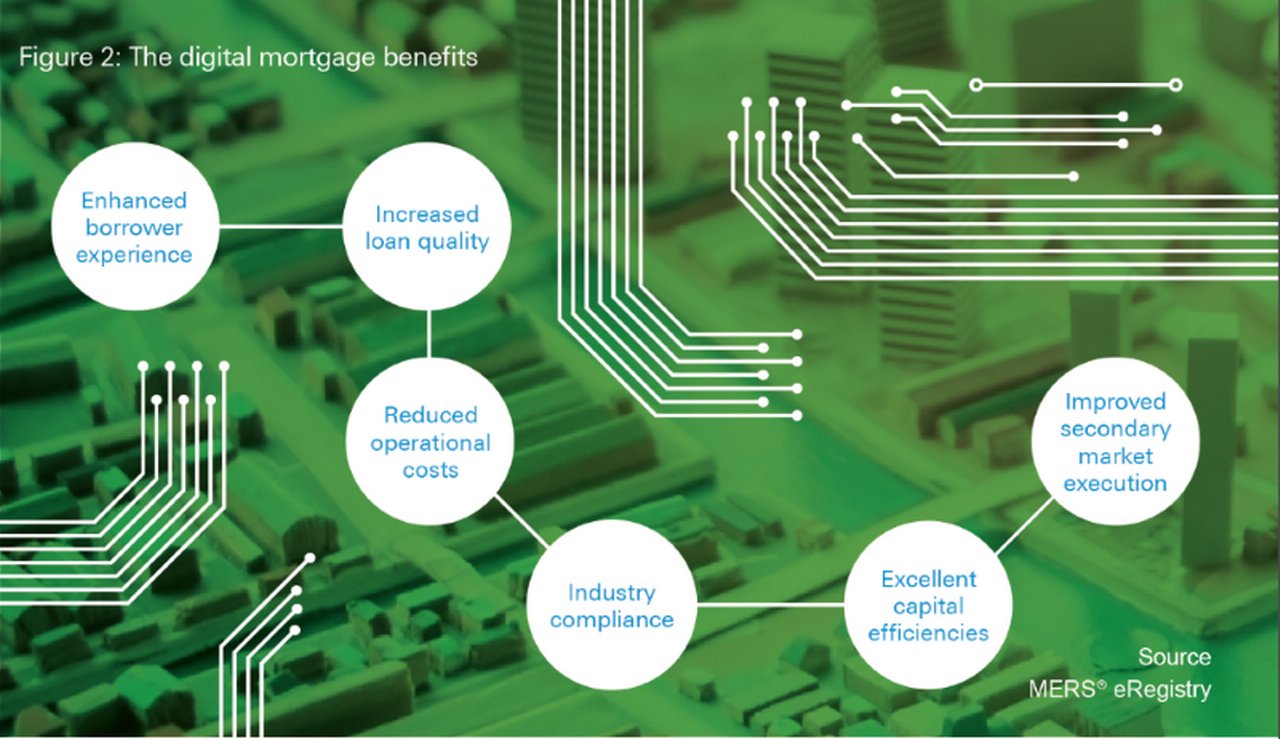 From strength to strength
This preparation has paid off. Since getting approval for a pilot eNote programme with the major US lender in May 2018, that lender has transacted over US$10bn in eNotes with BAML. In the same year, the warehouse lender signed up six additional lenders, and a further five large lenders are in negotiations to finance eNotes.
This is just the beginning. According to Albus, more investors are buying eNotes and she expects that in the next three to four years, more of BAML's mortgage book will be electronic based, as investors become increasingly aware of the benefits of digital mortgages (see Figure 2). The market for selling eNotes has also expanded over the last year, with more lenders and investors purchasing them. Other warehouse lenders are following suit.
According to Albus, this should prompt lenders looking to build up an eNote portfolio to reassess their existing custodial arrangements. "They will want someone who is able to meet their needs – they will not want to wait six months for the other party to be ready with an electronic solution." As the first true third-party document e-custodian, Deutsche Bank's eVault solution is offered to lenders and to mortgage companies with whom the bank does not have a direct lending relationship.
The Deutsche Bank view
During the past 18 months we have seen the US mortgage lending market turning the corner with digital innovations such as eNotes. Deutsche Bank has made significant investments in the digital space as it relates to our Document Custody product, and we are proud to be the leading provider of eVault services in the US. We are committed to continuing to invest in the digital arena to add significant value and forward-looking solutions for our clients
Jose Sicilia
Managing Director Global Head of Trust and Agency Services at Deutsche Bank
Final note
Going forward, Albus concludes that the technology and how eNotes are reviewed and then held will be fundamental to this expansion in the market. "Since a key piece is understanding how a court would look at a foreclosure, as an e-Note lender you have to be very detailed on your requirements, your systems and the data that you're taking in," explains Albus. Nothing can lapse or be disconnected, or you could have a problem proving your ownership in a courtroom. "This means taking care of the data and being aware of cybersecurity; working with an eVault custodian to ensure you have the means in place to protect yourself and your data while you're financing the collateral to make sure that your position and priority interest in the loan is enforceable."
---
Sources


1 See https://bit.ly/2NWuF3B at newsroom.bankofamerica.com
2 See https://bit.ly/2JEYrEy at notarize.com
3 This is a compilation of the monthly 2018 and 2019 eNote Record registration statistics published each month in the minutes of the monthly eMortgage CoP meeting. Source: MERS® eRegistry

Stay up-to-date with
Choose your preferred banking topics and we will send you updated emails based on your selection
Sign-up

Sign-up
flow magazine is published twice per year and can be read online and delivered to your door in print
Subscribe

Subscribe
YOU MIGHT BE INTERESTED IN