TRADE FINANCE, SUSTAINABLE FINANCE

New rails for export finance?
7 July 2022
As around 850 delegates reconvened for the annual TXF Global Export and Project Finance event in Lisbon, a key focus was on how governments, export credit agencies, contractors, banks and private insurers could support net-zero transition. flow's Clarissa Dann reports from Lisbon
Given Lisbon's history as one of the oldest cities in Western Europe with a history of trade, thanks to its well-positioned harbour dating back to the 15th and 16th centuries, it seemed entirely fitting that it was this trading metropolis that saw the return of TXF Global Export, Agency and Project Finance delegates back in person.
The last time this particular community of around 850 participants had gathered on such a scale was June 2019 in Berlin. Three years on, not only was sustainability within export finance the overriding theme, but also the need for a unified approach between export credit agencies, development finance institutions, banks, exporters, private insurers as well as the EPC contractors to make infrastructure happen.
As a backdrop to the event, TXF CEO Dan Sheriff shared TXF Data analysis demonstrating that of the deals captured in the database between 2017 and 2021, 13% of them were sustainable in 2017 (defined by TXF for inclusion as financing social infrastructure and renewables – not transition projects). This figure had risen to 31% in 2021. An event report available to delegates observed, "sustainability is becoming more ingrained within the export finance market…TXF data broken down by region shows that Europe has taken a sizeable lead in the sustainability space – driven largely by big wind farm deals." A snapshot of individual sectors unsurprisingly revealed renewables comprising the largest number of deals, followed by infrastructure (rail, roads, hospitals), then waste and water, power (transmission, waste to energy).
Top ten takeaways
The top ten takeaways from the TXF Global Export Finance 2022 event in Lisbon centred around the need to update the OECD consensus, to firm up common sustainable practice definitions, agility to deal with new technology and new actors – such as electrification projects - whilst all the time to be mindful of increasing levels of debt.
These are summarised by TXF below and this article provides a deep dive into some of the discussion points.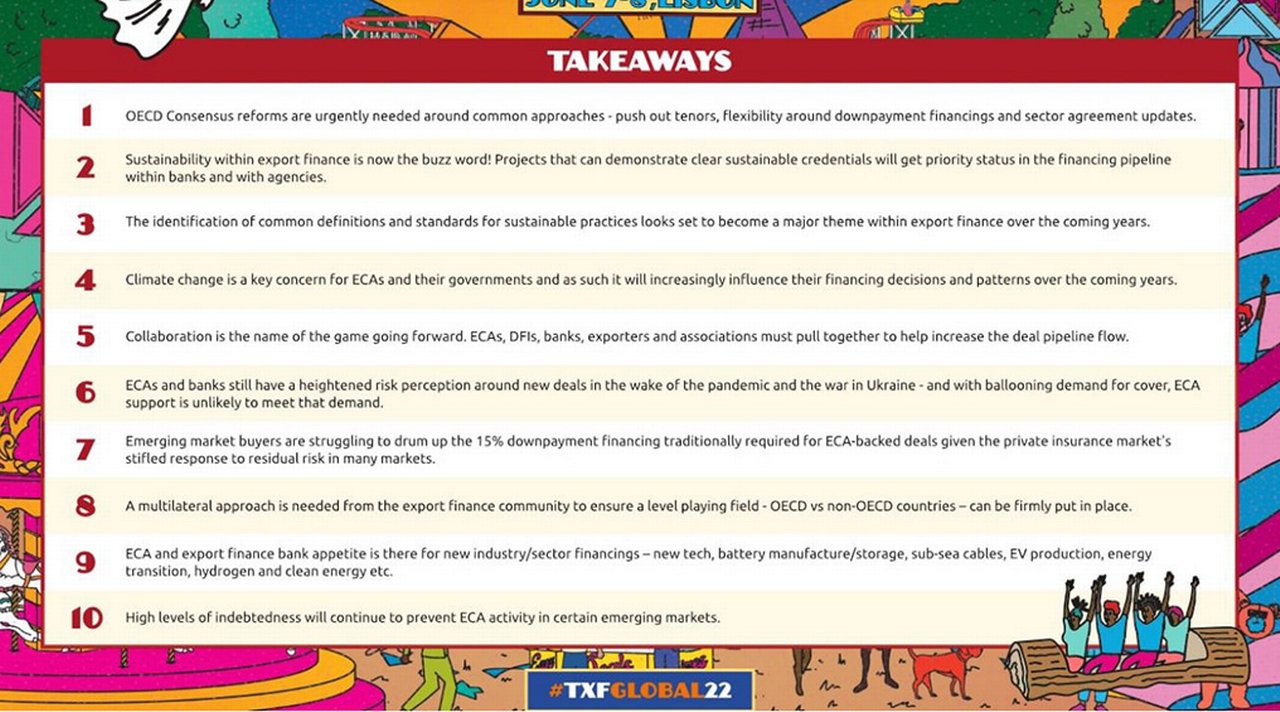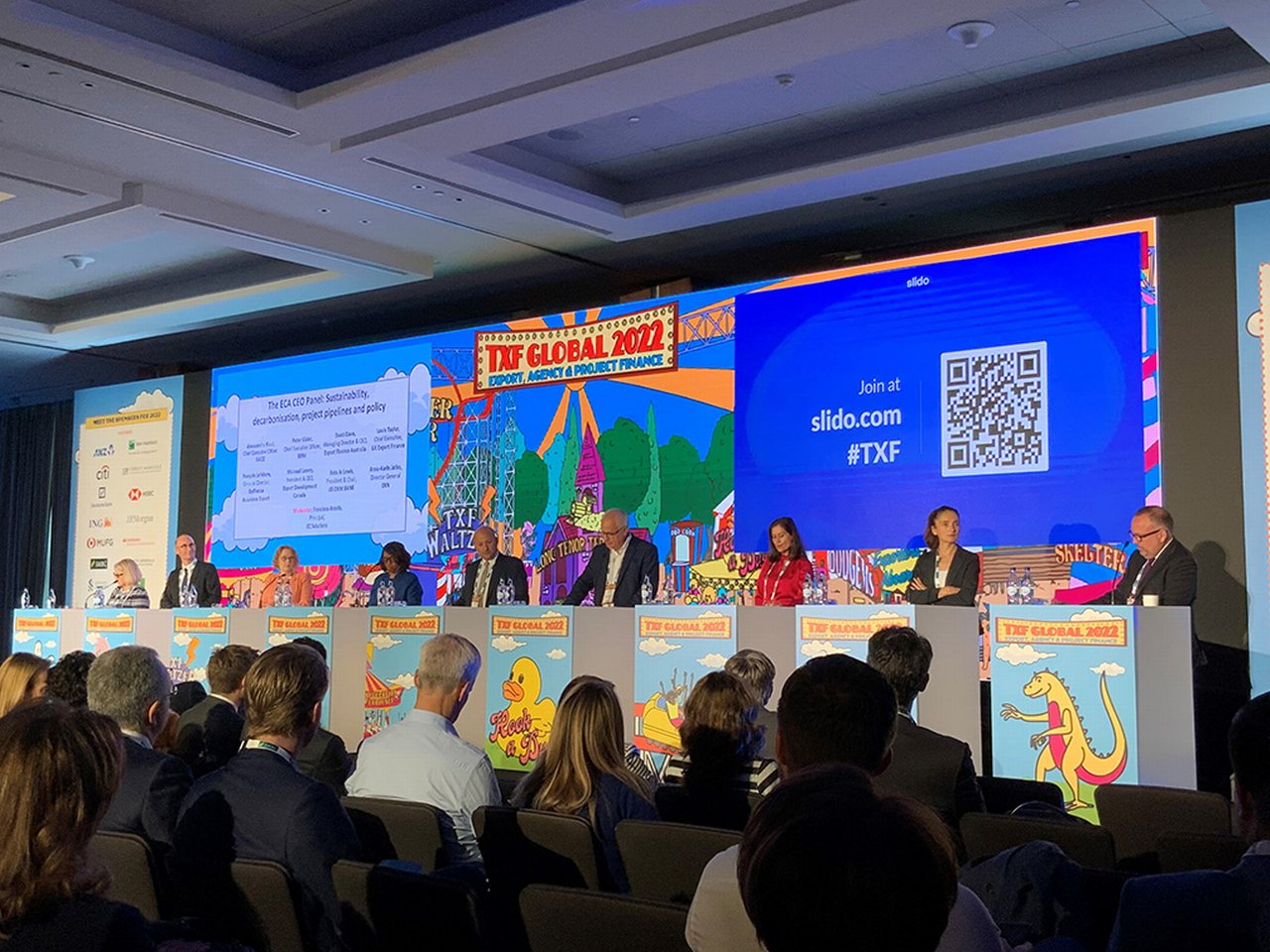 The ECA CEO Panel: Sustainability, decarbonisation, project pipelines and policy
"Many countries in the Indo Pacific region are going to need help with energy transition"

In September 2021, the ICC white paper on Sustainability in Export Finance (which went on to win a TXF award for innovation at the Lisbon event) made the point that ECAs "were once leading the way on the topic of sustainability" but in recent years "had fallen behind". The call to action does seem to have been taken on board and in the first packed full plenary session of the conference, ECA CEOs discussed "Sustainability, decarbonisation, project pipelines and policy". All shared their different approaches to support energy transition. "We are financing critical minerals projects needed for clean technologies, we finance critical Indo Pacific infrastructure and are actively looking for more renewable projects," said Swati Dave, Managing Director and CEO of Export Finance Australia (EFA, pictured third from right). "Many countries in the Indo Pacific region are going to need help with energy transition, and our role is to help them," she added. Australia has an abundant resource of critical minerals, and EFA supports the Australian government's critical minerals strategy around their extraction, processing and export.
Louis Taylor of UKEF (pictured fifth from left) explained how the UK ECA's policy is not to provide any support at all for overseas fossil fuel projects – not even natural gas. "We are not spending our time trying to do fossil fuel projects in a responsible way but are focussed very cleanly on green projects," he said. Taylor made the point that prioritising sustainable overseas projects should not get in the way of supporting business (a point echoed by Mairead Lavery, Export Development Canada's President and CEO – pictured far left). The British ECA has a £2bn direct lending facility for "clean growth". It has also developed a Transition Export Development Guarantee which, he said, "allows us to provide large amounts of capital to companies domestically who are going to export through a transition plan away from fossil fuel-based revenues towards cleaner and greener sources of revenues.
Reta Jo Lewis, who took up the role of President and Chair of US Exim Bank 80 days before coming to Lisbon (pictured fourth from left), reiterated how her agency supports the government policy on financing sustainable projects. "Last year President Biden committed to supporting US$11bn from public financing agencies for projects that will move the world forward in climate adaptation and energy transition." American solar panels exported to Peru, India and Guatemala are just some examples of how US Exim Bank is contributing.
ECA CEOs outlined their respective financing and guarantee products in place to support and encourage energy transition projects, and many confirmed their reporting in line with frameworks such as the Task Force on Climate-Related Financial Disclosures (TCFD). They agreed there was a huge opportunity to support each other by working together on updating the OECD Consensus. They also called for a common approach about how projects could deliver what was needed to create new energy sources such as transport projects and metals and minerals that could used for batteries. As Sweden's Anna Karin-Jatko (pictured third from left) put it, "We need to move jointly".
Renewables and security of supplies
"ECAs set the pace", observed UKEF's Richard Simon-Lewis in the Renewables and Energy Transition round table, and confirmed the UK ECA is experiencing "very strong growth" in this area. By supporting transactions with partner banks (such as offshore wind farms in Taiwan and solar projects in Turkey), ECAs provide a "halo" for financing renewables – particularly offshore wind, encouraging commercial financing.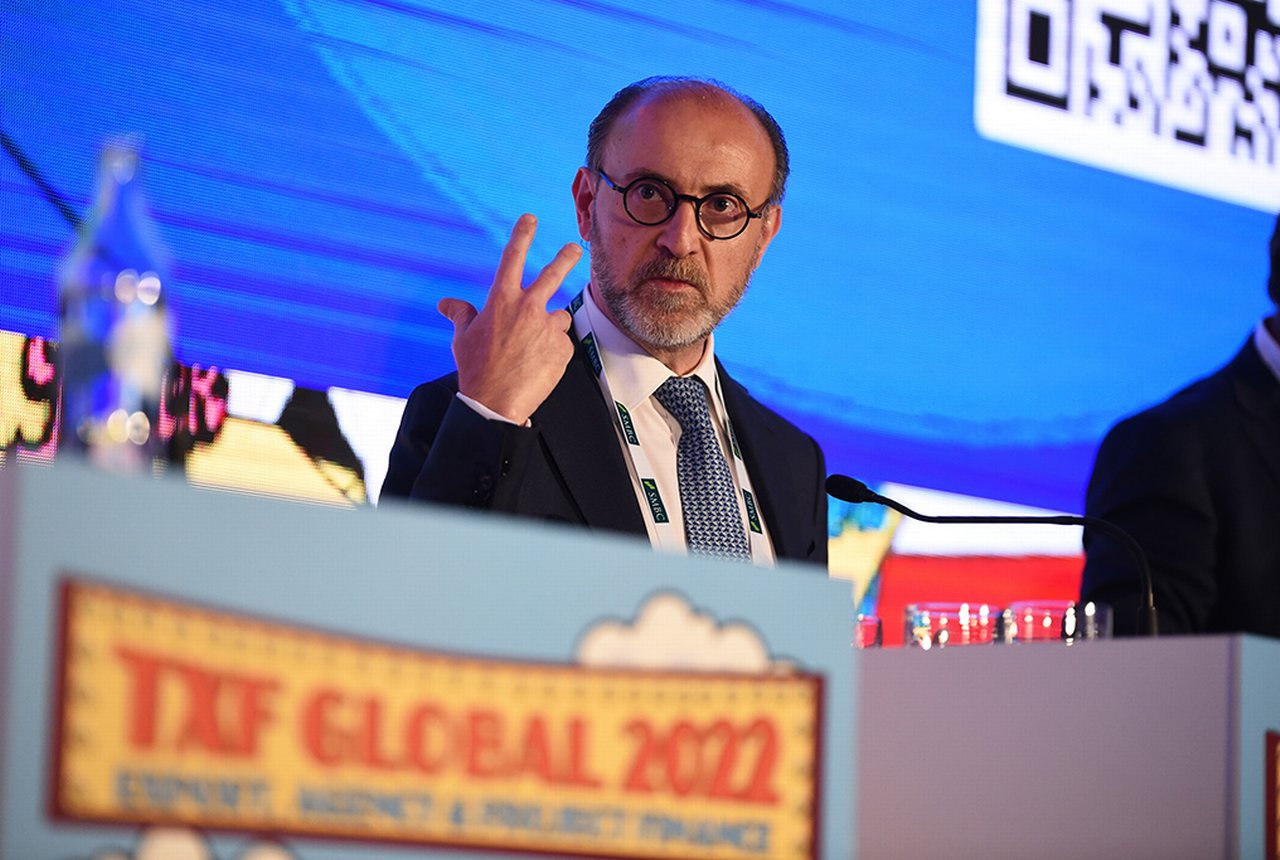 Carlos Gomes da Silver, MCA Group
Carlos Gomes da Silva, CEO of EPC corporate MCA Group, came back to the point made by the Australian ECA head Swati Dave that security of critical commodity supplies is an area of concern that they are concentrated in a small number of countries. "We are moving from intensive oil and gas exploration to mining exploration in what relates to cobalt, nickel, lithium and cobalt and rare earths."
Making the point that "what we are embracing for the future is the fact that the level of concentration of these new energy transition requirements are completely different from what came before" and that typically, more than 75% of those metals are in the hands of the top three tier countries in the world. He asked, "So how can we secure the supply of those metals in a new tech frontier where the deglobalisation comes to the table again and where the safety of supply is one of the key components?" Europe has a key role to play, he reflected. These were issues that Deutsche Bank's Head of Lending Hauke Burkhardt had raised in the white paper, How to ensure commodities security in a volatile world (April 2022) and on Trade Finance TV with TXF's Aife Howse.
Long-term lending issues
In a lively session billed 'ECA outside-the-box: what could we be doing differently?' SACE's Chief Underwriting Officer Dario Liguti reminded delegates of the current debt-laded landscape is a worry for long-term business. "We have reached historic world record levels of indebtedness" The total for 2021 of US$303trn1
- more than three times global GDP of US$94trn – "this is something that keeps me awake at night", especially when we underwrite risks and we extend credit to people we hope will pay us back," he reflected.
He also explained that it was difficult to predict risks when introducing climate change risk into the way the ECA assesses longer term projects. ". None of us exactly knows how the world will look in 10 to 15 years!"
"Complexity is a key challenge in the context of risk management"

Maelia Dufour, Director of International Relations, Business Development, Rating, Environment and Climate at Bpifrance reflected on how tough it is for governments to come up with the right solutions to help companies reach net-zero – especially smaller businesses. "SMEs will have to adapt their technology", she said. ECAs have to "dare to go forward" to insure new actors and new technologies, she added – picking up on Liguti's point that it is tough to see into the future.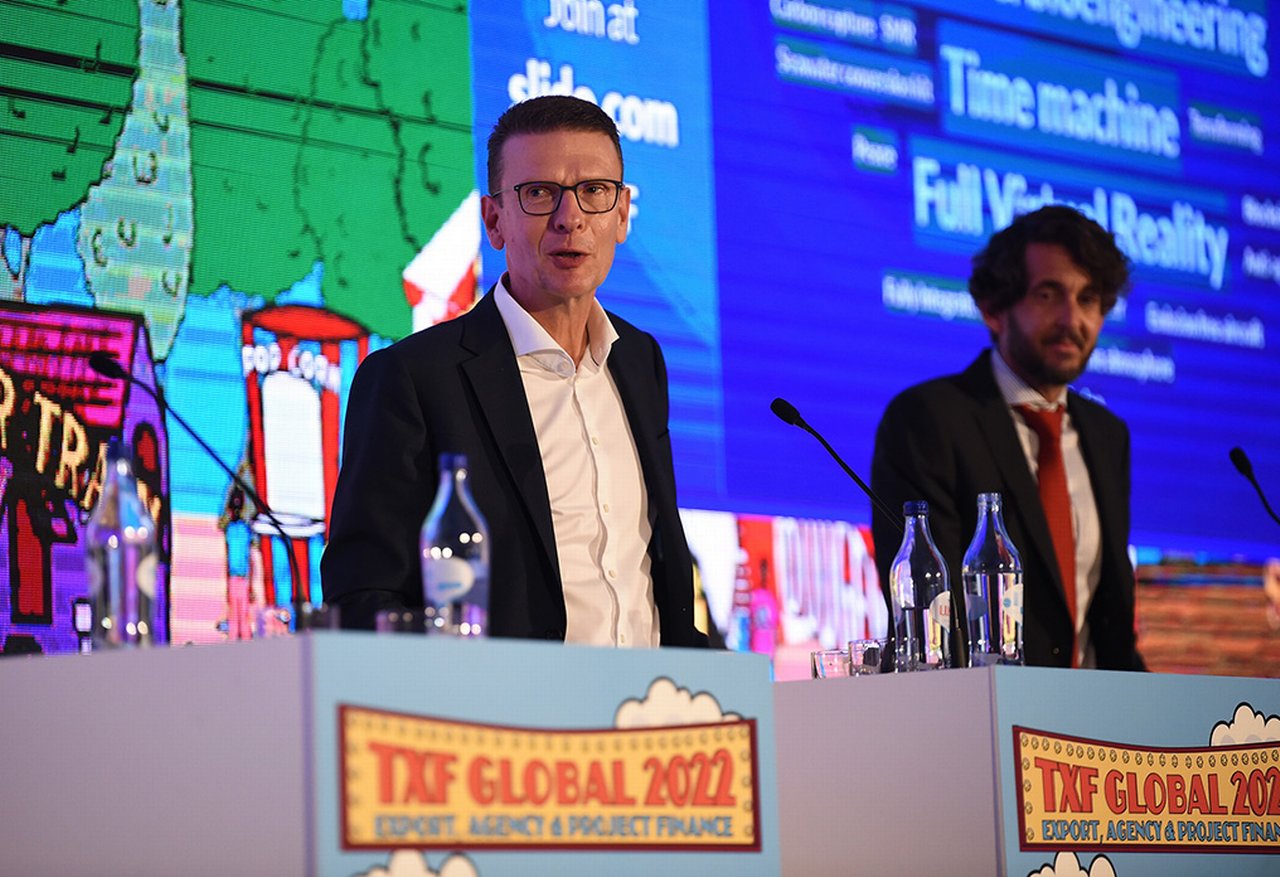 "Complexity is a key challenge in the context of risk management," added Deutsche Bank's Global Head of Structured Trade and Export Finance, Werner Schmidt (pictured left, above). In his view, what amounts to a "transformation crisis" creates increased risk. "We are used to working with models and methodologies with data input but if you input what you see right now the model blows up." A key solution, he said is to look at risk from all the perspectives – client, bank, ECA/governments and then "see how we can slice and dice and put things on different shoulders to manage the complexity."
Having emerged from, as Dufour recalled, the global financial crisis (liquidity), the Arab Spring (sovereign) and, most recently Covid-19 and the Russia/Ukraine war (supply chain), with the requirement for ESG transformation added in, new thinking is required, agreed the panel. "There are a lot of opportunities," concluded Schmidt.
TXF Global 2022, Export, Agency & Project Finance was held 7–8 June 2022 in Lisbon, Portugal
Stay up-to-date with
Choose your preferred banking topics and we will send you updated emails based on your selection
Sign-up

Sign-up
flow magazine is published twice per year and can be read online and delivered to your door in print
Subscribe

Subscribe
YOU MIGHT BE INTERESTED IN