TRUST AND AGENCY SERVICES

The personal touch
September 2020
Twenty-one years after it was established, the UK-Swedish biopharma company AstraZeneca is one of the first developers of a candidate vaccine against Covid-19. Janet Du Chenne finds out how a people-centred mindset makes a difference in scientific innovation
In February 1953, Francis Crick and James Watson famously burst into The Eagle pub in the UK university town of Cambridge, announcing they had discovered "the secret of life", the twisted ladder double helix structure of a DNA molecule. Seven decades later, just a few miles from where the two biologists made their discovery, biopharmaceutical company AstraZeneca could be on the verge of another landmark DNA breakthrough.
By observing the cells that monitor and repair complex damage to both strands of the DNA double helix, it aims to exploit the DNA damage response (DDR) pathway as one of several approaches to treat cancer. Scientists are targeting cancer-specific DDR deficiencies,1 using a combination of inhibitors to repair single cell strand breaks and achieve stronger and more durable response pathways, along with other targeted therapies and traditional treatments. The discovery builds on the company's approved blockbuster medicine, LYNPARZA.
Oncology is one of AstraZeneca's three main therapy areas, along with cardiovascular, renal and metabolism; and respiratory diseases and immunology. With a portfolio of 175 projects in various stages of clinical development as of July 2020 (according to its website),2 the company uses technology to accelerate innovative science (see Figure 1), while a 'people-first' approach guides its aim to contribute value to patients and society.
Figure 1: AstraZeneca's three strategic areas of focus
Source: AstraZeneca
A key measure of that value is the provision of access to healthcare. AstraZeneca has teamed up with the University of Oxford – despite its Cambridge headquarters – to develop and distribute the University's Covid-19 candidate vaccine.3 Announcing the development when the virus was rapidly spreading at the end of April 2020, Pascal Soriot, AstraZeneca's CEO, said: "Our hope is that, by joining forces, we can accelerate the globalisation of a vaccine to combat the virus and protect people from the deadliest pandemic in a generation." AstraZeneca will supply European countries with up to 400 million doses of the University of Oxford's candidate vaccine at no profit, via a partnership with the newly formed Inclusive Vaccines Alliance.4
Shortly before this announcement, AstraZeneca became the largest company in the FTSE 100 share index by market value.5 An early trial involving 1,077 people showed promising results, with the candidate vaccine shown to trigger a strong immune response (producing both antibodies and T-cells) without any dangerous side effects.
Putting people first
A 'people-first' approach to innovative science also guides AstraZeneca's investor relations (IR) strategy. Thomas Kudsk Larsen, the company's Head of IR, says that personal values, which for him were ingrained at an early age, combine with pharma to make this strategy work. He recalls how, as a child, he would occasionally accompany his mother to hospitals and care homes, where she worked as a nurse. "I had it in me to do something that would help people who were sick and give me a good reason to work," he reflects.
Larsen was guided by this early experience to join Danish biopharma company Novo Nordisk as a finance trainee in 1995. From then on he made building and maintaining relationships with people a central theme of his 20-year IR career at multinational biotech companies, using these skills and values to engage external stakeholders and convince them of their value.
So far, the policy has worked. A few years after joining Novo Nordisk, Larsen joined a project to split the company into two separate entities: a pharmaceuticals business and an industrial enzymes company called Novozymes.6 He needed to convince investors of the value of this restructuring and used his accounting and interpersonal skills to earn their trust. After four years in Novozymes' IR team, in 2005 he joined Swiss group Roche, where he helped to launch a programme through which US investors could buy American Depository Receipts (ADRs), US dollar-denominated securities that represent equity ownership, on the over-the-counter market.7
After almost a decade at Roche, Larsen moved to AstraZeneca in 2014, where he still employs the same invaluable lessons of maintaining relationships built on trust in managing the Nasdaq Stock Market-listed ADR programme. His job involves regular contact with AstraZeneca investors, both in the US and also in the UK and Europe, with the company maintaining listings in London, New York and Stockholm. As part of the IR team's outreach it hosts capital markets days, investor days and a number of science-focused events for sell-side analysts, including one at The Eagle, where Crick and Watson announced their DNA breakthrough.
Running the ADR programme
Given that US investors in the ADR programme are geographically further away, Larsen maintains the same people-centred approach that he's employed over the past two decades to engage them. "I'm not a huge believer in targeting," he says. "I don't believe you can sit at a desk and then predict who is going to buy your stock. Personal relationships and trust are more important. There is nothing more important than trust when you invest in a company with all of its financials and strategy and, in our case, a product pipeline."
"Trust arrives on foot, but leaves on horseback"

Larsen believes this mindset is a starting point for any dialogue with investors.
"That combination of what we stand for as a company and many years of deep personal connections serve as the catalyst for a conversation with the investor – because if they trusted you before, they will likely trust you again." He points to an old Dutch proverb, 'trust arrives on foot, but leaves on horseback'. "It takes a long time to build and if you do something wrong you can lose it quickly," he says.
Maintaining these relationships from Cambridge requires agility and compromise, especially given that the company is almost half-owned (47%) by US shareholders in the ADR programme.
The programme builds on legacy ADR programmes following the merger of Sweden's Astra and UK's Zeneca in 1999.8 "We have been increasing our US shareholder base in line with our business strategy as American investors appreciate our investment in science," says Larsen. "This recalibration is a better fit between our strategy and our investment in science."
Many biopharma companies use their US manufacturing hubs as a base from which to target investors. By contrast, AstraZeneca has opted against this strategy. Larsen expands on this decision in light of Covid-19. "With the coronavirus that was the right thing to do because I would not have wanted a member of the team stuck in the US now," he says. "In the UK, everyone is in relative close proximity and we are all using virtual communications to manage the ADR programme from Cambridge."
China again an asset
In line with AstraZeneca's 'three-pillar' emerging markets strategy (see Figure 2, below), China is an important market for manufacturing and exploration.9 The company has been present in the country since 1993, with headquarters in Shanghai, and it has invested in the delivery of medicines at manufacturing centres in Taizhou and Wuxi.

Figure 2: AstraZeneca's 'three-pillar' emerging markets strategy
China is AstraZeneca's second-largest market after the US, with around 20,000 of the company's 70,000 employees based there and a growing portion of its work happening in emerging markets. "It's much bigger than others in terms of the workforce and the Chinese passport is the most prevalent in our company," Larsen explains. The company's emerging markets growth was up by 15% in the first quarter of 2020 in Asia, and by 14% in China specifically during the same period.10
This growth comes despite the Covid-19 outbreak in late December 2019. As the largest multinational pharma company in China, this was a major setback for AstraZeneca, and Larsen recalls that the IR team spent a lot of time explaining the manufacturing set-up there to investors. However, Larsen believes that "China is becoming an asset again and the country has got the virus more under control."
Staying in touch
With Covid-19 disruption making it harder to meet investors and the community face to face, Larsen and his peers have had to adapt. Physical conferences have been supplanted by virtual ones, with virtual communications platforms providing the resources with which to connect remotely. Larsen believes these present an opportunity to materially change investor relations. "We'd already experimented with virtual investor roadshows and we were quickly able to adapt using these new tools for our investor meetings," he says. "I can see us doing a lot more work from our offices, or even from home, than in the past." He believes that these virtual conferences can, in some cases, "accommodate a better dialogue with shareholders" than their physical counterparts.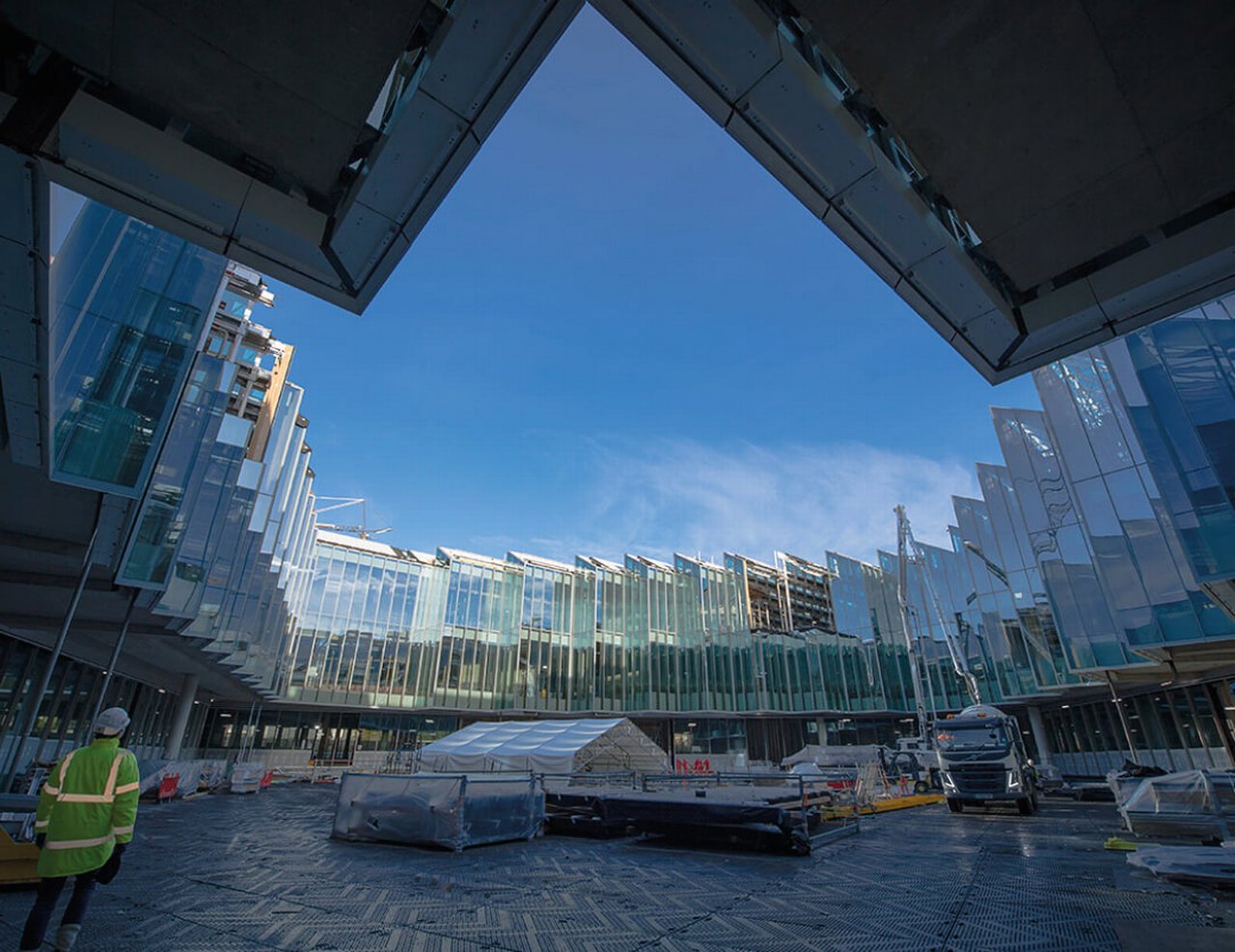 AstraZeneca's new Cambridge R&D Centre
Fending off bids
While AstraZeneca can claim various victories in pharma and IR, these have not shielded the company against bids from other biopharma companies. In April 2014, after receiving an approach from Pfizer, the company managed to convince investors that it would generate more value for them on its own through transformation and accelerating late-stage pipelines.11 In November that year, the IR team assembled a significant capital markets day for investors. "We did not have a lot of time to put it together, but it ended up being a brilliant countermeasure following the Pfizer bid," recalls Larsen. "It was the last leg of highlighting to investors the value that the company could deliver to them on its own."
Not only did the event succeed in convincing investors, it also became a catalyst for change and improvement following the rival bid. "Pfizer's approach was a blessing in disguise because it actually helped us to get the company in even better shape and focus people's minds," says Larsen. After that, AstraZeneca focused on returning to growth by accelerating scientific discoveries to extend the late-stage pipeline, including access to multiple technologies, to place itself at the heart of cancer medicine development. "These external forces are sometimes needed to look at things opportunistically, to grow, and to be even better at what we are good at, otherwise we may be consumed by other companies and lose our strategy and identity," adds Larsen.
Moving forward
With Covid-19 disruption prompting Larsen to think even more opportunistically about how to adapt, he reveals how the AstraZeneca IR team is using digital tools in its investor outreach. "We have cleaned up our customer relationship management system and organised it in a way that means we can more easily contact the buy side and interact with them," he says. "This has prompted us to reach out to investors directly."
The company's IR team is also intending to recalibrate in 2020, admits Larsen. "Since things are constantly changing, we are adapting in this environment and each day we are learning a little more," he says. "With countries opening up after lockdown at different paces we are doing more short-term planning than we used to."
Maintaining momentum is even more crucial in a world where business travel is largely suspended and video conferencing is replacing roadshows and face-to-face investor meetings. To this end, as AstraZeneca's ADR programme provider, Deutsche Bank Depositary Receipts has delivered alternative means by which AstraZeneca can engage investors.
Among these new facilities, Deutsche Bank's Depositary Receipts Virtual Investor Conference (dbVIC) provides a free opportunity for both small and major investors to listen to experienced investor relations professionals and senior management who are responsible for communicating a company's equity story to the investment community. They can also ask a company representative questions and gain valuable insights into a corporation and its industry. "Having introduced the dbVIC platform eight years ago, we were pioneering in the use of digitalisation to facilitate investor engagement," notes Daniel Clark, Global Head of Depositary Receipts at Deutsche Bank. "And in today's virtual world, with many parts of the globe in varying forms of lockdown, that platform has now really come into its own, with participation well above average levels for the last dbVIC event and positive feedback received from issuer clients who presented."
Maintaining relationships virtually, in addition to managing the sheer volume of stock market data since Covid-19 began to spread, are challenges that Larsen and his team have readily accepted. He reiterates the important role that trust plays in a people-centred innovation strategy that remains a key ingredient when it comes to engaging shareholders. "People need our medicines, sometimes even more than they did in the past, and that's our value proposition to the shareholders," concludes Larsen.
Stay up-to-date with
Choose your preferred banking topics and we will send you updated emails based on your selection
Sign-up

Sign-up
flow magazine is published twice per year and can be read online and delivered to your door in print
Subscribe

Subscribe
YOU MIGHT BE INTERESTED IN