MACRO AND MARKETS, COVID-19

Asia leads in post-Covid recovery
11 December 2020
Prompt responses to the pandemic provided a role model for other countries while Asia's exporters are meeting demand from still-restricted economies elsewhere. The region's ability to trade as a multilateral bloc is the other accelerator of the recovery, report flow's Janet du Chenne and Graham Buck
As a headline it was brutal, but accurate. "Asia leads, US bleeds in economic divergence" declared the Asia Times on 2 December. As the paper observed, the economic recovery disparity between North Asia and the rest of the world –increasingly evident in H2 2020 – owes much to their differing responses to the Covid-19 pandemic.
Nowhere is this more evident than in reports that the share of the US population testing positive for coronavirus increased fivefold between mid-September and the end of November, while Asia's infection rates declined from already minimal levels.
Back in April, flow noted in the article "Covid-19: The economy after Wuhan" how China's immediate 76-day lockdown imposed in Hubei Province had limited the spread of the virus, while prompt action taken by the authorities in Hong Kong, Singapore, South Korea and Taiwan had restricted the number of infections. Eight months on, the difference in the figures for Covid-19 new infections and deaths for these regions and much of the rest of the world is striking.
A V-shaped recovery
Asia's swift economic recovery over this period could suggest that the Covid contraction in the opening months of 2020 was no more than a blip, with China leading the revival. "Chinese exports grow 21% amid global appetite for pandemic products" announced the Financial Times on 7 December above a report that Chinese companies shipped US$268bn in goods in November 20201, an increase of more than 21% on the same month a year earlier. The rise was the biggest since February 2018 while a corresponding 4.5% drop in imports gave a trade surplus of US$75.4bn; a record high recorded by data going back to 1990.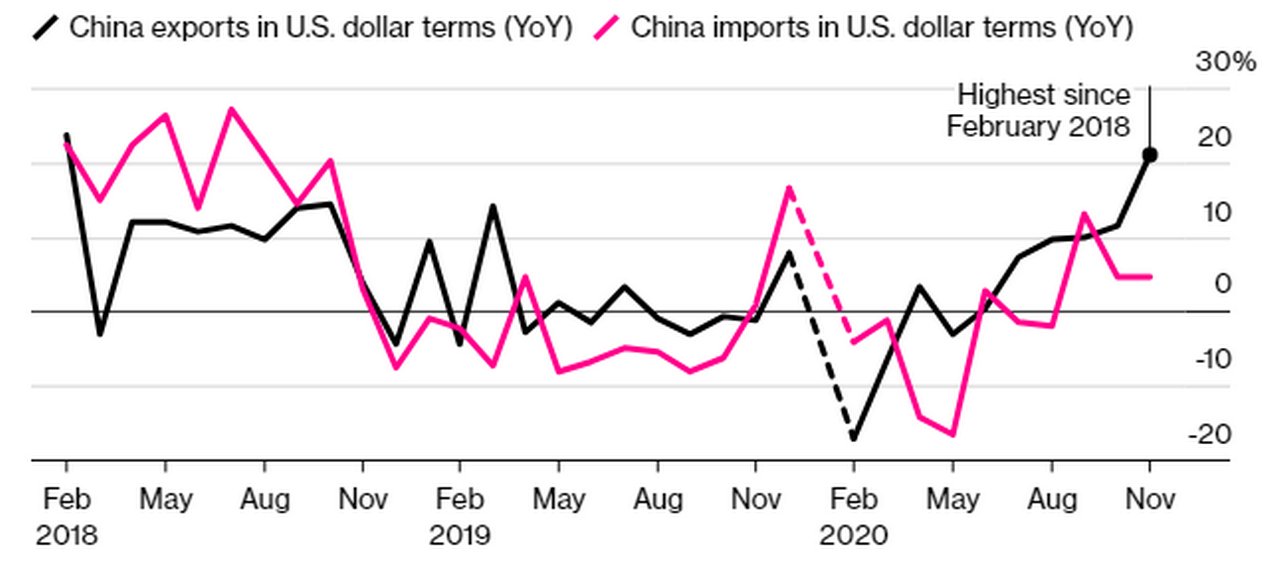 Figure 1: China's resurgent exports
Source: China General Administraion of Customs

As the reports noted, global demand for its goods was reviving even before the pandemic's second wave in China's major export markets of Europe and North America. Although likely to lag behind the US and EA in rolling out vaccines, Asia will benefit from its above-trend growth through trade channels, notes Michael Spencer, Chief Economist, Deutsche Bank Research. Already, exports of medical equipment in the 11 months to November 2020 are 42.5% higher in dollar terms than in 2019, with a 25% year-on-year rise in November 2020 for electronic equipment. With steadily rising Covid-19 totals outside of Asia triggering the imposition of further lockdowns and travel restrictions, China's exports should continue to flourish.
"Although likely to lag behind the US and EA in rolling out vaccines, Asia will benefit from its above-trend growth through trade channels."

Given the escalating trade tensions between the world's two biggest economies in recent years, it could be seen as ironic that China's trade surplus with the US in November also set a new monthly record of US$37.4bn. The rise came despite the renminbi (RMB) appreciating by more than 6% against the USD this year and China's undertaking to purchase an additional US$200bn in US goods over 2020 and 2021 under the first phase of their trade deal agreed last January.
A return to growth
While China's economic recovery story has attracted most headlines, other Asian economies such as Taiwan and South Korea are also benefiting from what the Wall Street Journal dubbed 'The Zoom boom'2 in an article published 15 November. Citing the International Monetary Fund's latest forecasts, it noted that China is on track to grow nearly 2% this year against a global economic contraction of -4.4%, Vietnam is close behind with a forecast 1.6%, while Taiwan is likely to little changed from a year ago and South Korea to contract by -1.9%.
Each of these economies derives "an especially large part of their growth from exports of manufactured goods to the rest of the world, especially the US and Europe," notes the WSJ. "Asian economies are among the largest producers of laptops, communication equipment, TVs and other household goods that have experienced surges in demand as the pandemic forced people to stay home. So as Westerners consume, Asia enjoys much of the benefit."
As Deutsche Bank Research's report Asia Macro Insight – 2021: A Race to Normalcy (24 November) notes, while China, Vietnam and Taiwan have already rebounded to pre-Covid levels (see Figure 2 below) "all Asian economies reported stronger-than-expected GDP growth in Q3 as consumers responded enthusiastically to the end of lockdowns and exports rebounded as lockdowns ended abroad."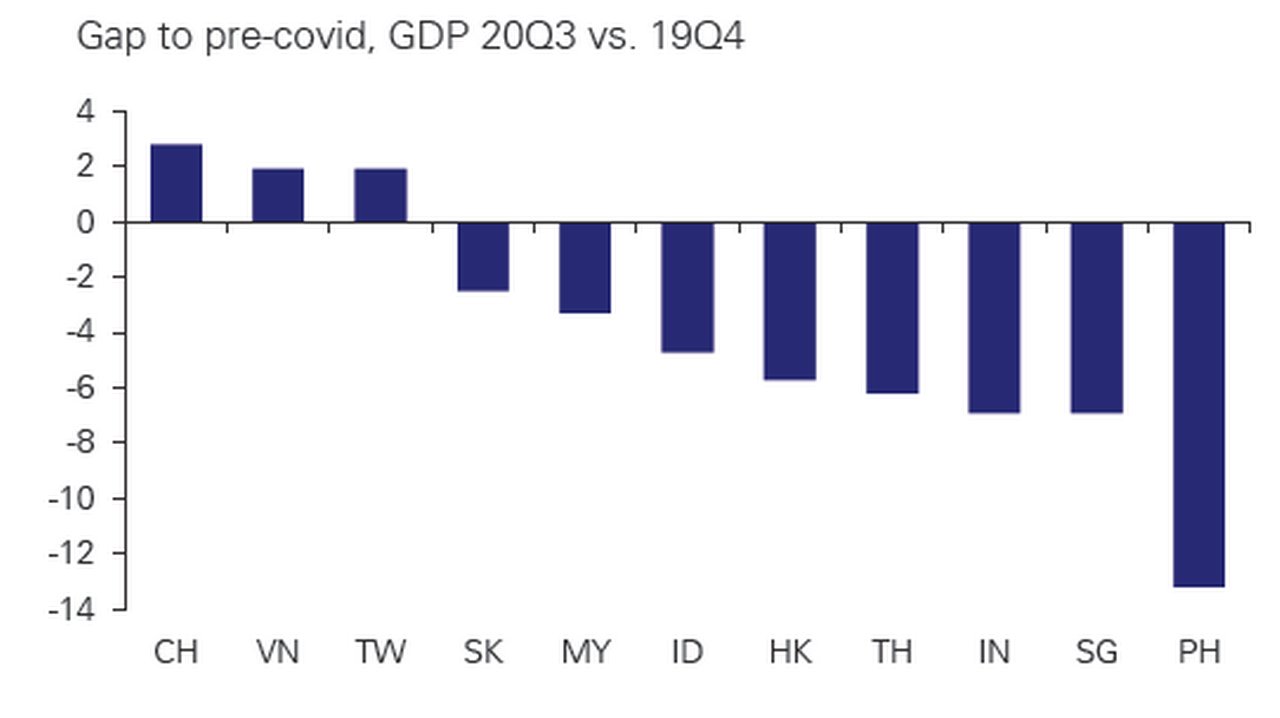 Figure 2: China, Vietnam and Taiwan's Q3 2020 GDP already above pre-Covid levels
Source: CEIC, Deutsche Bank Research
Note: India number is based on DB forecast
However, while Vietnam, China, Taiwan, Malaysia and Hong Kong saw year-on-year growth in their exports during Q3 2020, declines were recorded by South Korea, Singapore, India, Indonesia, the Philippines and Thailand, as shown in Figure 3.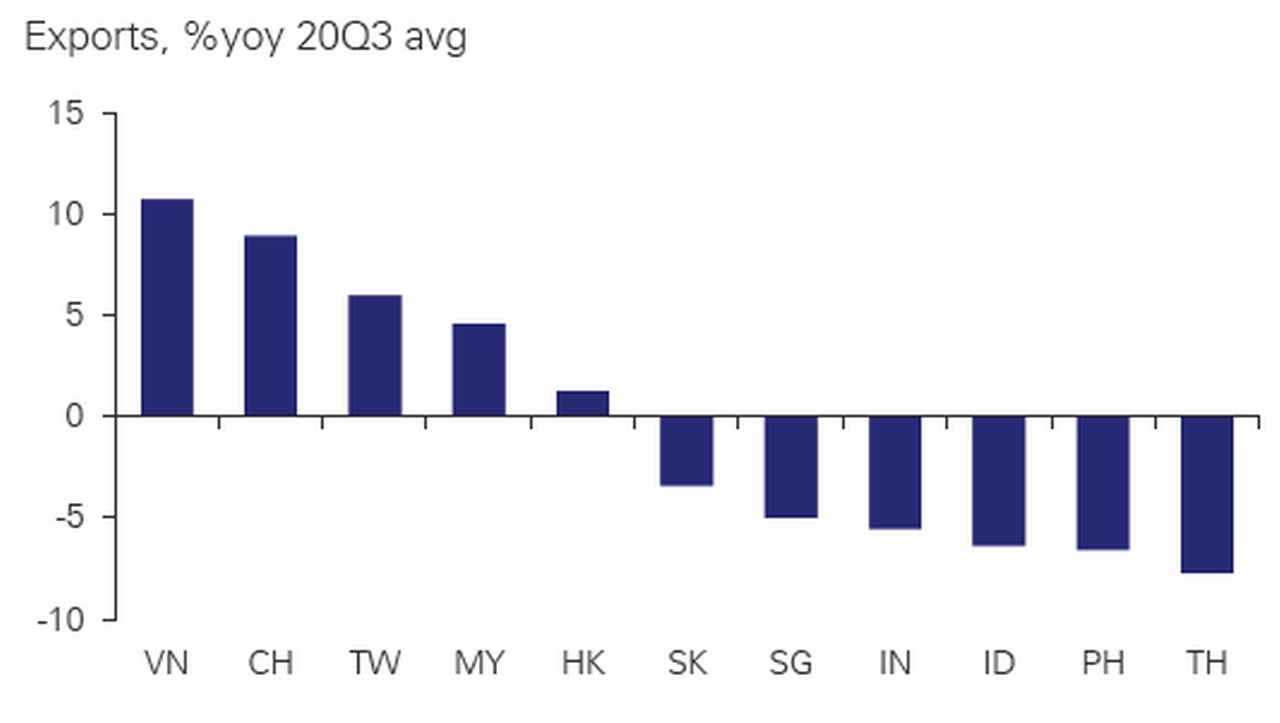 Figure 3: Despite the pandemic, several Asian economies saw their exports grow in Q3 2020
Source: CEIC, Deutsche Bank Research
The recent good news of vaccine efficacy3 and rollout has improved prospects for 2021 and 2022, with China having four promising vaccines in development and local production lined up. "Our proprietary household surveys suggest people in China and South Korea show a greater receptivity to vaccination than people in many Asian economies," add the report's authors. Although they warn of a brief "soft patch" in the current quarter and early 2021 caused by worsening Covid-19 outbreaks, they now predict "much stronger" growth across Asia by mid-2021, extending into 2022.
While Asian exports are predicted to rise strongly with the emergence of herd immunity, the outlook is more uncertain for the region's other major revenue earner. "Tourism will be especially sensitive to improvements in testing and vaccination – proof of vaccination or a negative test will likely be a requirement to travel – which means the industry will fully recover only in 2022," the report warns. "Possibly, consumer attitudes have changed and the industry won't return to pre-Covid-19 turnover even then."
In China's wake
In the 24 November report, Deutsche Bank analyst Yi Xiong forecasts that China will now manage 2.2% GDP growth this year, accelerating to 9.5% in 2021 and "fully returning to its pre-Covid growth path" and with consumption the main driver "supported by reduced household savings and a tighter labour market".
The figures contrast with those of India, whose apparent initial success in limiting the pandemic was scuppered by lifting restrictions too early. As analyst Kaushik Das notes in the report, active Covid-19 cases have moderated and are below the 500,000 mark after peaking at over one million in mid-September, while the recovery rate has improved to 93.5% to be the highest among the worst-affected countries.
However, the economic contraction was far steeper than in China. India's Q1 2020 GDP, for the months April to June, was -23.9% lower than a year earlier but the contraction narrowed to -7.5% for Q2 (July to September). Das estimates a further improvement to -1.5% for Q3 before the economy edges back into growth of 2.5% for the fourth quarter to the end of March 2021, giving a -8% contraction for the year. India then rebounds with 8.2% GDP growth for the year to March 2022, moderating the following year to 6.2%.
China's closest neighbour, Hong Kong, has also felt the squeeze. Despite export growth in Q3 2020, recent figures indicate the region hasn't bounced back as quickly and in the short term faces a possible jump in unemployment. In "Hidden unemployment in Hong Kong", published 3 December, Michael Spencer estimates up to 137,000 jobs are at risk from the termination of the region's Employment Subsidy Scheme (ESS) on 30 November, which could push the jobless rate above 10% from 6.4% currently. He notes that having provided unprecedented fiscal support to the economy – the deficit this fiscal year is likely to be about 11% of GDP.
This gives China a comfortable lead in the road to recovery, with several Asian economies following at a distance. But the rate of recovery will be dictated by interdependencies and with so much weighing on exports and trade deals, it is not a journey to be undertaken alone.
The Belt and Road (and health) Initiative
Recognising these interdependencies, China is forging ahead with its Belt and Road Initiative (BRI). The transformational infrastructure project, which supplants the Silk Road highway trading network, aims to help stricken economies and will reach as much as 65% of the world's population, while covering half of world gross domestic product (GDP), 75% of all known energy reserves and a quarter of all cross-border goods and services.
In his 16 November article "Vaccine diplomacy could give China's image a boost", The Economist's Dominic Ziegler proposes why BRI is more than just an infrastructure project but a promise of immunity to countries' populations. He notes that despite racking up bad loans (leaving countries such as Pakistan in debt with infrastructure projects that fell through), reports of the initiative's death from Covid-19 are exaggerated. "In the first half of 2021 it will get a big boost. If you have not heard of China's "health Silk Road", you will soon. Think vaccine diplomacy."
Ziegler notes China has already approved three vaccines for emergency use. With clinical trials under way in Brazil and Pakistan, they may beat Western ones to market. "An American vaccine, made by Moderna, could cost over US$70 per treatment, more than developing countries can afford at scale". China is already pushing one of its vaccines to BRI partners such as Mexico and the Philippines, along with help to pay for it, he adds. "Mr Xi hopes to help China escape its reputation as a predatory lender, and as the source of the coronavirus itself, as he takes credit for helping grateful countries along the Belt and Road".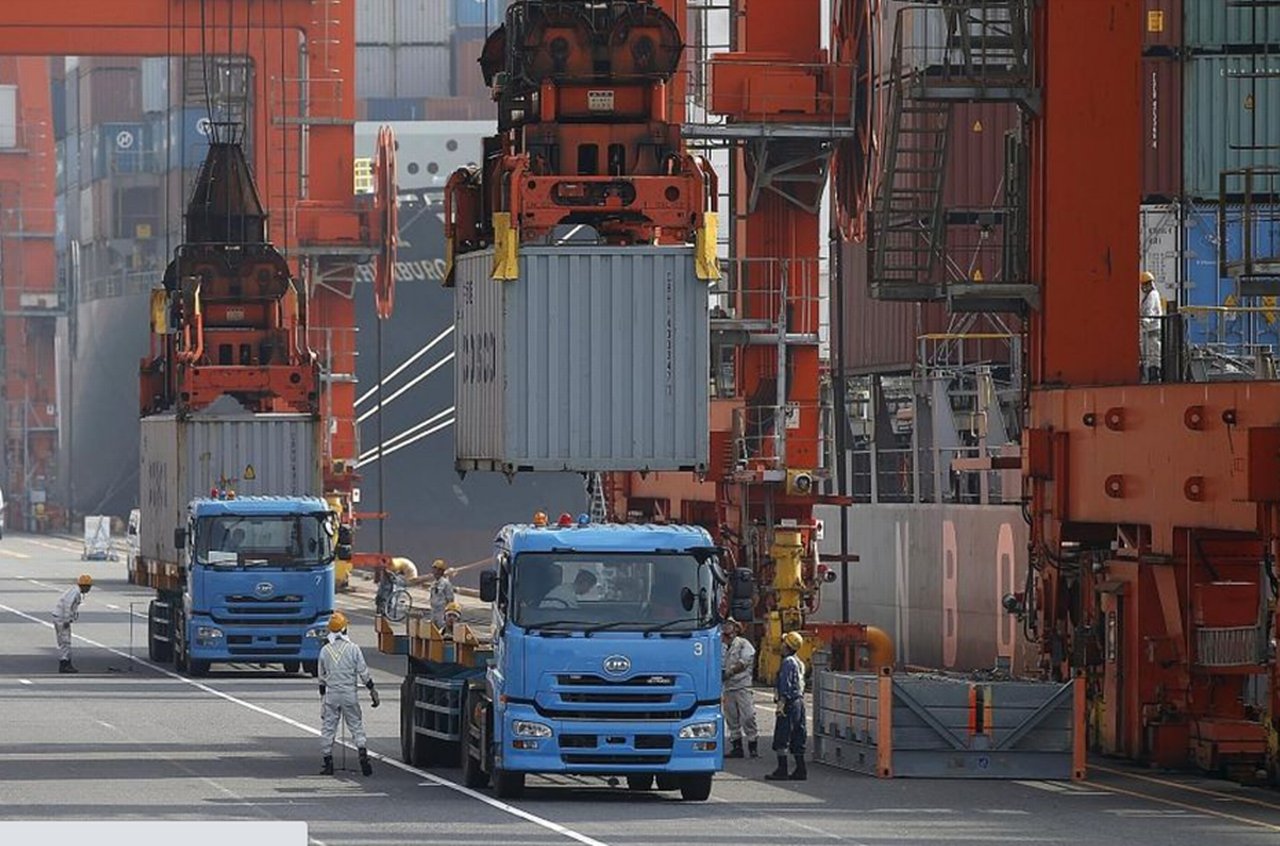 Meanwhile, the US waits for Spring
The Economist also references a recent Goldman Sachs paper, which predicts that roughly 40% of the US population should be vaccinated by March 2021.
'America's economic recovery no longer looks so strong' notes the 4 December issue. Warning that "a difficult winter looms", it paints a picture of the pandemic's impact growing and data showing that jobs growth has slowed sharply. The US economy added just 245,000 jobs in November, down from a monthly average of 1.9m during the summer and early autumn.
In the absence of loosening of lockdown restrictions, which had allowed people to return to work it was not realistic for the US to repeat the 7.4% quarter-on-quarter GDP growth that it saw in July to September, notes the paper. "The economy will rise again once a vaccine becomes available".
And with so much of its recovery hanging on exports, China needs a strong US. Asia's export boom could start to falter as furlough schemes both there and in Europe come to an end, unemployment rates rise and household budgets are squeezed. This points to a more difficult time ahead as belt tightening intensifies, further indicating the need for economic recoveries in the rest of the world to which China can export its products.
Deglobalisation in question
The interdependencies between superpowers such as the US, Europe and China are further illustrated in an article in Deutsche Bank's 'results. FinanzWissen für Unternehmen', the magazine for corporate clients in Germany. In "Will the world globalise without us?" (translated from German) authors Boris Karkowski and Bastian Frien question the benefits for Europe of much-discussed regionalisation and "the end of globalisation". The article offers a view on Asia's emergence as a likely center of globalisation and on why 'going it alone' is a not a smart option for a superpower such as Europe.
"World trade will be driven by a different spirit in the future; by growing, hungry economies and an emerging world power that is redefining its territory"

The authors note how individual countries took back the production of goods and supply chains and pivoted towards internal interests by introducing measures to protect national interests shortly after the pandemic began. However, they argue that world trade will be driven by a different spirit in the future: by growing, hungry economies such as China, an emerging world power that is redefining its territory.
Even in Latin America, America's "backyard", China is staking its claim to being the region's second largest trading partner, they suggest. "China sees itself in globalisation as the centre and factory of the world, no longer as an extended workbench and also no longer as a sales market for the industrialised countries".
The article notes that even though China's trade volumes plummeted worldwide last spring - at the peak of the epidemic - the Corona crisis could even strengthen the country's position. "And while Europe and the USA were busy dealing with it, China was able to expand its position in Latin America, the traditional sphere of influence of the USA, by shipping medical supplies."
Karkowski and Frien conclude that the weight has been shifting eastwards for a long time and that other regions such as Europe will only be heard by finally speaking with one voice and as one unit and vision in a trading system increasingly dominated by power issues.
Banding together?
Who actually wins in the road to recovery is still up for debate but the lessons from Wuhan speak volumes. Nine months ago we wrote about the city's swift response to the pandemic. It introduced policy measures and lockdown restrictions while focussing on exports. Since then it has come along by leaps and bounds. Now the vaccine adds a new dynamic, not only to recovery, but to wider diplomacy efforts that could turn the tide on national sentiment seen at the start of the pandemic.
Back in March, a mixture of policy measures, restrictions and an export drive were the three ingredients that supported recovery in Asian economies. Now they can add a further weapon to their arsenal. But the arrival of the vaccine (and exports thereof) indicates that it is no longer about regional dominance but about having strong and healthy partners with which to trade. In contrast to the measures that characterised many inward response mechanisms during the early stages of the pandemic, the vaccine may show that countries that band together, recover together.
Summary of Deutsche Bank reports referenced
Asia Macro Insight – 2021: A Race to Normalcy, 24 November, by Juliana Lee, Michael Spencer, Kaushik Das, Yi Xiong and Edwin Kwok
Asia Macro Insight Video – 2021: A Race to Normalcy, 1 December, by Juliana Lee
Hidden unemployment in Hong Kong, 3 December, by Michael Spencer
Stay up-to-date with
Choose your preferred banking topics and we will send you updated emails based on your selection
Sign-up

Sign-up
flow magazine is published twice per year and can be read online and delivered to your door in print
Subscribe

Subscribe
YOU MIGHT BE INTERESTED IN