MACRO AND MARKETS

Matters of the mind
September 2020
Covid-19 has inflicted the greatest change upon the global population since World War II and highlighted the importance of both physical and mental wellbeing. Michael Morley tells flow how a trauma informed approach to employee wellness could play a meaningful role in a sustainable recovery
In May 2020, researchers at Cardiff University in Wales announced a novel method for treating post-traumatic stress disorder (PTSD). In their trial, a patient walks on a treadmill while interacting with a series of self-selected images that are displayed on a large screen. The idea behind this is that any negative thoughts, feelings and behaviours are the result of unprocessed memories and are manifested through involuntary rapid eye movements.
By focusing on those spontaneous associations with traumatic images, thoughts and emotions, while controlling the patient's side-to-side eye movements, the researchers found that the intensity of those thoughts and emotions reduces.1 The findings, based on trials featuring British military veterans suffering from PTSD, revealed a 37% average reduction of symptoms after receipt of the therapy.2
More than 7% of ex-military personnel suffer from PTSD (for those who have been deployed in a combat role, the figure stands at more than 17%), compared with 4.4% of the civilian population.3 Forces in Mind Trust (FiMT), the charity that helps ex-armed forces personnel transition back to civilian life after service, hopes the research will help those affected by PTSD. FiMT notes that engaging veterans in mental health treatment programmes can be challenging due to stigma, the perceived weakness in acknowledging emotional difficulties, and macho military cultures.4
This observation has wider implications for society given that one in four people have suffered from a mental health problem at some stage, yet only a limited number seek professional help.5 Mental health – defined by the World Health Organization as "a state of wellbeing in which every individual realises his or her own potential, can cope with the normal stresses of life, can work productively and fruitfully, and is able to make a contribution to her or his community" – is a topic that Michael Morley, Deputy Chair of the UK's Centre for Mental Health, is passionate about.
Leveraging his FiMT experience, where he served as Trustee and Director, he is now driving efforts to promote mental health and wellbeing more broadly, alongside his responsibilities as CEO of Deutsche Bank UK Ltd and Head of UK Wealth Management.
Morley's passion has personal roots, given that his son was diagnosed with attention deficit hyperactivity disorder (ADHD) four years ago.6 Two years later, he joined the board of trustees at the Centre for Mental Health, a UK government-funded independent charity that focuses on fostering a better understanding of and dialogue on issues relating to mental health. His son's ADHD was not something he and his family previously talked about, but Morley explains that "by having access to the research, I could cultivate an understanding so that I could help him and others with mental health issues."
Awareness gains ground
Mental health and wellbeing have received increasing attention across a wide range of societal sectors in the past few years. Although Cardiff University's recent research centres on the armed forces, it is congruous with the first wave of the Covid-19 pandemic, a once-in-a-lifetime global issue that has exposed many to trauma on an unprecedented scale. This has triggered stresses and emotional responses that are manifest in both mental and physical ways.
In July, research by the Centre for Mental Health highlighted how the severity of the impact depended on individual circumstances.7 It found that those suffering the most are least likely to be supported by mental health services because the help on offer is either difficult to access, irrelevant, unhelpful or coercive. The study concluded that equal access to mental health support must be at the heart of the global recovery from the pandemic.
Commenting on the findings, Centre for Mental Health CEO Sarah Hughes said: "Covid-19 has brought health inequalities into sharp focus. The tragic losses of life that have devastated families and communities will be followed by a significant rise in mental ill health. We must make sure that those who have experienced the biggest inequalities and injustices get access to the right help at the right time."8
Workplace wellbeing
Analysis from the Deutsche Bank Research team in July 2020 explored the issue of employee wellbeing, which has risen to the top of the corporate agenda since lockdown measures kept many confined to their homes.9 While corporate culture quickly adapted, with the help of virtual communications tools to connect employees, the arrival of virtual collectivism meant that any individual problem might not be obvious and could go unnoticed.
As a career banker, Morley is mindful of this challenge. He relates the Cardiff University research, which was supported by FiMT research, to the transition facing employees who have had to suddenly adapt to changed circumstances and may be experiencing mental health issues as a result. "In a significantly changed paradigm, seeking help might be seen as a weakness, and invitations or resources to do so may be far less obvious," he says.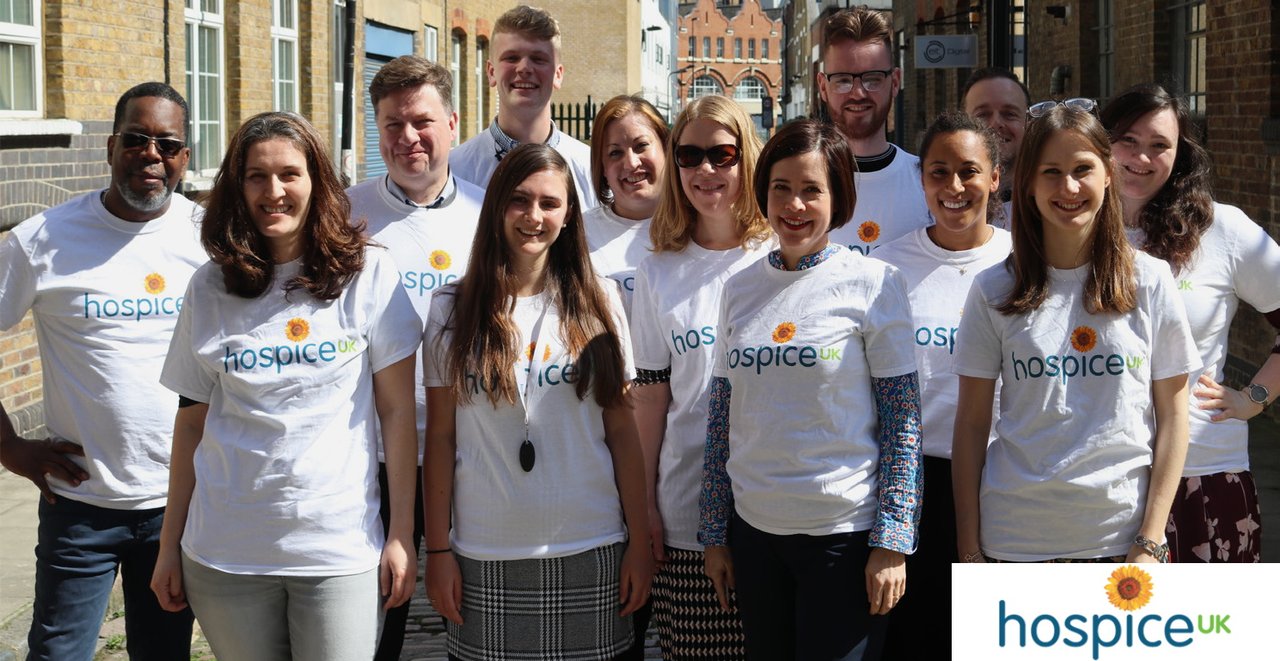 The Hospice UK team and supporters
Morley is active in promoting awareness of mental health at Deutsche Bank and champions a safe environment in which people can talk about any issue impacting their wellbeing. He sponsors dbEnable, an internal initiative that aims to provide an inclusive and supportive workplace for people with episodic or long-term physical disability, people with a mental health lived experience, or those who simply want to foster wellbeing and understand neurodiversity.10
One of the pillars of this initiative is a programme by Mental Health First Aid (MHFA) England, a social enterprise offering expert guidance and training to support mental health in communities across the country. The Mental Health First Aiders programme offers training for employees to teach them how to spot colleagues who may be suffering with mental health issues, and it explores solutions for providing the appropriate help. "It's designed to provide a safe, empathetic environment for people who have a mental health experience to talk about it," says Morley.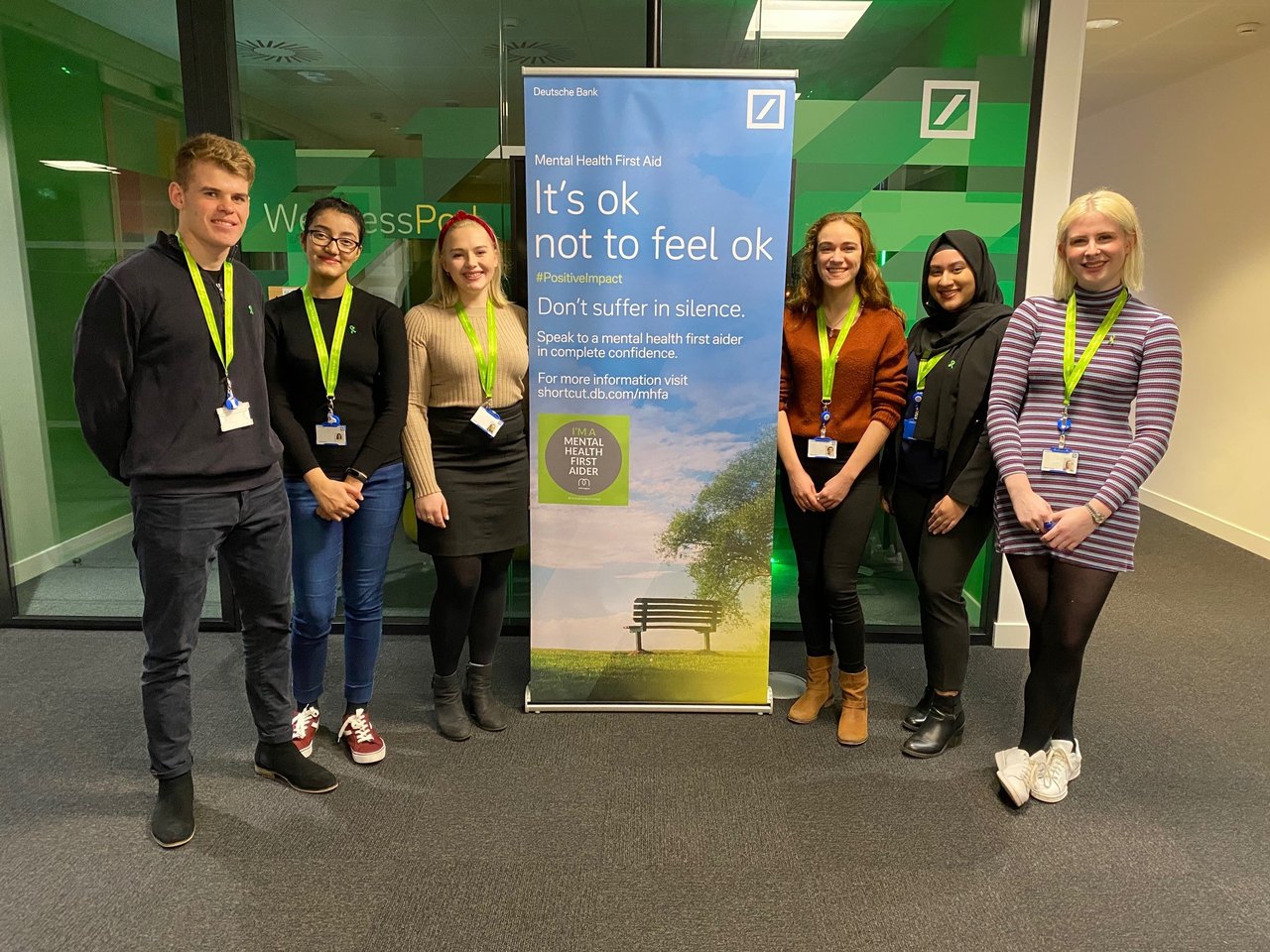 Deutsche Bank Mental Health First Aiders raise awareness of mental health issues and provide relevant support
Efforts have ramped up since the spread of the coronavirus. Since lockdown began in the UK in March, 24 Deutsche Bank employees have been inducted as Mental Health First Aiders, and they are available by phone, email, Skype and Symphony to act as a first port of call to anyone in need of support. Morley believes the lessons learned from this initiative should inform a return to the 'new normal' as employees return to a workplace with new social distancing measures in place. "Since we went into lockdown, it has been very instructive to see how research organisations and charities have adapted to the wider work from home issue and understand how they are thinking through the issues that are going to be experienced by people who have a mental health issue," he says.
As one of the 2020 Mental Health First Aiders inductees, Christoph Woermann, Deutsche Bank Corporate Bank's Chief Marketing Officer, reflects on his personal experience during working from home and shares the key ingredients of a continuing support system for employees as they return to the workplace: "In times of intensified stress for individuals and teams during Covid-19, there is no such thing as over-communicating. We switched our weekly global team call to daily catch-ups, and supplemented these with non-work-related social messaging groups to stay connected. The experience of the digital community has helped in addressing individual challenges. Going forward, it is my dream that every manager of people should have a sound understanding of mental health issues and how to provide relevant support."
"Every manager of people should have a sound understanding of mental health issues and how to provide relevant support"

Returning to the workplace
MHFA England is extending the remit of the Mental Health First Aiders initiative from helping those with a mental health lived experience to include wellbeing (physical, mental and social), as more people emerge from lockdown and return to work. This means changes including new protocols for entering the office, travelling on public transport, social distancing and wearing face masks. "I think there will be a whole range of anxieties and concerns, since everyone is going to have to step back into a workplace that has fundamentally changed," notes Morley. "The bank has an important role to play in making an appropriate and supportive environment available for all groups."
Working with HR teams and dbEnable, the Mental Health First Aiders have set up an initiative to encourage employees to initiate a conversation about any aspect of wellbeing resulting from a potential return to the workplace. "Covid-19 changes every aspect of life as we knew it before, and from a mental health point of view, the latest research from the Centre for Mental Health suggests that we have been through a global trauma," says Morley. "We are introducing a trauma-informed approach by creating a sense of psychological safety for those who are used to being surrounded by people in the office, as well as physiological safety, as they return to the work environment, to try and address what will be a very difficult situation for everyone."
Key to this support is neurodiversity. "An understanding that each one of us has a unique psychological profile should form the basis of any return to the workplace," says Morley. "There's still a huge amount of work to be done by clinicians to understand how people think and who they are in the workplace. A lot has changed, and everyone has had to adapt."
"An understanding that each one of us has a unique psychological profile should form the basis of any return to the workplace"

dbEnable has created a steering group to champion best practice in all areas, including long-term physical disability, mental health and the experience of wellbeing in neurodiversity. This will include a series of thought-leadership activities and events, with the aim of creating an inclusive and supportive workplace for the long term.
Another initiative is Deutsche Bank's UK corporate social responsibility Charity of the Year programme, which helps pioneering charities unlock further value through building organisational capacity and access to in-house resources and expertise that advance their causes.
Throughout 2020–2021, Deutsche Bank is partnering with Hospice UK, the national charity for hospice and palliative care, to promote positive mental wellbeing. The charity provides online resources to change the way society addresses death and bereavement, a matter that has come more into focus since the pandemic, according to Jenni Hammond, Deutsche Bank's Partnership Manager at Hospice UK.
Hospice UK and Deutsche Bank launched an internal campaign in May designed to promote the resources and support the charity offers to the bank's employees and their families. An employee wellbeing hub has resources on a range of topics, from advice on how to talk to and support employees who have experienced a bereavement, or who have a family member who is ill (including do's and don'ts), to a webinar sharing more tips and guidance.
In a personal message on the wellbeing hub, Tracey Bleakley, CEO of Hospice UK, revealed that (alongside other charities) it has also started a bereavement and trauma line for key workers, to help people talk with their families about the sensitive subject of death and dying. "It's about reaching out to professionals to say it's ok to be upset and it isn't part of your job to know how to deal with this, so we are supporting them with a variety of online resources," she added.
The charity is also implementing a workplace programme called Compassionate Employers. The initiative will help equip employees with the skills they need to support their colleagues who may be suffering or may have a family member who is suffering. Through the programme, Hospice UK works closely with companies to understand how they can better support their employees, says Hammond.
"We look at what support is in place already – for example, Mental Health First Aiders – and work with the company to offer more support for those who are experiencing bereavement, caring, or who have a terminal illness," she adds. "We are on an exciting journey with Deutsche Bank, having completed the initial assessment and recommendation session to deliver an introductory Compassionate Employers workshop in the autumn of 2020."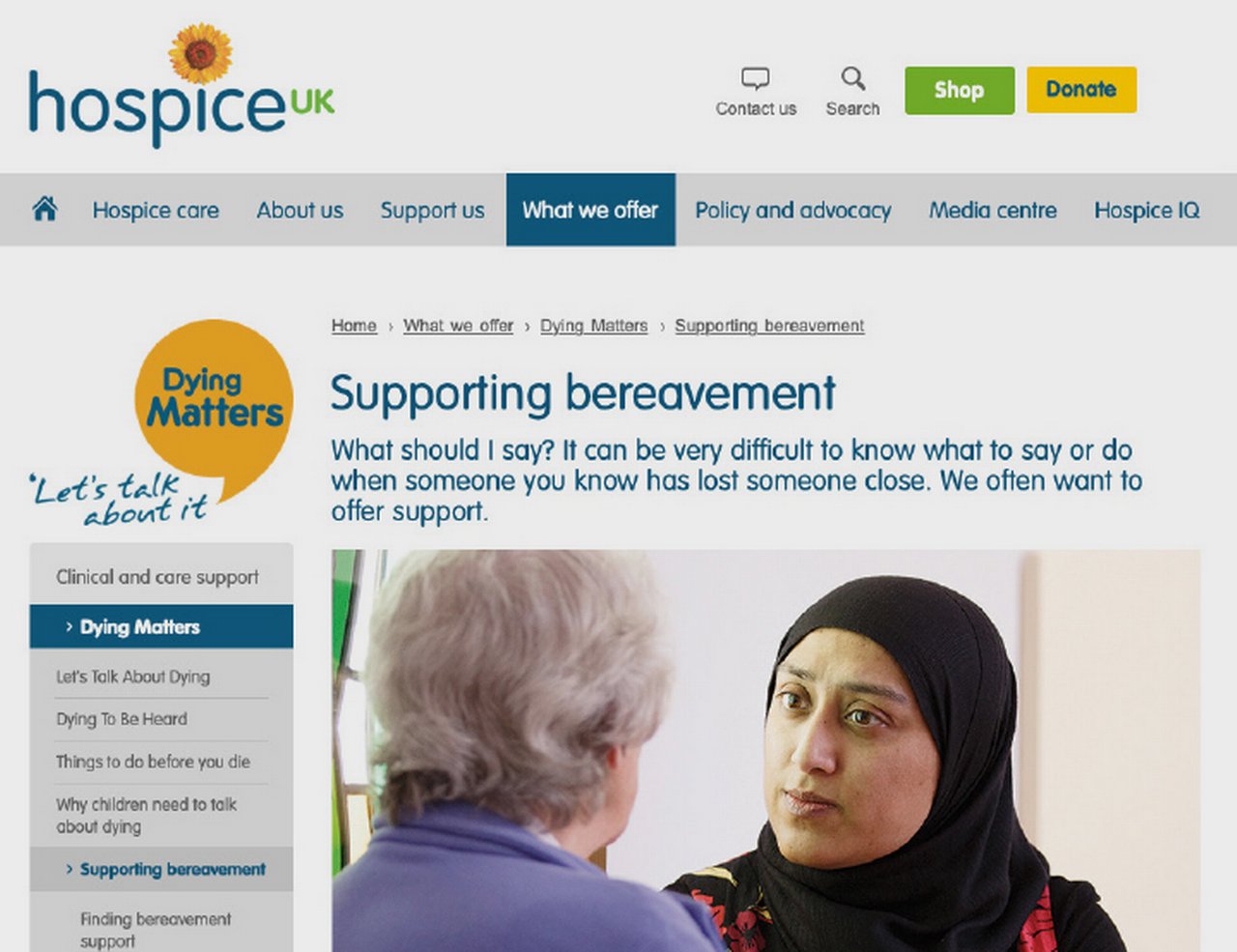 Fostering further understanding
Another key element to a workplace return is resources for employees with different backgrounds. Organisations are starting to get better at understanding this, says Morley, and at providing an environment where people feel they can bring the best of themselves to work.
The pandemic has accelerated awareness of diversity, as different groups in society have been more affected than others. Compounding this issue are factors such as people from high-risk backgrounds, who are exposed to violence and abuse at home, or those who may have long-term health complications and existing mental health conditions. "There is no doubt that it's the employer's responsibility to provide a safe environment where people who are in those high-risk groups feel they have a supportive organisation, where they can at least talk about those things that they may be facing," says Morley.
Many companies have also assessed the economic impact of supporting employees with these challenges to their organisation and the implications for society as a whole. Morley cites the Black Lives Matter movement as an important example of a company's responsibility to society, as it highlights poverty during the pandemic. Diversity and inclusion has become one of the top five environmental, social and governance measures for corporates since the onset of the crisis, notes Deutsche Bank Research.11
"We are asking ourselves challenging questions about whether we are doing enough, starting with an honest, open discussion," says Morley, who adds: "We're getting better at understanding all of these issues and what may trigger a mental health lived experience. Our approach of nurturing that understanding through the employee resource groups is a good start in helping people feel supported."
Stay up-to-date with
Choose your preferred banking topics and we will send you updated emails based on your selection
Sign-up

Sign-up
flow magazine is published twice per year and can be read online and delivered to your door in print
Subscribe

Subscribe
YOU MIGHT BE INTERESTED IN