SUSTAINABLE FINANCE, FLOW CASE STUDY

Iberdrola: pioneering the renewable energy revolution
25 May 2023
Making net-zero happen by 2050 as global energy demand ramps up looks more doable when utilities commit to clean energy assets for powering their grids. Spain's Iberdrola worked this out 20 years ago and, as flow's Clarissa Dann reports, the vision is paying off
Nearly five years have passed since the UN report that announced emissions must be reduced by almost 50% before 2030 and hit net zero by mid-century to achieve the 2015 Paris Agreement goal of limiting the increase in global warming to below +1.5C.1 The report triggered a torrent of net-zero commitments from 128 nations and over 876 of the 2,000 largest public corporations.2 Yet, the transition – and securing the unprecedented financial investment needed – is less than straightforward.
In addition, noted the International Energy Agency in 2022, "Fossil fuel supply disruptions have underlined the energy security benefits of domestically generated renewable electricity, leading many countries to strengthen policies supporting renewables."3
Renewables, continues the IEA, "are set to account for over 90% of global electricity capacity expansion over the forecast period between 2022 and 2027".
Energy transition leaders
Some companies have stood out on the journey towards a net zero world. These include renewable energy producers such as Siemens Gamesa Renewable Energy (formerly Gamesa, which was partly owned by the Spanish utility group Iberdrola and is now part of Siemens Energy AG) and Danish wind system manufacturer Vestas.
Only 20 years ago, exchanging fossil-fuel power sources for renewable energy ones took vision and investment. This article shares the story of Spain's Iberdrola, now up from 20th place to the world's third largest electric utility in terms of market capitalisation (€76bn) serving 100 million people across 16 countries.4
But it was back then that Iberdrola took the courageous decision to transition away from fossil fuels towards sustainable energy. Now, the company sets an energy transition example with the transformation of global energy systems through its investments in renewable energy, smart grids, large-scale energy storage, green hydrogen and digital transformation. It does this while remaining profitable and attracting investors (see key facts summary).
At the end of last year, according to its 2022 Sustainability Report, the Iberdrola Group had 60,761 megawatts (MW) of total installed capacity, of which 40,066MW is renewable.5 The company aims to achieve carbon neutrality for Greenhouse Gas Emissions Scopes 1 (emissions it makes directly) and 2 (emissions made indirectly, such as energy purchase) by 2030 and for all scopes before 2040.
"Twenty years ago, we started analysing the [clean energy] technologies and saw that wind energy was ready"

Pioneers in clean energy
"Twenty years ago, we made the decision to do something different," says Beatriz Crisostomo, Global Head of Innovation, Iberdrola. "We started analysing the technologies and saw that wind energy was ready. There were many people that thought we were kind of crazy because we were investing in technology that was uncompetitive from the economical point of view. But we decided it was the moment."
The project began with an important first step: the phasing out of oil- and coal-fired power plants.6 The company announced the complete closure of coal fired capacities in November 2017.7 Next on the agenda was an ambitious global expansion. The company focused on strategic acquisitions, including the UK's ScottishPower and its subsidiary PPM Energy in 2007,8 adding to their strong wind energy focus, and then scooping up US utility Energy East in 2008, complementing the fast-growing energy giant's established North American business.9
Further south, the company bought and built assets and companies to form a Brazilian subsidiary, Neoenergia, which now operates across all areas of the energy value chain from wind and hydro and gas generation to transmission and distribution networks.10 The growth continued with investments into Mexico, Iberdrola becoming the country's largest private energy generator, and in Portugal, developing hydro, solar and wind assets. The company established wind farms in Germany, France and the United Kingdom, converted its operations in Greece and Hungry, and in 2020, took the first steps to establish operations in Australia, a country with huge renewable-energy potential.11
In its home market of Spain, Iberdrola has expanded its hydroelectric capacity, deployed a national network of smart grids and meters and is investing in electric mobility, photovoltaics, battery storage systems, and blockchain technology.
Firm foundations
The company's Sustainability Report says it will "continue with an ambitious investment plan of €47bn between 2023 and 2025, focused on increasing its installed renewable, onshore and offshore wind, photovoltaic, battery and hydroelectric capacity, plus electricity grids".12 In other words the plan is based on more electricity grids and selective growth in renewables to promote a safe, clean and competitive system that will accelerate the energy transition.
By end of the decade, Iberdrola expects to exceed €65bn in network assets and 100,000 MW of installed capacity – with more than 80% of it renewable – thanks to planned new investments of €65bn to €75bn between 2026 and 2030.13 Figure 1 summarises the actions Iberdrola is committing to achieve its targets.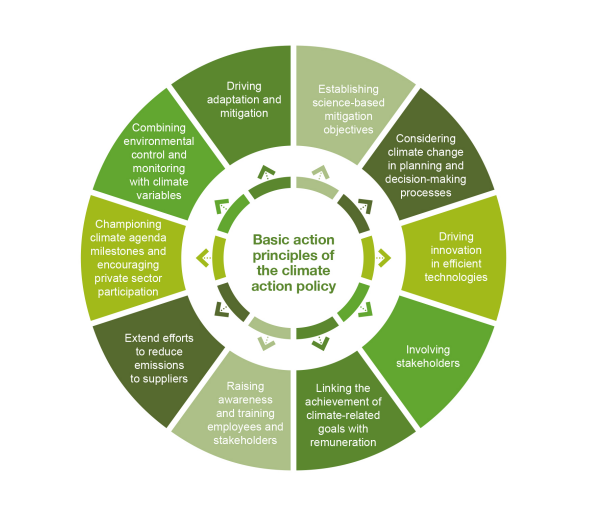 Figure 1: How Iberdrola plans to fulfil its net-zero commitment
Source: Iberdrola Group: Sustainability Report 2022
In November 2021, the United Nations Climate Change Conference in Glasgow (COP26) underlined how the world faces a critical decade during which efforts to reduce dependencies on fossil fuels need to step up, and that commitments to net-zero made by so many countries and companies actually need to be delivered upon.
This set the tone for COP27 a year later – when world leaders gathered in Sharm el Sheikh (Egypt) under the slogan "Together for Implementation". Already 20 years into its energy transition and executing its major €75bn investment plan, Iberdrola was invited to present to the summit.
It was here that the company announced its new Climate Action Plan, which involves accelerating its goal of carbon neutrality of generation plants, its electricity distribution activity, its own consumption (scopes 1 and 2) to 2030, and the net-zero of its entire activities before 2040.14
"We really need to kick start the energy transition and see huge investment from the private sector"

The cost of the transition
The immediate cost of the energy transition is enormous, and it begs the question: how will this worldwide move to clean energy be financed so that the global economy can achieve net-zero by mid-century?
In the company's Capital Markets and ESG day in November 2022,15 Iberdrola declared that more than 90% of its organic investment is aligned with the EU Taxonomy of Sustainable Activities. It also reaffirmed its financial strategy with a clear commitment to sustainable finance. Currently more than 58% of the financing volume of Iberdrola is ESG labelled, and the target is to achieve more than 70% by 2025.The financing sources used are:
The bond market, with the EUR bond market being the main source of long-term financing
Multilateral, export credit agencies and development banks – these are important sources of long-term financing not subject to capital markets volatility
Banks – it sees the "diversified and strong bank pool with main international and local banks" as a strength and the company will be "adding new players in new geographies".
According to Gregor Winkler, Director in Corporate Coverage at Deutsche Bank, "We have seen in the past huge investments from the public sector, and now we really need to kick start the energy transition and see huge investment from the private sector. The tools available include blended capital to attract private investment, especially at early stages of readiness."
With such a vast investment in moving to a clean energy system the risk of obsolescence has to be managed. This means making sure the architecture is secure, reliable and able to readily integrate more renewables as the transitions occur over time.
"To make the energy system reliable, we need a mix of different technologies – it's important that we can store it and we need an electrical grid network to make the connection possible. That's why we need an energy system that fully interconnected," explains Iberdrola's Crisóstomo. Recent projects that illustrate the scale of the investment underway include:
Deutsche Bank and Iberdrola
To hear more about Iberdrola's remarkable journey, and further insights from Beatriz Crisostomo, Global Head of Innovation, Iberdrola and Deutsche Bank's Gregor Winkler, do tune into this video
"As a transition partner we support clients across sector value chains to achieve their strategic goals," says Winkler. In the bank's Sustainability Deep Dive held on 2 March 2023, David Lynne, Head of Corporate Bank explains the bank does this by "Enabling the accelerated renewables and infrastructure build-out through our asset and project finance capabilities including new technologies like storage solutions, hydrogen or carbon management".20
For this reason, both bank and corporate objectives are aligned - in addition to being at the core of Iberdrola's financial operations with the bank's global footprint, the integration of ESG in the company's financing strategy has been a key element of the dialogue.
For example, Iberdrola was the first Spanish company to issue a green bond back in 2014, and Deutsche Bank has, from that transaction onwards, participated in a number of placements of green bonds for Iberdrola.21 Since then all its new bonds have been, says the company, "specifically destined for the funding or refunding of green projects, i.e. projects that are sustainable and socially responsible in areas as diverse as renewable energy, energy efficiency, clean transportation or responsible waste management". These green fixed income capital raisings are just one way the bank has worked with Iberdrola.22
"Our ambition has been to strategically advise the Iberdrola treasury and finance team on integration of ESG into the treasury tool kit going beyond the traditional financing instruments. Given our global support and dialogue, we felt it was the right time to document the journey of the client in a video [see above]," says Deutsche Bank´s Winkler.
"The role of Deutsche Bank as Global Hausbank to Iberdrola is to be part of the financing transactions taking place by deploying the bank's balance sheet and investor base and by being a strategic adviser, "concludes Winkler. For example, in 2021, the bank acted as a top-tier lender and Bookrunner on a new, sustainability-linked, multi-currency €2.5bn revolving credit facility (RCF) for Iberdrola. The facility was linked to the reduction of emissions by the company and a greater presence of women in leadership positions. In 2022, Deutsche Bank supported Iberdrola again in a new sustainable loan aligned to the reduction of water consumption in its processes.23
Working together
Iberdrola's corporate strategy is based on transparency, teamwork, responsibility, and professionalism and is underpinned by ESG principles – in other words ESG is embedded into business as usual. Financial institutions such as Deutsche Bank, together with investors, export credit agencies and multilateral finance institutions bring the financial support needed for this remarkable journey to continue.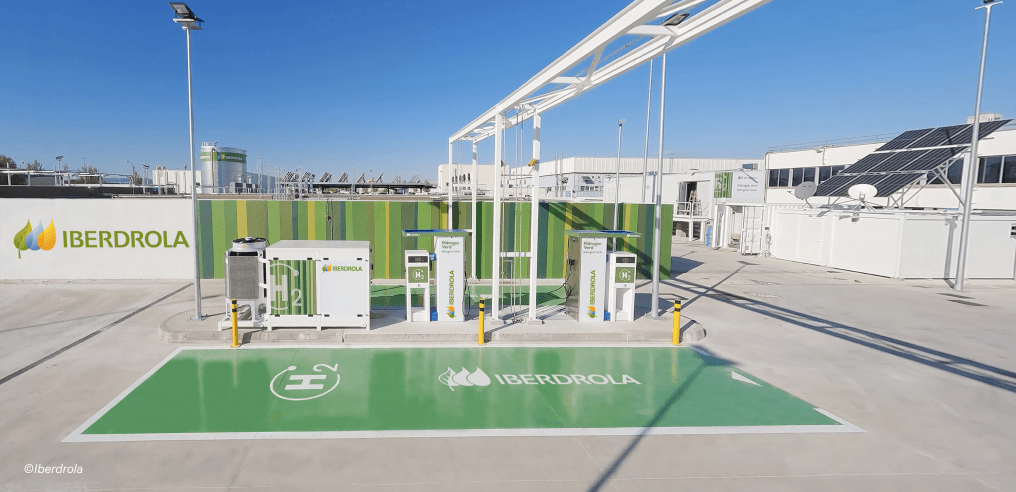 Iberdrola's green hydrogen stations in Spain © Iberdrola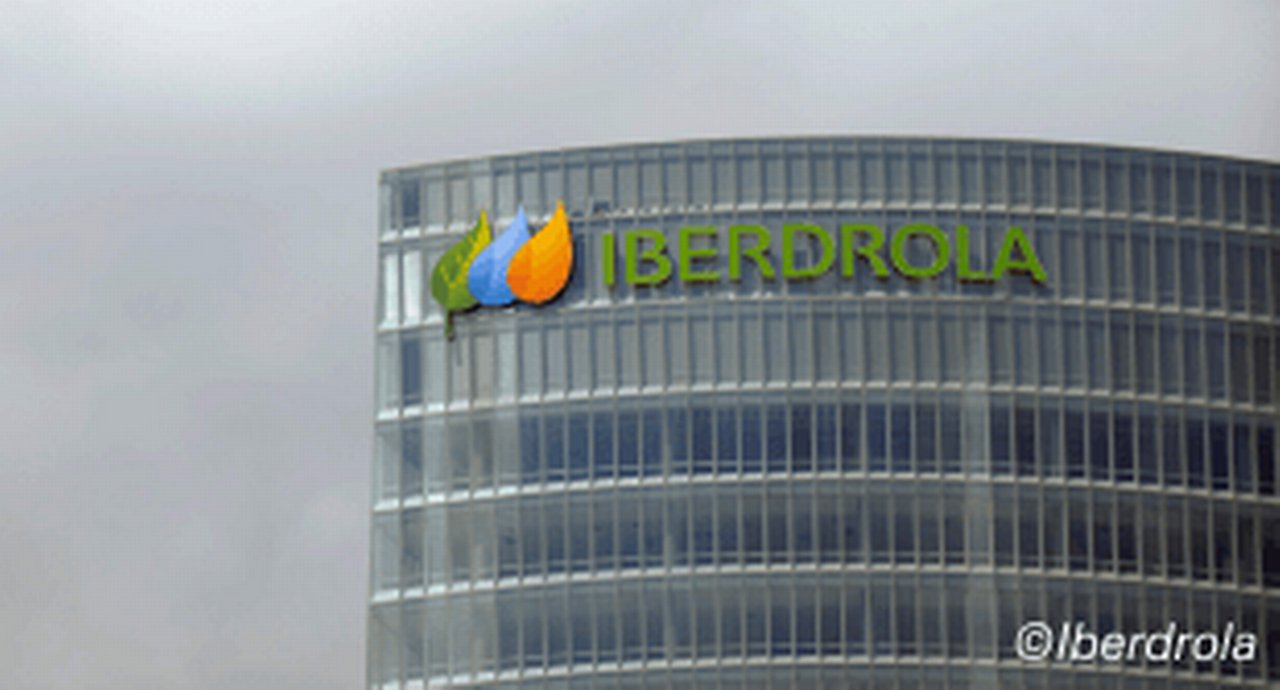 Key facts: Iberdrola
Headquartered in Bilbao, Spain, Iberdrola is a global energy leader, the number one producer of wind power and one of the world's largest electricity utilities in terms of market capitalisation (€76bn at April 2023) and revenues (€53.9bn for the full year of 2022).
Between 2023 and 2025 the company is executing a €47bn investment plan focussed on installed renewable, onshore and offshore wind, photovoltaic, battery and hydroelectric capacity, plus electricity grids.
90% of the total organic investment plan is aligned with the EU Taxonomy for Sustainable Activities.
At year-end 2022, the Iberdrola group had 60,761MW of total installed capacity, of which 40,066 is renewable and 34.3 million supply points.
Iberdrola aims to reconcile its growth in renewables and grids with the goal of achieving carbon neutrality in scopes 1 and 2 by 2030 and net-zero emissions before 2040 for all scopes, including scope 3
More than 90% of Iberdrola's output came from emission-free sources in 2022.
Sources: Iberdrola SA and subsidiaries annual information
Stay up-to-date with
Choose your preferred banking topics and we will send you updated emails based on your selection
Sign-up

Sign-up
flow magazine is published twice per year and can be read online and delivered to your door in print
Subscribe

Subscribe
YOU MIGHT BE INTERESTED IN